CENTENNIAL CELEBRATION
Painters and Allied Trades Local 567
sets 100th Anniversary Dinner at Reno Hilton
on March 9, 2002.

Commemorative historical program published.

TO: Unions, members and friends of labor
FROM: Todd M. Koch, Business Manager
RE: Local 567 100th Anniversary Celebration and Commemorative Program
A centennial only comes around once and ours is taking on a life of its own. We are proud to announce that the executive board of the Western Regional Conference of Painters and Allied Trades will come to northern Nevada to attend our March 9 celebration at the Reno Hilton.
For those of you who have not yet received or responded to invitations to attend our 100th anniversary dinner as our guests, please call as soon as possible.
Because of requests from unions sending delegations, we are also publishing a commemorative program. We realize this is short notice, but we think the project well worth your attention.
Our union's records are intact and we have found some historical gems, such as a letter from Local 567 published in a Reno newspaper to thank a Nevada state senator for supporting a bill giving Nevada workers an eight-hour day.
The commemorative book will be distributed not only to attendees and unions, but also to educational and historical institutions. We hope that it may serve as the basis for the as-yet unwritten history of organized labor in Nevada.
Should you want to place an ad in the Painters Local 567 Centennial History Book, rates and deadlines can be found, below.
If you need accommodations, the Reno Hilton is holding a bloc of rooms for our attendees until February 6. Ask them for the Local 567 group rate when you call. The phone number is (800) 648-5080.
The Reno Hilton is now almost fully unionized, and signatory with five major unions.
We look forward to seeing you in Reno in March.
In Solidarity,
Todd Koch
Business Manager
---
PAINTERS & ALLIED TRADES LOCAL 567 CENTENNIAL HISTORY BOOK
Rates and information
Especially if your ad is for a union or labor-related organization, we suggest you include in your text the year of your charter or founding date.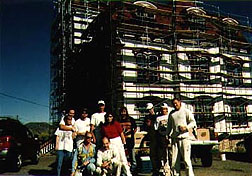 RESTORING VIRGINIA CITY'S HISTORIC
FOURTH WARD SCHOOL — Local 567 artists of preservation are, back row, left to right, John Loughan with his arm around his sister; James Ayers, Nathan Sabin, Sandra MacDonald, Jack Carson, Terry Patterson and Juan Velez. Kneeling, left to right, Gwen Sicuro and Journeyman Mo Hursh. Not pictured: Journeymen Marty McGuire and John Glenn; apprentices Cain Passi and Erin Duhr.
COVERS 7.5"wide X 10"high
NO LONGER AVAILABLE
Back cover, four-color only, $ 875.00
Inside front cover, four-color$ 750.00
Inside front cover, black-and/white $ 650.00
Inside back cover, four color $ 675.00
Inside back cover, b/w $ 575.00
NEWLY ADDED BECAUSE OF HIGH DEMAND
INTERIOR 4-COLOR PAGES
Page one, $750.00 (no longer available)
Back page, $675.00 (tentatively reserved)
Centerfold or any other interior page, $650.00

INTERIOR, black-and-white only
Full page, 7.5"wide X 10"high $ 475.00
Half-page 7.5"w X 5"h, $ 300.00
Quarter-page 3.75"w" X 5"h, $ 185.00
Eighth-page/business card, 3.75"w" X 2.5"h, $ 100.00
Individual personal line listing in alphabetical
"Congratulations" directory, $ 25.00
Additional line to give affiliation, $10.00
MECHANICAL REQUIREMENTS: 133 Line screens for photos.
Color negs: right reading, emulsion down.
CD or ZIP disk submission okay.

SPACE RESERVATION DEADLINE — RIGHT NOW
CAMERA-READY ART IN RENO: Friday, Feb. 22
CONTACTS: Andrew Barbano (775) 786-1455, Fax (775) 747-0979

Todd Koch (775) 356-8567, Fax (775) 356-8522
Painters & Allied Trades Local 567
1819 Hymer Avenue
Sparks, NV 89431
Affiliated with: AFL-CIO, Nevada State AFL-CIO, Northern Nevada Central Labor Council/AFL-CIO,
Building and Construction Trades Council of Northern Nevada/AFL-CIO
---
Page designed and maintained by Deciding Factors, signatory with CWA Local 9413/AFL-CIO
Comments and suggestions welcome

Back to NevadaLabor.com home page.