Pioneering Nevada labor leader
Tom Stoneburner dies
UPDATED 3-9-2008
A military policeman in Afghanistan remembers Stoney
BARBWIRE Daily Sparks Tribune 1-28-2007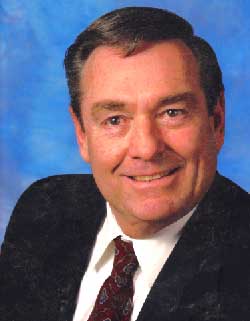 1944-2005
NEW — Your memories of Stoney + photos
More will be posted as they arrive. Keep hope alive.
NEW —Widow vows to keep workers' group in business
Reno Gazette-Journal 3-18-2005
Reno Gazette-Journal Editorial: Stoneburner was an effective advocate
"Few people in the community have had such a recognized impact on the workplace in Northern Nevada."

Dear Friends of Stoney:

I've gathered additional information from Tom Stoneburner's friends and family for you. Please contact me with any questions. Fresh news links appear, below.

Stoney died of ruptured aorta, the same malady that felled actor John Ritter. He was helicoptered from Palomino Valley to Washoe Medical Center in Reno where he was pronounced dead at 12:34 p.m. PST on Monday, Feb. 21, 2005.

Tom Alvin Stoneburner was born May 27, 1944, at Balboa Naval Hospital in San Diego, California. He was named after Tom W. Johnston, his maternal grandfather, a linotype operator at the San Diego Union-Tribune who was elected president of San Diego Typographical Union 221 (A.F.L.). Tom Stoneburner was a 1961 graduate of Herbert Hoover High School and attended San Diego City College.

He was preceded in death by his parents, Harry Alvin Stoneburner and Virginia Johnston Stoneburner. His father was a career sgt. major in the United States Marine Corps. Tom Stoneburner was a veteran of four years in the corps and later served as a deputy sheriff in Mono County, Calif., where his father had moved after retirement. Harry Stoneburner was elected county treasurer in 1970.

Tom Stoneburner was a 36-year Nevadan, coming here on St. Patrick's Day in 1969.

He is survived by his wife of 18 years, Kathy, of Palomino Valley north of Sparks, Nevada; stepmother Dee Stoneburner of Carson City, Nev.; a sister, Virginia Kay Keich (Richard) of Burlington, New Jersey; aunts Helen Franklin of San Diego and Marylin Sievert of El Cajon, Calif.; daughter, Cindie Addis, of Fallon, Nev.; sons Christopher of Sparks, Nev., and Stephen of Denver, Colo., and three grandchildren.

Kathy Stoneburner has said that Stoney loved the work of the Alliance for Workers' Rights more than anything else he had ever done in his life. The organization will continue its work. In lieu of flowers, the family has asked that donations be made to the Alliance at One Booth Street, Reno, NV 89509; (775) 333-0201.

At the state capital in Carson City on Feb. 22, the Nevada State Assembly adjourned in Stoneburner's honor.

Álvaro Degives Mas has posted a Spanish translation of this morning's obituary at
http://nv1962.net/2005/02/22/adios-querido-companero-stoney/


Tom Stoneburner's television program, "Alliance for Workers' Rights," will continue to run in its longtime slot at 8:00 p.m. Sundays. Sierra Nevada Community Access Television is scheduling additional cablecasts in his honor on Sparks-Reno Charter Cable Channel 16.

I will be uploading memorials, photos and additional information as items arrive at NevadaLabor.com.

Adios.

Andrew
(775) 786-1455
Fax 747-0979


ps: Anyone wanting to contribute a favorite photo, please upload 72 dpi jpegs. Thanks.
In the news
Union activist Stoneburner remembered
Those "Stoney" helped vow to continue
By Scott Sonner, Associated Press, 3-1-2005
appeared in Las Vegas Sun, Las Vegas Review-Journal, Daily Sparks Tribune
Reno Gazette-Journal 3-5-05: Stranded workers get their pay
Stoneburner wins his last fight from beyond
Reno Gazette-Journal: Leaders mourn death of man called the 'voice of the working poor'
Associated Press: Veteran northern Nevada union organizer Tom Stoneburner dead at 60
Sparks Tribune — Sparks labor leader dead of heart attack
2-22-2005
Fight continues in Stoneburner's memory
2-23-2005
AP/Las Vegas Review-Journal — Stoneburner remembered for work in Harrah's bartender makeup case and campaign to modify cocktail server high heel requirements

Reno News & Review 2-24-05 — A Little Giant Falls
Columnist Deidre Pike 3-3-05 : A Rock in the Right Place
"He never called without a remarkable reason."
Reno Gazette-Journal Editorial: Stoneburner was an effective advocate
Se honra memoria de defensor de los derechos de los trabajadores
Adiós, querido compañero Stoney
Murió líder de los trabajadores de Nevada Tom Stoneburner
Trabajadores hispanos reciben pago atrasado
Grupos piden se agilice pago a 24 trabajadores de la construcción