UNION-FRIENDLY BUSINESSES DIRECTORY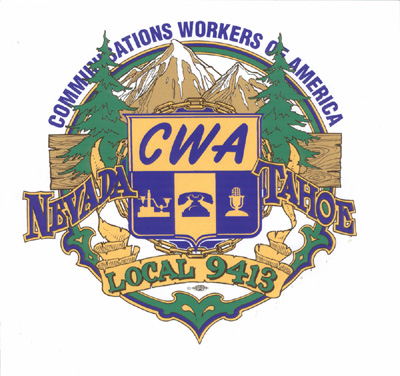 TO: Anyone opposed to the export of U.S. jobs to the likes of Communist China
The following describes a chronic local problem and an increasingly familiar international one — another lament on the legendary depredations of Wal-Mart.
America is now about halfway into what may be termed a home economics version of drug addiction.
Be well. Raise hell.

Northwest Reno advocate Mike Tracy gets the Reno City Council to back down and allow public input at final hearing on northwest Reno Wal-Mart big box superstore
RENO (Nov. 27, 2000) — Northwest Reno activist Mike Tracy today criticized Reno City Attorney Patricia Lynch's advice to the Reno city council that public input regarding Wal-Mart may be disregarded at Tuesday's council meeting.
"At Monday's council caucus meeting, Lynch advised four city council members and the citizens present that public testimony may not be considered legal as part of the body's decision making on the proposed northwest Reno Wal-Mart superstore," Tracy said.
"Lynch noted that the public may comment on any item on the agenda, but added that the Wal-Mart issue represents continuation of a hearing which was closed. Because of that, Lynch said, while public comment might be presented Tuesday, it may not be considered as part of the council's decision-making process for approval or denial. According to Lynch, proper notice of a hearing was not given," Tracy stated.
"Citizens have been allowed to provide comments for consideration by the council at the two previous continuations for this project," Tracy said. "We should be allowed to add relevant comments regarding the ever-changing conditions of this proposal. This is the third continuation of the matter and never before has the city attorney weighed in with such remarks," Tracy said.
"We cannot rightfully be shut out of the process. Our concerns should be addressed by our elected representatives, and we must be given equal time to comment on new items or new information presented by the applicant and city staff.
"Otherwise, the only fair thing is not to consider new information at all," Tracy said. "For example, the design of the proposed traffic roundabout at Sierra Highlands Ave. and W. Seventh Street, and therefore its effect, has not yet been part of any public discourse. The neighborhood does not know what to expect since city staff has not defined it. This lack of forthcoming with even basic details leaves us wondering who the staff works for — the taxpayers or the developers. City staff has spent a lot of time working for the developer. Who is helping the residents of the northwest?" Tracy asked.
With members of the Northwest Reno Advisory Board, Tracy has been working against the Wal-Mart project since last March. Tracy ran for the northwest Reno (Ward 5) city council seat earlier this year. He carried northwest Reno against Ward 5 incumbent Dave Aiazzi on November 7, but Aiazzi was narrowly re-elected by winning in other areas of town in the at-large voting.
UPDATE -- Reno Gazette-Journal: City Hall caves to Tracy demand, will allow public inputs

GUEST EDITORIAL FROM NORTHWEST RENO RESIDENT VICTORIA FORD
Reno Gazette-Journal, Monday, Nov. 27, 2000
Copyright © Victoria Ford

City ignores issues on proposed Wal-Mart

On November 9th, Northwest Reno residents lobbied the Citizens Traffic Advisory Committee (CTAC) to prevent a Wal-Mart 24-hour superstore from bringing traffic problems that will ruin our quality of life. The project, planned for the lot between Seventh Street and Mae Anne on North McCarran, now has 40 conditions to meet in order to attain special use permits. Although the majority of residents in our area oppose this project, issues we raised were ignored except for one — traffic calming on Sierra Highlands Drive.

Now

The following were not resolved:

1. North McCarran between I-80 and Mae Anne is already a traffic trap. However, it is NOT on a list to be widened until MAYBE three to five years from now. Even then there are no guarantees it will become a priority or that money will be available.

2. In city council meetings and this CTAC meeting, engineering "models" — mere formulas — were given more credence than citizen input. Models are just guesses, while our concerns for the safety of children, travelers, and pedestrians were dismissed in talk of re-striping additional turn lanes and predicting where the models say people will "want" to travel. Typical solutions discussed included one that moved the traffic problems to Seventh Street instead of Mae Anne and McCarran. Right now, the Reno Police Department rates Seventh Street as the more hazardous intersection.

3. Wal-Mart's track record for building new superstores and then closing their other, nearby discount stores — such as the Northtowne Wal-Mart — was ignored because there is "no knowledge" of that plan. No one even asked "Wal-Mart, what is your POLICY? What is your long-range plan for Reno."

You can bet they have one!

What we heard was, "It would be hard to predict" how much traffic would come from Northtowne Wal-Mart if it is closed.

4. In spite of flaws in the traffic studies, CTAC members were assured that, in some cases, the traffic would be "better than it is now." How many times has that ever happened in Reno? For example, the Northtowne Wal-Mart traffic was UNDERESTIMATED by 30 percent. Yet, when we say traffic counts for this project are also underestimated, that is one more issue ignored.

Union Graphics Printing Company

5. Fear of being sued, as in the N. McCarran Super K-mart case, appears to take precedence over common sense reasoning that this project DOES NOT FIT into an existing residential neighborhood. Residents have expressed over and over what we want — a good restaurant and high-quality shops, just like our neighbors in the southwest. And that's just the short list. Seems no one is listening.

Neighbors in the Northwest, we are fighting for our quality of life! We can still do two things. Write letters and call all your city council representatives. Give them solid reasons for denying these special use permits.

Don't let them say we didn't care when the real story is they aren't listening and they aren't addressing the issues we raise. Come to the Reno City Council meeting on November 28th. Speak out!

READ MORE ABOUT IT: To order Al Norman's book "Slam Dunking Wal-Mart," call or write Raphel Marketing, 12 S. Virginia Ave., Atlantic City, NJ 08401; (609) 348-6646, Fax (609) 347-2455; e-mail info@raphel.com
To read the sad story of how the American middle class has been sold down some third-world river by your friendly Democrat and Republican public officials, get two-time Pulitzer Prize winners Donald Barlett & James Steele's America series from a bookstore or library. ("America: What Went Wrong?", Andrews & McMeel, 1992; "America: Who Really Pays the Taxes?", Touchstone Books/Simon & Schuster,1994; "America: Who Stole the Dream?", Andrews & McMeel, 1996)