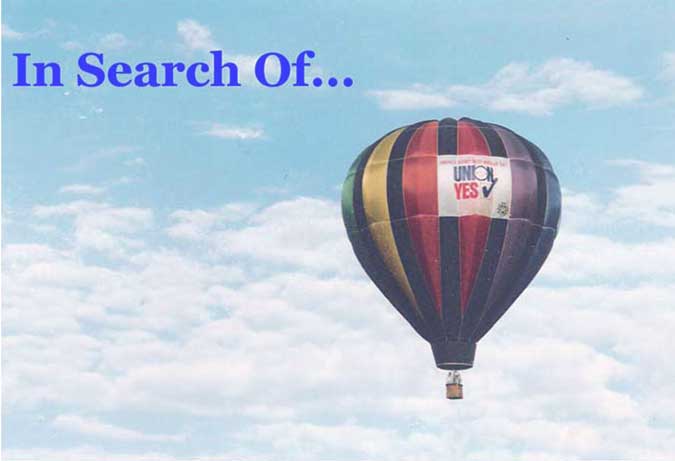 The Union Yes balloon, signage by IATSE Local 363, at the Great Reno Balloon Race c. 1994.
Photo courtesy of Dan Rusnak.
NevadaLabor.com is now well into its third decade, so we get a lot of requests for information. Alas and alack, we don't know everything, but we do know that the answers are out there. Here are some burning questions. If you've got answers, solutions or references, please help us out.
Who's the lady standing next to César Chávez?
Obama pays tribute to late Reno labor leader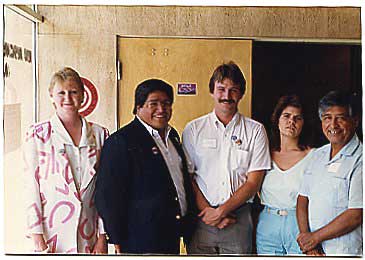 THE WAY WE WERE — The above is a recently discovered photo from 1986. Left to right are Kathy Brown, Culinary Union Local 86 office manager; Miguel Contreras, Local 86 Secretary-Treasurer; Local 86 President Bill Uehlein; a lady named Natalie (anyone who knows her last name, please write), and César Chávez. This item was first published in Ahora, northern Nevada's Spanish-English weekly, on March 26, 2008. (UPDATE: On 3-19-2009, President Obama paid tribute to Brother Contreras as he spoke in the L.A. building named after the late labor leader. See the 1986 Chávez Reno archive, below.)
(Photo courtesy of Dan Rusnak, retired business manager of Laborers' Union Local 169.)

More stories and photos from César Chávez's 1986 Reno visit
IN SEARCH OF César Chávez in Nevada in the 1960s
This website carries history and photos dating back to 1986 when César Chávez visited Reno to rally workers. We have recently become aware that César Chávez came to northern Nevada in the 1960s, long before he was an international superstar. Please help us fill in the historical record, and hurry because we need information for a new TV special about César Chávez in the Silver State. Anyone with any information please call (775) 786-1455 or e-mail Andrew Barbano. Gracias.

OCTOBER, 1969 — César Chávez, right, and Walter Reuther, center, at the dedication of the United Farm Workers' new headquarters in Delano, Calif. The buildings were dedicated to Reuther's late younger brother, Roy. The Reuther-led United Auto Workers were instrumental in acquiring the land and funding for the "The 40 Acres," as the site was known. The man at left was on a picket line for five years and may or may not be a Chávez relative. Anyone who can identify him, please contact me. A character resembling him appeared in many scenes of the 2014 major motion picture César Chávez. (Photo courtesy of George Nelson, UAW Local 2162 Retirees.)
The sunny angel and the man of steel
Barbwire / Expanded from the 3-8-2009 Daily Sparks Tribune
In Search of Geraldine (Mrs. Bill) McGee
Son in Georgia seeks his long-lost Reno cabbie father. Please help.
Who is the man with Walther Reuther and César Chávez in this 1969 photo?
BREAKING NEWS
Final pieces found at last!
Conservative economist Pierre A. Rinfret's seminal 1966 commentary on how war spending destroys the economies of nations: Peace is Bullish
[Vietnam's Economic Lesson: Peace can yield fatter profits than war / Look Magazine 5-31-1966]

In Search of...Women Teamsters
February 4, 2008
Mr. Barbano:

I am presenting a program March 8 for the Nevada Women's History Project 2008 Conference: Women in Transportation.

My topic is "Women Teamsters" and so far all I have found are Charlie Parkhurst and Mrs. S. H. Ferris. (Ms. Parkhurst, of course, inspired the topic).

I have an extensive article on women teamsters in the United States during the 1940s and 1950s — Not a Man's Union by Leah Vosko and David Witwer - — but it does not pertain specifically to Nevada women teamsters.

If you or the Teamsters Union happens to have any information on Women Teamsters in Nevada I would be most appreciative of the information! I will be delighted to quote my source both verbally and in writing.
Holly

Holly Van Valkenburgh
Consulting Librarian
Nevada State Library & Archives
100 North Stewart Street
Carson City, NV 89701-4285
775-684-3322, Fax 775-684-3311
UPDATE: Etta James, call your office: At last! First woman elected to head Nevada Teamsters Union




Nevada State Archivist and historian Guy Louis Rocha has asked for any records of Mark Twain's 1860's membership in the oldest union in Nevada, the Washoe Typographical Union, now part of Communications Workers of America Local 9413/AFL-CIO. In chapter 41 of Roughing It, published in 1872, Twain refers to that union membership. (Twain wrote that he had instructed his friends back home "to sell my share of the Tennessee land and tender the proceeds to the widows' and orphans' fund of the typographical union of which I had long been a member in good standing.") We also know he was a member while working at his brother Orion Clemens' newspapers back in Missouri. The Great Virginia City Fire of 1875 and the Great Reno Flood of 1997 destroyed many of the union's old records. Twain's membership has long been a source of pride for the longest-established union in Nevada, so we would sincerely appreciate any and all information with which to rebuild our files regarding our most famous member.
Please e -mail the editor.

Rocha is searching for evidence that Mark Twain (or Will Rogers) ever said "whiskey's for drinking, water's for fighting over."
If you have any facts or scurrilous rumors, please send them here. Thanks.
In Search of...Nevada Labor Day Parades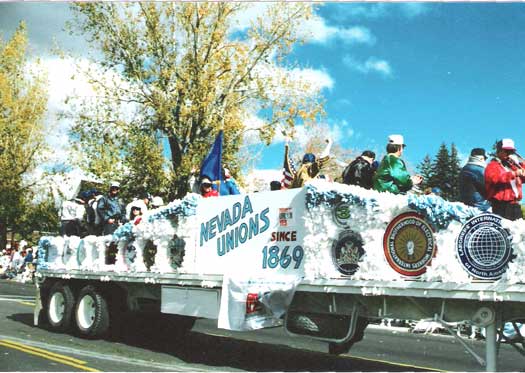 Photo courtesy of Dan Rusnak.
Labor Day Parades have become a lost art in Nevada. The above photo depicts the Union Yes float in the Nevada Day (the anniversary of Nevada's 1864 statehood) Parade in Carson City c. 2000. A century ago, Labor Day Parades were held all over the state. We've had recent contacts from journalists looking for information on any and all. Anysuch will be sincerely appreciated. E-mail the editor.

PAYDIRT
The Nevada State Journal for September 8, 1903, on Page 1, indicates "the
Plumbers' Union" was in the first statewide Labor Day celebration parade held in Reno.

The Nevada State Journal of September 3, 1907, in a story on pages 1-2, reported the Reno Labor Day parade included: "... the Gas and Steam Fitters, with 48 men...".

The NSJ for September 6, 1909, in a page one report on the Labor Day Parade, stated that the planned kickoff in Carson City would include: "Reno Plumbers and Steam Fitters' union".

The 1911 Labor Day parade was held in Virginia City. The Territorial Enterprise for Sept. 1 did not show an entry for the Plumbers.

The Reno Evening Gazette of August 31, 1912, in a page one story, shows in the Program For Labor Day that the "plumbers" would appear in the Second Division.

— Courtesy of Brother Dan Rusnak, retired Business Manager of Laborers' International Union Local 169 and former member of the Nevada State AFL-CIO executive board. The above came in response to a request for information on the history of Plumbers and Pipefitters Local 350, which celebrates its centennial on October 13, 2006. (See below.)


On Sept. 5, 1949, a Labor Day parade in Las Vegas included 200 carpenters union members marching in white overalls and bartenders and culinary union members working at a moving bar and lounge. (Courtesy of longtime Nevada reporter Dennis Myers' Poor Denny's Almanac.)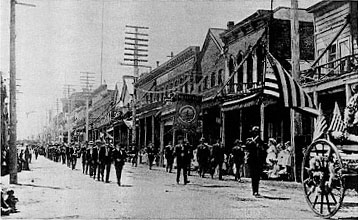 The Storey County Miner's Union marching in the Virginia City Labor Day parade, September 7, 1908.
(Nevada Historical Society photo)
2006 Virginia City Labor Day parade to be a salute to firefighters
Reno Gazette-Journal 8-26-2006
Virginia City Labor Day Parade shows off another era
by Ray Hagar, Reno Gazette-Journal 9-5-2006


In Search of...Plumbers and Pipefitters History

Plumbers and Pipefitters Local 350 celebrated its centennial on October 13, 2006, in Reno. We had the honor of compiling the official history of the union in the form of a commemorative publication for the event. History's hunger is never sated. If you have any photos, documents or remembrances of the craft, or any other aspect of Nevada Labor history, please e-mail the editor.

Click here for event highlights and stay tuned for more.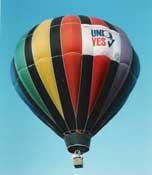 Site composed and maintained by Deciding Factors, CWA 9413/AFL-CIO signatory
Comments and suggestions appreciated. Click here and ask for inclusion on our mailing list.
Entire contents copyright © 1982-2009, 2011, 2014 Andrew Barbano