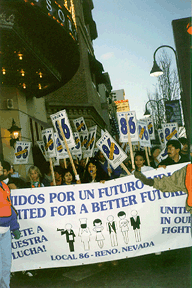 Deja vu all over again -- More than 600 union protestors march through downtown Reno on 2-18-2000 in support of Culinary Union contract negotiations.


Leslie proposes statewide work card law
Las Vegas casino high heel policies targeted
Workers' alliance pumped up over high heels
High court says club workers can't stop management from getting tokes
Former casino dealer wins $500,000 ADA lawsuit over firing
Las Vegas MGM dealer sues under Americans With Disabilities Act
Dealers' illness called frequent
Vegas unions ponder effort to organize dealers, cashiers
New attempts to organize dealers and casino cage workers
Casino dealers, unions and cigarette smoke

St. Mary's nurses vote down union bid
Hospitals heat up their scorched-earth campaign against their workers
Barbwire: The awful truth, sick hospitals, Dear Abby and the pope
Local 3's Organizing Information for Nevada Nurses

U-News
Pickets result in 3rd Reno Regal Cinema construction shutdown
Northern Nevada unions step-up organizing activity


From Tailhooking to union-busting to strike-breaking, 1999 has been a busy year
HOSPITAL HASSLES HEAT UP AND COOL DOWN (8-21-1999) — With a record of 3-1-1 (three wins, one loss, one undecided) in hospital elections this year, Operating Engineers Local 3 today announced postponement of next week's election at Washoe Medical Center in Reno.
Citing an increasingly hostile climate of fear and intimidation, the union this week withdrew its petition for next week's vote to represent about 400 technical workers at Northern Nevada's largest hospital.
In July, by a vote of 315 to 206, the union won an election to represent about 600 Washoe Med nurses. Two more ballots were held last week. A small group of about three dozen skilled maintenance workers opted against unionization last week.
A second, much larger bargaining unit of service and maintenance employees voted separately and concurrently. Uncounted, challenged ballots could swing the election either way. The union currently trails by 39 votes (262-223) in the count suspended Friday, Aug. 13.
About 800 workers were eligible to vote, but the election will be decided by just 73 ballots challenged by the union and the National Labor Relations Board. The union this week filed 37 charges with the National Labor Relations Board alleging illegality by the hospital in that election.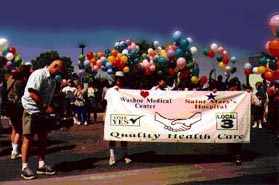 FLYING COLORS - Washoe Med and St. Mary's workers release balloons at a rally earlier this year at the site of Saturday's rally. OE3 is located at 1290 Corporate Blvd. in the Dermody Industrial Park, southwest of the corner of Mill Street and McCarran in Reno, (775) 857-4440.
FROM WASHOE TO WYOMING -- Local 3 picked up its third hospital win of the year on Monday, Aug. 16, in Wheatland, Wyo., about 60 miles north of Cheyenne. All of Platte County Memorial Hospital's non-management employees, except three skilled maintenance workers, were allowed to vote in an election won by the union, 70 to 62. Earlier this year, OE3 also won a referendum to represent nurses at Elko General Hospital. That victory led to the Reno campaigns.
RALLY IN RENO ON SATURDAY -- The union is hosting a rally and open house for Washoe Med and St. Mary's Regional Medical Center workers at its offices at 1290 Corporate Blvd. on Saturday, Aug. 21, from 12 noon to 9 p.m. The highlight will come at 2:00 p.m. with the unveiling of two giant-sized petitions from workers asking Washoe Med and St. Mary's management to stop their scorched earth tactics against their own workers.
St. Mary's recently hired the national law firm of Littler Mendelson Fastiff Tichy and Mathiason to run its anti-union campaign. The notorious attorneys have been involved fighting unions on behalf of a wide range of Nevada employers, including the Sands Regency Hotel-Casino. Their local associates, Hicks & Walt, were retained to defend Bently Nevada's illegal 1997 firing of two non-union women who asked other employees to sign for parcels during the national UPS strike. Teamsters Local 533 took up their cause and successfully brought the case all the way to Washington, DC.Bently paid them a cash settlement.
CITIFARE WORKERS OBJECT TO MONEY FOR NOTHING (7-16-1999) —This morning, representing Teamsters Local 533, Reno union activist Andrew Barbano went before the Regional Transportation Commission of Washoe County and asked the board to give its workers a raise matching the $107,000 paid last month for unneeded Cincinnati strikebreakers. In effect, the commission's contractor, Ryder/ATE, cut their workers' 1999-2000 pay raise by more than half to give an unauthorized $3,000 a head to import 36 union busters for a strike which never happened. The Citifare bus system has never experienced a strike in its history. The workers plan to present a petition and a request for a recorded vote on the issue at the next RTC meeting on Sept. 17. (See the July 18, 1999 Barbwire, and the Reno-Gazette Journal story by Steve Timko.)
PERMANENT HOTEL SAFETY HANGOVER: THE 1999 TAILHOOK CONVENTION STARTS IN SPARKS — CNN & The New York Times are in town. Let's hope they read about the legacy of Tailhook in last Sunday's Daily Sparks Tribune. Former Lt. Paula Coughlin's lawsuit against the Las Vegas Hilton resulted in 1995 pro-casino legislation permanently endangering Nevada hotel workers and guests.
EXCLUSIVE REPORT: Read an analysis of the Tailhook Law in light of the recent Reno Hilton settlement of a rape and attempted murder civil suit (unreported anywhere else); how the Tailhook Law may affect the civil trial against the Primm Casino in the murder of seven-year-old Sherrice Iverson.(See the August 15, 1999 Barbwire.)
FRESHLY UPDATED AT U-NEWS — Construction unions shut down the downtown Reno Regal Cinemas job two weeks in a row (with photos). Park Lane Mall loses its expensive legal battle with the Carpenters Union over the Syufy Theater construction (with photo). U-News regional roundup.
ALL THE LATEST BARBWIRES BY BARBANO — How unions will embrace the Nevada Right to Work Law as an organizing tool; the original news break of how ex-felons, casino executives and city workers cut in front of long work-card lines at the Reno Police Station; a day in the dangerous life of high steel spidermen and flagger moms in orange cone hell; lots of new photos.
BARBWIRE PLUS — Las Vegas mogul Steve Wynn refuses Nevadans admission to his publicly subsidized art collection; how Wynn can emulate Al Davis and Sylvester Stallone in getting the U.S. taxpayer to pay for his proposed NBA team.
NEW AT SEN. JOE NEAL'S WEBSITE : Just-revealed details of his 2000 petition seeking to raise the gross gaming tax on Nevada's largest, most profitable hotel-casinos.
WEB WATCH — Operating Engineers Local 3's website is down during a move to a new Internet service provider. For those needing more information via the web, the Nevada Labor Pages carries several items about the union's hospital organizing drives. Please contact me or Steve Moler at Local 3 for additional information.
Be well. Raise hell.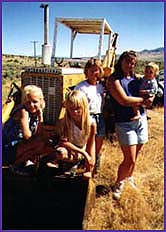 FLAGGER MOMS OF ORANGE CONE HELL
Standing, left to right, longtime flagger moms and best of friends Raylene McKay and Darci Fullerton, who holds her daughter, Montana. In the foreground are Fullerton's daughter, Ashley (at left), and McKay's daughter, Kelsey.


Hazards on the Job
Police: Killings not tied to Texas
Cops check past armored-car holdups
Suspects still at large in slaying of two guards
Search for trio wanted in slaying of two armored car guards continues
Two killed in armored car heist
Workplace violence creates need for training programs
Sierra Chemical explosion survivors endure
Aftermath of Sierra Chem blast brought state reforms

Right-to-Work and Right -To-Tax
Hitting on 16: Nevada workers have the right to lose
Right to fire & evil twin spawned 50 years ago today
Unions heaping praise on labor agreement verdict


by Cy Ryan, Las Vegas SUN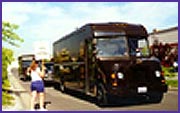 U-NEWS ARCHIVES

Press Reports on the UPS Strike

Carpenters' business agent arrested
Two non-union women fired for refusal to sign for UPS deliveries