Strikes work.
The Teamsters informed their members of the pros and cons and went into this month's garbage collection stoppage unified and well-prepared.

The last three major job actions in this area have had Teamsters involvement. The tiny security guards union's upset victory in the Hot August Strike at Hot August Nights in 1996 happened because Teamsters trucks would not cross picket lines at the Reno Hilton. The Security, Police and Fire Professionals of America went on to win Nevada's first-ever security guard union contract.

Teamsters locally were thus well prepared to participate in the national strike against UPS the following year.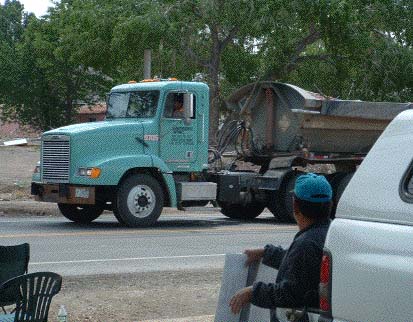 RAT PATROL — A striking Teamster, above, watches an egg-sucking rat from Montana haul Reno rail trench dirt to the Lockwood Landfill. The Reno Gazette-Journal on Friday rubbed salt into sanitation worker wounds. Veteran reporter Susan Voyles wrote that your tax dollars — which will be paying for Reno's $260 million+ gift to Union Pacific (better known as the downtown railroad trench) until ex-President Jenna Bush is well along on writing the memoirs of her eight years in the Oval Office — your money is being spent to hire non-union drivers from Trans-Systems of Billings, MT, to haul contaminated dirt from the trench to the Lockwood Landfill. Read it and weep Better yet, get ahold of Reno City Hall.

If not for the substantial political support which organized labor, including the Teamsters Union, gave the trench, it would not be under construction today. For their thanks, the union garbage workers get rats crossing their lines at the dump.

Let your local officials know about it. Click here for complete Reno-Sparks-Washoe County contact information. Tell 'em the Barbwire sent you by. (Photo © 2004 Edward Heston/IBT 533)

In 1999, the Regional Transportation Commission's unionbusting subcontractor brought in strikebreakers without permission when the Teamsters' contract was up for renewal. A bus strike was avoided but RTC commissioners voted over union objections to let the taxpayers fund the unauthorized strikebreakers. It was only public money, so it was apparently unimportant to the elected officials.

These hard feelings paved the way for the Teamsters' hard-fought Reno-Sparks bus strike of 2002.
[UPDATE: The Barbwire carried early warnings of the Waste Management strike as far back as April 1, 2001.]

Lessons can also be learned from those who did it wrong.

The recently concluded United Food and Commercial Workers strike-lockout against major supermarkets in southern California was an atrociously managed disaster. Preparation and communication were miserably mishandled.
After praising the contract, the union's national president retired. He must have smelled the tar and feathers his members were cooking.

They targeted the wrong employers. As I noted last January, unions and retailers need to make common cause against Wal-Mart, not fight each other because of the predator from Arkansas. Wal-Mart laughed all the way to the bank. With a little innovative thinking, Wal-Mart can be cut down to proper size.


CROWTIME: NevadaLabor.com broke the story on May 7 and with our May 15 posting became the first to publish its conclusion.
Here are some of the many publications worldwide which ran the story with our quotes included. Googling will yield many more. Garbage in Reno. Who knew?
Workers should not roll over and play dead just because the boss says some competitor is hurting business. Cooperation for mutual benefit can be a good thing, but it must be treated like the Cold War — trust but verify. And get it in writing.

My own union, the Communications Workers, is learning that one the hard way. You've probably seen a lot stories of late about a possible national strike against SBC Communications which would affect Nevada.

The Communications Workers are currently in extended talks with SBC and could go on strike any day.

Nevada organized labor got major bills passed for the company in the last two legislative sessions. The 2001 law facilitated SBC's entry into Gomorrah South's lucrative local phone service market. Last year's project was a bill no one could understand and which even those pimping it — the major phone and cable bandidos — could not explain the need for.

Lack of need or knowledge has never stopped Nevada lawmakers before and this was no exception. It was left to Nevada Consumer Advocate Tim Hay to speak the truth — the "broadband parity" bill simply allows SBC, Sprint, Cox and Charter Communications to cut up the market between them and freeze out small competitors.

For all this help, the Communications Workers are seeing their jobs sent to India. A recent test showed eight of 10 customer calls being flushed down the Ganges to the land of the Gandhis.

Employers and unions are constructive adversaries, as no less than George Shultz (who held four cabinet positions under three Republican presidents) said a few years back.
There's nothing wrong with helping the employer if workers get a piece of the action. They just need to remember that there's always a price to be paid for playing footsy with the company.

The weapon of last resort must always be ready. Strikes work if you strike the right balance at the right time.

MR. WATSON, COME HERE, I WANT YOU. Those are reportedly the words first spoken by Alexander Graham Bell after he accidentally spilled some acid causing his telephone to transmit sound.

Those are also the first words which come to mind when I remember Jerry Watson. The longtime Sparks resident died of cancer in his early 50's a few weeks ago.

Jerry was devoted to his family and talk radio. Whenever some neo-fascist at KKKOH trashed me or former Sun Valley columnist Susan Severt, I could count on Jerry to call in and defend us.

He would occasionally tape offensive segments for my review. This allowed me the luxury of rebutting the yahoos at white sheets radio without ever having to tune in. It also made me bulletproof from the arrogance of Lush Ramboites who smirk "you may disagree, but obviously you listen."

No, I don't, not since they fired Travus T. Hipp in 1983. My longtime friend and Tribune/Chronicle colleague in columny generated the highest ratings in the station's history in 1982. It took Limbaugh hisself about 15 years to break the record. As far as I've seen, no one has topped Hipp's numbers on the local level.

Wherever my friend Jerry Watson is today, I'm sure he's watching out for the little people and it's only a matter of time before he calls in.

Be well. Raise hell.

_________________
[1] Geoghegan, Thomas; "Which Side Are You On?"; Plume Books/New American Library/Penguin, 1992; p. 248.