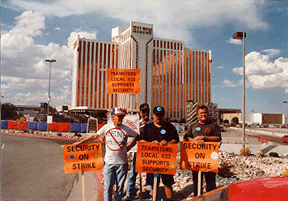 HOT AUGUST STRIKE AT HOT AUGUST NIGHTS — Nevada United Plant Guard Workers of America Local 1010 members in the heat in front of the Reno Hilton during the 1996 Hot August Strike during the Hot August Nights rock'n'rods nostalgiafest, the region's largest special event. Left to right are Jack Stratton, Jay Vanderpool, Al Corral and Chuck Fisher. The outdoor arena where the Beach Boys appeared can be seen in the right background. Although they are members of three unions, the Beach Boys crossed the picket line and performed. [To read the inspiring story of the little union that could, click here.]
Andy:

So sorry to hear of Chuck Fisher's passing.It was people like Chuck that made this union The Little Union That Could. Chuck was a fearless leader who would not let himself or his brothers and sisters be intimidated by a giant corporation. I am proud to have known and worked with him. Chuck will be sorely missed by the labor movement. I will pray for Chuck and his family.

Gene McConville, President Emeritus
SPFPA, International Union
Dec. 3, 2011
---
Charles Forrest Fisher was born Charles F. Peck to Mary Lou Peck and Charles M. Peck on April 6, 1944 in Fresno, California.
His father was in the military and he spent his youth moving around. He spent his early years in Guam on the military base and in Florida before settling in Mountain View, California. He in 1961 from Cubberly High Schoool in Mountain View. He then enrolled at Fresno State College majoring in criminal justice and graduating from the Fresno State police academy in 1964.

It was in college where he met his first wife, Linda Stevenson of Clovis, CA. They were married on June 6, 1965, and had their first child, Steven Forrest Peck, on December 30, 1967.

After serving three years with the Fresno Police Department and the Madera County Sheriff''s office, he went into private security. He worked independently as a private investigator for a time before being hired full time with Sentry Security in Fresno.

In 1973, he had a legal name change for his family from Peck to Fisher in Fresno County.

In 1975, he and his wife welcomed their second child Lea Ann Fisher on February 19.

In 1976, they welcomed their third and last child, William Frederick Fisher on August 5.

An avid sports fan, he was involved in coaching little league and youth football for his son Steven in the mid 1970's.

In 1978, he moved from Fresno, California. to Flagstaff, Arizona, to take a job as a photographer and investigator with the Flagstaff Fire Department. After two years, he moved his family to Reno, Nevada, in 1980.

He then was hired by Harrah's as a security officer for three years between 1980 and 1983.

He divorced his first wife in 1982 and the he met Cheri Thomas of Reno. They were married in 1984.

He then changed jobs to become the head bellman of the Pioneer inn Hotel and Casino in 1985 and worked there until 1988.

He then took a job at the Reno Hilton in 1989 as a security officer. It was there that he met his third wife, Paula Tittman. They were married on July 23, 1989, in Virginia City, NV.

Charles then left the Reno Hilton in 1996 and was hired by Saint Mary's hospital as a security officer and dispatcher until he retired in 2003.

Charles enjoyed his retirement. He spent most of his time enjoying sports and working on his computer.

He loved the San Francisco Giants and 49ers. He lso loved to play golf with his friends.

Charles passed away on November 30, 2011, at Renown Skilled Nursing in Sparks, Nev. The Fisher family would like to thank them for all of their support and kindness.

He is survived by his wife, Paula; his three children Steven Forrest Fisher of Reno, Lea Ann Lane of Duncan, OK, and William Frederick Fisher of Reno; and brother Courtney of Mountain View, CA..

He is also survived by six grandchildren.
At his request, no memorial service is planned.