BREAKING NEWS AND THEN SOME—>
Updated 5-19-2013
Star-stuck: Dirty deals for dirty movies
Ghostrider Nicolas Cage sticks it to Nevada school kids
Barbwire by Barbano / Expanded from the 5-16-2013 Daily Sparks Tribune
Mr. Wynnderful waxes wealthier whilst we wither
Barbwire by Barbano / Expanded from the 5-9-2013 Daily Sparks Tribune
CLINGING TO THE LEDGE: SB457 (municipal election ward voting for Henderson, Reno, Sparks and Carson City) comes before the Assembly Legislative Operations and Elections Committee on May 7 along with SB458 (uniform election act) and SB325 (plain language ballot). Read more about them here. Show up and if you can't —> turn on, tune in and tell a friend.

Be well. Raise hell. / Esté bien. Haga infierno. (Pardon my Spanglish.)
The asinine assassination of KJFK talk radio
Barbwire by Barbano / Expanded from the 5-2-2013 Daily Sparks Tribune
4-28-2013
National Workers Memorial Day of the Dead
You're not worth much dead or alive
Impose the death penalty on companies knowingly causing worker fatalities
Do you think your life is worth more than $566 a year?
Barbwire by Barbano / Expanded from the 4-25-2013 Daily Sparks Tribune
UPDATED 5-7-2013 with Robert Reich commentary
Gov. Sandoval's $3 million New York State of Mind
New Nevada ad campaign slips on a sideways banana
Barbwire by Barbano / Expanded from the Sunday 4-21-2013 Reno Gazette-Journal
Portions of the above also appeared in the 4-10-2013 RGJ and
the 4-18-2013 Reno News & Review
Hopelessly trying to win an earthquake
I publicly wept when they looked at me.
Barbwire by Barbano / Expanded from the 4-18-2013 Daily Sparks Tribune
Sitting ducks in Sparks as storks stalk Carson
Barbwire by Barbano / Expanded from the 4-11-2013 Daily Sparks Tribune
César Chávez's fight continues
Barbwire by Barbano / Expanded from the 4-4-2013 Daily Sparks Tribune
Join the campaign for a César Chávez national holiday
Sign the petition
Tony Mayorga: César Chávez event looks like America
Reno Gazette-Journal Guest Commentary / 3-28-2013
Gov. Sandoval, César Chávez and the Grateful Dead
Barbwire by Barbano / Expanded from the 3-21-2013 Daily Sparks Tribune
Thank you/gracias for a record attendance at César Chávez XI. Watch this website for photos and information about the event. Remember to mark Monday, 31 March 2014 on your calendar. Same time. Same place.
¡Sí se puede!
César Chávez Celebration XI
Join us again on Thursday, 28 March 2013
Gov. Sandoval declines invitation for third year in a row
Celebración de César Chávez XI
Jueves, 28 de Marzo, 2013 / Circus Circus - Reno
El Gobernador de Nevada, Brian Sandoval, declinó la invitación por el tercer año consecutivo.
Obama pays tribute to late Reno labor leader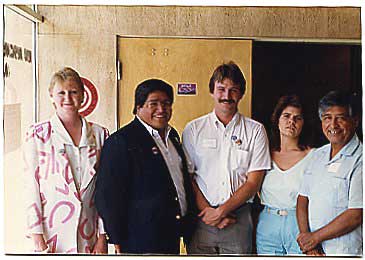 THE WAY WE WERE — The above is a recently discovered photo from 1986. Left to right are Kathy Brown, Culinary Union Local 86 office manager; Miguel Contreras, Local 86 Secretary-Treasurer; Local 86 President Bill Uehlein; a lady named Natalie (anyone who knows her last name, please write), and César Chávez. This item was first published in Ahora, northern Nevada's Spanish-English weekly, on March 26, 2008. (UPDATE: On 3-19-2009, President Obama paid tribute to Brother Contreras when he spoke in the Los Angeles building named after the late labor leader. See the 1986 Chávez Reno archive, below.)
(Photo courtesy of Dan Rusnak, retired business manager of Laborers' Union Local 169.)

More stories and photos from César Chávez's 1986 Reno visit.
We Don't Need No Education: Part XIX—>
Fixing education: The bulldozer solution
Barbwire by Barbano / Expanded from the 3-28-2013 Daily Sparks Tribune
AFL-CIO and NAACP support Obama choice of Perez for new Secretary of Labor
Las Vegas Sun / 3-18-2013
Breaking Solidarity: Union goes unilateral, striking LV cabbies grumble, strike expansion considered
Las Vegas Review-Journal / 3-15-2013
Papa Francisco Primero: ¡Viva La Revolución!
Barbwire by Barbano / Expanded from the 3-14-2013 Daily Sparks Tribune
Barbano vs. vindictive lawmakers: Cutting prevailing wages won't stimulate economy
By Dennis Myers / Reno News & Review / 3-14-13
Nevada's privileged mining industry battles the future with 'campaign contributions'
By Dennis Myers / Reno News & Review / 3-14-13

IN THE BLACK AND COMMITTING BLACKMAIL—>TV station boss and former university chancellor Jim Rogers won't cave to mining industry after advertising cancellation
Las Vegas Sun / 3-2-13
We Don't Need No Education Part XVIII—>
Petition pondering & pandering:
Just Say No, a Nevada tradition
CLINGING TO THE LEDGE—>Do the Nancy Reagan thing
Just say no to the teachers' tax petition and invalidate term limits and right-to-work-for-less in the process. What's not to like?
Barbwire by Barbano / Special Online Abstinence Edition / 3-5-2013
An edited and updated version appeared in the 3-7-2013 Daily Sparks Tribune
Las Vegas taxi drivers authorize strike to begin 3 March 2013
Las Vegas Sun / 2-28-2013
The brutal law of unintended consequences
Between the devil and the deep Joe Neal
Long-lost research may invalidate more than 100 longstanding Nevada laws
IRONY ALERT—>New higher electoral standard for teachers' tax petition may generate more support
Barbwire by Barbano / Expanded from the 2-28-2013 Daily Sparks Tribune
Barbano back on statewide Nevada Newsmakers TV/radio program