Bottom of this page
Click here to get on our news & bulletins mailing list...
But before you do so, please read this note. —AB
Site map
SITE NAVIGATION TIPS: When all else fails, read the instructions (A favorite John Hanks aphorism I've been using for decades)

Je Suis Charlie
"Our republic and its press will rise or fall together." — Joseph Pulitzer
[EDITOR'S NOTE: Unless otherwise noted, historical items appear courtesy of longtime Nevada reporter Dennis Myers' daily Poor Denny's Almanac [PDA]. Items highlighted in blue are of interest to labor in particular and seekers of justice in general. Red means war. Occasionally but not surprisingly, magenta will mean both. Copyright © 2007-2017 Dennis Myers. More Myers.]

Updated 9-22-2017 GMT
BREAKING NEWS & THEN SOME —>
Freedom-loving racists shoot to rewrite history
Barbwire by Andrew Barbáno / Expanded from the 9-20-2017 Sparks Tribune
How to get rich quick in hurricane country
Barbwire by Andrew Barbáno / Expanded from the 9-13-2017 Sparks Tribune
The grasshopper and the dragonfly
Adios to a grandfather and a grand-daughter who never met
Barbwire by Andrew Barbáno / Expanded from the 9-6-2017 Sparks Tribune / Expansions in blue
Virginia City Nevada celebrates Slave Labor Day
Barbwire by Andres Luis Barbáno / Special online Labor Day edition 9-2-2017 / Updated 9-3 and 9-4 2017
Life: What happens while you were making other plans
Adios to a grandfather and a grand-daughter who never met
Barbwire by Andrew Barbáno / Expanded from the 8-30-2017 Sparks Tribune

---
Letter Carriers unions present $10,000 to Food Bank
Reno, NV (30 Aug. 2017) — On August 31, the Food Bank of Northern Nevada will receive one of two $10,000 national "NALC Stamp Out Hunger" donations from CVS Health. The funding will provide 30,000 meals to Reno-Sparks area residents. National Association of Letter Carriers Branches 709 and 2778 will make the presentation at 8:15 a.m. at the Reno Main Post Office, 2000 Vassar Street. The public is invited.
Wednesday —> Just in time for President Trump's visit to Reno:
True confessions of Nevada's undercover Republican PR man
Barbwire by Andrew Barbáno / Expanded from the 8-23-2017 Sparks Tribune
Weeding the gardens of bad judgment
Barbwire by Andrew Barbáno / Expanded from the 8-16-2017 Sparks Tribune
2018 —> The year of estrogenizing dangerously
Barbwire by Andrew Barbáno / Expanded from the 8-9-2017 Sparks Tribune/ Expansions in blue
On Aug. 10, 1939, a Reno bartenders union picket line was thrown up at Tommy's Victory Club in Carson City. [PDA]
Bitter Lesson: Sierra Nevada College firings prompt union charges
By Dennis Myers / Reno News & Review 8-10-2017
Requiescat in pace




University of Nevada Journalism Prof. Emeritus and longtime Sparks Tribune columnist Jake Highton (1931-2017) passed away of a heart attack on 7 Aug. 2017. Remembrance gathering 2 Sept. 2017 at the U.

May the great teacher rest in peace from work well done and a life well-lived.

What a long, strange trip it's been.
Updated 12 August 2017: On this date in 1988, Barbwire by Barbano first appeared in the Daily Sparks Tribune.
Peruse the sordid story of how it came to pass lo, those many years ago.
Step into the Wayback Machine: The Nun's Story, the tale of the first Barbwire

Teamsters and transit contractor reach tentative agreement
Strike avoided pending Aug. 4 worker vote
UPDATE 5:58 p.m. PDT 4 August/ 00:58 GMT 5 August: Secret ballots were counted Friday afternoon, Aug. 4. Union members approved the new contract with MV Transportation of Texas.
Read more about it
Texas Hold'em —> RTC Washoe transit system workers overwhelmingly reject contract offer, strike authorized
Strikebreakers on the streets of Reno-Sparks without a strike
Charges of illegal unfair labor practices filed with federal authorities
System manager given big pay raise
Union busters in town to disrupt bus system
Workers reject deficient contract offer, strike authorized
Barbwire by Andrew Barbáno / Special Online Edition 7-13-2017 / Updated 7-14, 7-15, 7-16, 7-20 and 7-21-2017 GMT
An edited version of this commentary appeared in the 7-20-2017 Reno News & Review
On Aug. 4, 1944, after 25 months in hiding, the eight members of the Frank family of Amsterdam were hauled out of the secret annex, a hiding place in a building behind Prinsengracht 263, and sent to Westerbork transit camp, then to Auschwitz (Miep Gies, who had hidden the Franks, retrieved Anne's famous diary from the annex after the police departed and gave it to Anne's father after the war and it was published as The Diary of a Young Girl rather than under the title its author gave it—The Secret Annex); in 1947, Steve Coulter, author, four-term member of the Nevada Assembly (author of Nevada's generic drug substitution law and first living will law) and 18-year member (under four mayors) of the San Francisco Library Commission, ten of them as president, and author of the sci-fi novel The Chronicles of Spartak/Rising Son was born in Los Angeles; in 1958, Sharon Sheeley's "Poor Little Fool" by Ricky Nelson hit number one on the Billboard magazine chart; in 1961 except in the minds of a cult called birthers, Barack Obama was born in Honolulu; in 1964, the bodies of three lynching victims—civil rights workers James Chaney, Michael Schwerner and Andrew Goodman—were found in an earthen dam on the Old Jolly Farm near Philadelphia, Mississippi 44 days after they vanished, events fictionalized in the deceitful film Mississippi Burning; in 1987, the Federal Communications Commission repealed the "fairness" doctrine which requires broadcasters to carry certain types of content and prevents broadcasting from enjoying first amendment rights (President Reagan later vetoed an effort to reimpose the doctrine). [PDA] Also on this date, two great artists were born: Percy Bysshe Shelley in 1792 and Louis Armstrong in 1901.
On Aug. 3, 1994, the Pullman strike ended with 13 dead after Democratic President Cleveland used federal troops to break it, and the company was apparently victorious — strike leader Eugene Debs went to prison — but the company's autocratic conduct helped change attitudes toward unionism; on this date in 1909, author Walter Van Tilburg Clark, whose novels (The Ox Bow Incident, The Track of the Cat, The City of Trembling Leaves) are set in Nevada where he grew up, was born in East Orland, Maine; in 1931, the Hobart Estate, which held the Hobart Lumber Company, which in turn owned Independence Lake, authorized the lake's gates be opened and some water sent downstream to relieve drought stricken western Nevada; in 1946, Warner Brothers released Bacall to Arms, a cartoon that recreated in humorous terms the memorable, sultry Bacall/Bogart scenes in To Have and Have Not (the two characters were called "Bogey Gocart" and "Laurie Becool"); in 1958, the Northwest Passage was finally located when the submarine Nautilus became the first vessel to cross the north pole underwater, with a Reno sailor, Clarence Price, on board (another submarine also named Nautilus had tried and failed to do the same thing in 1931); in 1965, a report by Morley Safer of CBS was broadcast showing GIs using a flamethrower and Zippo lighters to burn down homes in the Vietnamese town of Cam Ne after opposing soldiers had already fled the area, starting a huge controversy during which President Johnson said CBS had "shat on the flag" and threatened to go public with FBI files on Safer's "communist ties" unless he was fired (it was later learned that the attack on the town had been ordered by a Vietnamese official to punish its residents for failing to pay their taxes); in 1975 in a weird throwback to the private filibustering expeditions of the 1800s, French mercenary Bob Denard and a small force overthrew the government of the Comoro Islands, a nation off the east coast of Africa, one of four coups d'état he led there in the 1970s, '80s, and '90s during which two chiefs of state were murdered; in 2002, George Bush signed legislation to revoke foreign assistance from nations that support the creation of a war crimes tribunal and also to authorize an invasion of Holland to retrieve U.S. officials or soldiers put on trial at The Hague for war crimes (which could only happen if the U.S. itself failed to prosecute). [PDA]
On Aug. 2, 1924, author James Baldwin was born in New York City. The author of "Go Tell It on the Mountain," "The Fire Next Time" and so many other works, eventually relocated to France to escape the stigma of being known as "the black author." He died on 1 Dec. 1987 in St. Paul de Vence, France; on this date in 1942, farmworker José Gallardo Díaz, near death, was found in a road near Sleepy Lagoon reservoir in southern California, sparking a wartime orgy of anti-Latino police and journalism activities, dubious prosecutions of suspects, and the Zoot Suit Riots of 1943; on this date in 1957, The Big Beat, a rock and roll show that predated American Bandstand and featured an astonishing array of stars, appeared for the last time, cancelled by ABC after singer Frankie Lymon was spotted dancing with a white girl on the show. (The 1924 item was suggested by Garrison Keillor's daily Writers Almanac sponsored on National Public Radio by The Poetry Foundation; the latter pair appear courtesy of longtime Nevada jourmalist Dennis Myers' daily Poor Denny's Almanac.) [PDA]
On July 28, 1917 during World War One, and after rioting whites in East St. Louis killed 40 black residents, 8,000 African Americans marched down Fifth Avenue in absolute silence to protest U.S. oppression of its black citizens in community life and in the armed services; on 7-28-1932 in the District of Columbia, four troops of cavalry, six tanks, infantrymen with machine guns, and miscellaneous other forces all led by Douglas MacArthur (who said the fate of the republic was at stake) attacked the Bonus Army, unemployed veterans of World War One who had marched across the nation to demand early payment of a promised bonus; on 7-28-1967, President Johnson established the National Commission on Civil Disorders (whose report, submitted on February 29 1968, he ignored). (Courtesy of Nevada journalist Dennis Myers'daily almanac.)
Sparks' flying philosopher
John Hanks dies at 91

Barbwire by Andrew Barbáno
Expanded from the 7-26-2017 Sparks Tribune
Expansions in blue
Authentic fakes, blonde flaks & grumpy old men
Barbwire by Andrew Barbáno / Expanded from the 7-19-2017 Sparks Tribune
Trump converts flaming liberals into gunfighters
Barbwire by Andrew Barbáno / Expanded from the 7-12-2017 Sparks Tribune
America's final Independence Day looms
Barbwire by Andrew Barbáno / Expanded from the 7-5-2017 Sparks Tribune
We Don't Need No Education Part LXXVII—>
Flint Michigan, Sparks-Reno style
Barbwire by Andrew Barbáno / Expanded from the 6-28-2017 Sparks Tribune / Updated 6-29-2017
Of Sons & Giants: Reno-Sparks NAACP families grieve
Sen. Dean Heller, R-Nev., opposes GOP health care bill
Las Vegas Review-Journal / 6-23-2017
Workers demonstrate at Sparks Nugget
FOR IMMEDIATE RELEASE
Building and Construction Trades Council of Northern Nevada Construction Workers Rally at Nugget Casino Resort
Marnell Gaming hiring practices for Nugget Casino Resort are raising concerns in Northern Nevada

Reno, NV (June 23, 2017) – Local workers and community members gather at the Nugget Casino
Resort in Sparks to protest against the new owner Anthony Marnell and his group Marnell
Gaming. Anthony Marnell bought the Nugget Casino Resort on May 6, 2016. John Ascuaga, long
time former owner of the Sparks Nugget and community leader, paid fair wages to local workers
and contractors. Under Ascuaga's leadership, the community thrived as he employed local workers
to build and develop the community in which they lived. Local workers built the two main towers
of the Sparks Nugget and laid the foundation that is now suffering under new owner Marnell
Gaming. The new owner of the Nugget Casino Resort, Anthony Marnell, is taking us in the wrong
direction for Northern Nevada. Anthony Marnell continuously undermines Ascuaga's legacy and
undercuts the wages of local workers.
Under Marnell Gaming, services have gone down at the Nugget Casino Resort. What was once a
pillar of the community is now a dilapidated casino with poor customer service and unclean rooms.
Reviews on major websites like Yelp and TripAdvisor have plummeted under Marnell's
ownership. Over 55% of Yelp reviews are under 2 stars, with complaints emphasizing bed bug
infestations and dirty rooms upon guests' arrival. The average Yelp Review for 2017 is 1.9 stars.
As the cost of living in Northern Nevada continues to rise, Anthony Marnell drives down wages
and working standards for workers. For decades, Ascuaga employed Northern Nevadans who take
pride in improving and building within their community. Anthony Marnell is wrong for our
community and wrong for Northern Nevada.
The Northern Nevada Building Trades represents tens of thousands of construction workers
in Nevada
For more information, contact the Building and Construction Trades Council
of Northern Nevada, Russ James at (775) 762-9941 or russ@dc16.us.
Rx for Rape and Pillage
SMOKING GUN —> The big picture ain't pretty. DC GOP lawmakers are trying to bludgeon thru Obamacare "repeal" because the budget cuts therein will substantially reduce projected deficits. Without those projections in law, under current revenue-neutral rules, they will not be able to pass their tax cuts for the corporately wealthy. No less than conservative Reason Magazine Editor Peter Suderman said that on the June 19 PBS/Bloomberg Charlie Rose TV program. As Lily Tomlin once opined, no matter how cynical you become, it's hard to keep up.
The game's afoot. So use a foot to kick some ass.
Be well. Raise hell. / Esté bien. Haga infierno.
Andrew
Labor Day Parade
6 September 2010 Virginia City, Nev.


On 20 June 1967, heavyweight champion and Muslim minister Muhammad Ali was convicted of violating the federal draft law (he was stripped of his title and blacklisted for three and a half years); on 20 June 1910, the Nevada governor's office reported a flood of telegrams and other communications asking Governor Denver Dickerson to stop the Johnson/Jeffries prizefight in Reno, but Dickerson (traveling back to Nevada from Oregon) gave no indication that he planned to interfere with the fight. [Courtesy of Journalist Dennis Myers' Poor Denny's Almanac]

On June 16, 2016, United Auto Workers legend and boxing historian George "Battling" Nelson (at left) died in Sparks, Nevada.
BREAKING NEWS AND THEN SOME—>
One for the books under the bus
Barbwire by Andrew Barbáno / Expanded from the 6-20-2017 Sparks Tribune / Updated 6-21-2017
Condemned at Birth
The diabetes establishment inhibits research on a very promising diabetes CURE
"Tell us how it will make ever make us money."
Barbwire by Andrew Barbáno / Expanded from the 6-13-2017 Sparks Tribune / Updated 6-14 and 6-20-2017
---
EMERGENCY TRAFFIC BULLETIN
FOR INFORMATION CONTACT
Robert Nagel (775) 322-8922

1:51 p.m. PDT 8 June 2017
Dear Local Media Types:

Retired City of Reno electrical engineer Robert Nagel just called me. He is a prisoner in his own north Reno home, which presents serious safety concerns.
An outfit called SNC Construction is sealing Hoge Road off North Virginia Street northwest of the Bonanza Casino area. Mr. Nagel was not notified unlike some other homeowners. Orange cone hell showed up last night and many residents were unable to get out for work or to medical appointments today.
Many would need a 4x4 if they could do so at all, Mr. Nagel says.
I suggest immediately informing the public over and above garden variety traffic bulletins.
Your attention is appreciated.
Be well. Raise hell.

Andrew Barbano

ps: Mr. Nagel called because my Carson City live talk line is the only "TV station" listed in the now-obsolete Yellow Pages. Here's an item from my column in this week's Sparks Tribune:

A reader reponds: "Just for info, I've noticed the same thing in my area. The City here used to alert residents to such things. It no longer does so. Kinda puts a damper on that whole "community" thing it pushes." — Craig Ayres-Sevier, Reno
Nevada consumers consumed again
Barbwire by Andrew Barbáno / Expanded from the 6-6-2017 Sparks Tribune / Updated 6-8-2017
Ring up hope before checking out
Barbwire by Andrew Barbáno / Expanded from the 5-30-2017 Sparks Tribune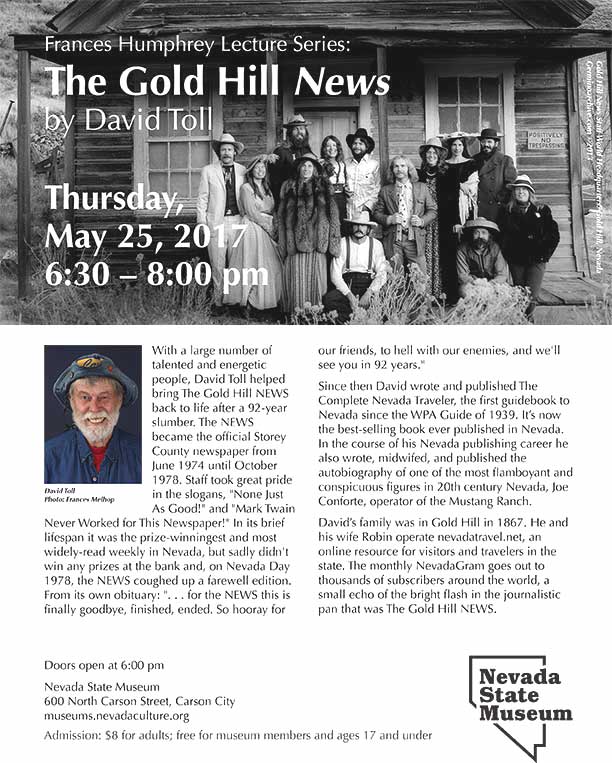 BLAST FROM THE PAST — Pictured above, the Gold Hill News staff in 1975: (seated) Rob Maximov and Jack Feliciano; (standing, from left) Dave Moore, Leanna McNeilly, Jan Maximov, Dan Murray and Barbara Herman; (back row, from left) David Toll, Lila and Jimmy Crandall, Darlene Hickerson, Susan and Bill Germino. [Photo provided by David Toll via Mary Works Covington at the Nevada State Museum in Carson City. ¡Gracias!]

DOWN AMNESIA LANE. Eminent Nevada author David Toll hearkens back to the history of his legendary Gold Hill News this Thursday evening at Carson City's Nevada State Museum. Details with this column at Barbwire.US/ — BARBWIRE BY BARBANO, Sparks Tribune, 5-23-2017

UPDATE: Barbwire / Sparks Tribune / 5-30-2017
Drafting the Donkeyite Dream Team
Barbwire by Andrew Barbáno / Expanded from the 5-23-2017 Sparks Tribune / Updated 5-25 and 5-26-2017
In Memoriam
Seattle, Wash. (5-22-2017) — Former Reno-Sparks NAACP President and Nevada civil rights legend Eddie B. Scott is dead.
His family informs us that he was a victim of cancer. He was in his 80s. A memorial service is tentatively targeted for June. Watch this site for more information as it develops. May the great man rest in peace knowing that he did his work so admirably well.
HOT-WIRED (and wireless) STRIKE
AT&T Wireless, Wireline and DIRECTV workers walk off the job
After AT&T refuses to present serious proposals by deadline, three-day strike hits dozens of cities.
First-ever AT&T wireless strike could close many retail stores this weekend.
"Frustrated over the lack of progress in contract talks, more than 17,000 AT&T union members
in California and Nevada walked off their jobs on Friday."
Los Angeles Times / 5-19-2017
Friday, May 19, 2017 12:04:19 p.m. PDT
National Contact: Anjali at anjali.cadambi@berlinrosen.com.
Nevada Contacts: Barry Blueian, President, CWA Local 9413 (775) 322-9413
Carson City: Marc Ellis

**Key Picket Weekend Locations Where Strikers Are Available for Interviews**
(Nevada Saturday/Sunday locations hereinbelow)

New York City
4PM ET TODAY: AT&T Stores at 1330 Avenue of Americas and 82 Wall Street
12PM ET SUNDAY: AT&T Store at 350 Park Avenue

Boston
4PM ET TODAY: AT&T Store at 699 Boylston Street
11AM ET SATURDAY: AT&T Store at 699 Boylston Street

Chicago
3PM CT TODAY: AT&T Store at 600 North Michigan Avenue
11AM CT SATURDAY: AT&T Store at 600 North Michigan Avenue

San Francisco
1pm PT TODAY: AT&T Store at 1 Powell Street
10am PT SATURDAY: AT&T Store at 1 Powell Street

Los Angeles
2pm PT TODAY: AT&T Store at 350 N San Fernando Rd, Burbank
2pm PT SATURDAY: AT&T Store at 350 N San Fernando Rd, Burbank
NATIONWIDE— AT&T workers who are members of Communications Workers of America (CWA) walked off the job today, protesting AT&T's failure to present serious proposals that invest in good jobs with a future. During the three-day strike this weekend, a majority of AT&T wireless, wireline and DIRECTV workers fighting for their contracts are expected to be on strike.

The groups striking represent four different union contracts and include wireless workers in 36 states and DC; wireline workers in California, Nevada and Connecticut; and DIRECTV technicians in California and Nevada. This is the first time AT&T wireless workers have gone on strike, which could result in closed retail stores this weekend and may be the largest strike of retail workers at a national company is U.S. history.

"We will no longer stand by as AT&T hems and haws at the bargaining table, keeping its own workers from achieving the American Dream they once promised," said Dennis Trainor, Vice President of CWA District 1. "Despite being the largest telecom company in the country with nearly $1 billion a month in profits and the CEO earning $28 million, AT&T continues to pinch its workers' basic needs and stand in the way of high-quality service its customers pay good money for. This is a warning to AT&T: there's only one way out of this now—a fair contract—and we'll settle for nothing less."

While the three-day strike may inconvenience customers in the short term, AT&T workers are committed to putting an end to unnecessary frustration and poor service because of AT&T's lack of investment in its core business. AT&T workers will return to work on Monday and have vowed to do what they have to do if AT&T violates their rights or an open-ended strike becomes necessary.

"As a father, striking is not an easy decision for me. But to make sure I can give my kids the future they deserve, we must take a stand against any and all attempts to skimp on good jobs and financial security," said Mark Bautista, an AT&T wireline worker from El Sobrante, California. "And our fight for a fair contract is about more than just my co-workers and me—it's about fighting a system that's been rigged against us and way too many others for far too long. On the picket lines today, I'll be chanting 'No Contract, No Peace,' until I lose my voice."

AT&T workers are demanding that AT&T commit to bargaining that addresses wage increases that cover rising healthcare costs, job security against outsourcing, affordable healthcare, and a fair scheduling policy. Retail workers' take home pay has plummeted in the last year after AT&T unilaterally changed its commission plan. Workers are also protesting AT&T's pervasive outsourcing of jobs to low-wage contractors, which eliminates good jobs and hurts customer service. At a time when most Americans believe they are worse off financially than the generation before them, AT&T workers are taking a stand and making an example of the company.

"We're walking off the job today because AT&T has every means available to support its core workforce and the customers who help make them $1 billion a month in profits, but chooses to undercut us at every turn," said James Stiffey, an AT&T wireless worker from Pittsburgh. "As a retail worker, I know that my store and many others across the country could close and disrupt service, but our strike is about demanding conditions that allow us to provide better service for customers too. We are standing together to win a fair contract that protects customers, families and entire communities—and we'll do whatever it takes to get it."

As AT&T comes under fire for offshoring thousands of jobs, <http://www.post-gazette.com/opinion/Op-Ed/2017/04/14/Keep-call-center-jobs-in-the-U-S/stories/201704140090?pgpageversion=pgevoke>workers are rallying around new federal legislation that would penalize companies like AT&T who offshore call center jobs. Since 2011, AT&T has eliminated 12,000 call center jobs in the U.S., closing and downsizing call centers across the country. Rather than keeping those good-paying jobs here at home, AT&T has contracted with third party vendors operating in countries with low wages and weak labor protections.

A <http://goodjobsatt.org/wp-content/uploads/2017/05/OffshoringCustomerService.pdf>recent report from CWA shed new light on AT&T's sprawling web of 38 third-party call centers in eight countries that are driving low wages and compromising quality service for millions of AT&T customers. <http://fortune.com/2017/05/04/att-outsourcing-dominican-republic/>AT&T workers and CWA representatives met with call center vendor employees in the Dominican Republic earlier this month to learn more about what has happened to the jobs AT&T has shipped overseas and the anti-union backlash facing Dominican workers who attempt to improve conditions.

At AT&T's annual shareholder meeting at the end of April, <https://www.androidheadlines.com/2017/04/att-protest-dallas-culminates-72-hour-notice.html>AT&T wireless workers protested the company's unfair bargaining and <http://money.cnn.com/2017/04/28/technology/att-wireless-strike/>announced they had given the company 72-hours' notice to end their contract extension. CWA currently has charges against AT&T Mobility pending with the National Labor Relations Board because the company is refusing to provide the union with information about several important issues, including the number of calls going to contractors and overseas. This information is necessary to negotiate basic job security for call center workers. The company has also refused to provide information related to vacation, sick days, training, job transfers and benefits.

In late March, AT&T wireline workers in California and Nevada, who have been working without a contract for over a year, went on strike to protest the company's changing of working conditions in violation of federal law. The strike ended when the workers won an agreement with the company that it will no longer require employees to do work outside of their expertise and classification.

More than 2,300 DIRECTV technicians in California and Nevada and hundreds of workers at AT&T East who manage the 911 dispatch system for AT&T have been in negotiations for their first contract since last year. Also covered under the wireless workers' contract are nearly 800 DIRECTV call center workers in three states and more than 600 CRICKET retail workers.

Saturday & Sunday AT&T Strike Locations
AT&T workers on the picket lines and CWA representatives will be available this weekend to speak to media. NOTE: This list of strike locations is not comprehensive—if you have questions about pickets in your area or wish to arrange interviews contact Anjali at anjali.cadambi@berlinrosen.com.



Albany, NY – 1762 Central Avenue
Anchorage, AK – 1118 North Muldoon Road
Bakersfield, CA - 4300 Ming Avenue
Boston, MA – 699 Boylston Street
Carson City, NV – 1894 East William Street
Chicago, IL – 600 North Michigan Avenue
Columbus, OH – 1495 Polaris Parkway
Davenport, IA – 3120 E. 53rd Street
Fresno, CA – 6685 N. Blackstone Avenue
Harrisburg, PA – 4920 Jonestown Road
Indianapolis, IN – 8812 US 31 South
Las Vegas, NV – 325 N. Nellis Blvd.
Los Angeles, CA – 350 N San Fernando Road, Burbank
Madison, WI – 3902 East Washington Avenue
Minneapolis, MN – 2724 Lincoln Drive
New York City – 1330 Avenue of Americas and 82 Wall Street
Philadelphia, PA – 1501 Walnut Street
Pittsburgh, PA – 4030 William Penn Highway
Reno, NV – 1274 E. Plumb Lane
Sacramento, CA – 1407 J Street
San Diego, CA – 2011 Camino Del Este North
San Francisco, CA – 1 Powell Street
Seattle, WA – 1501 4th Avenue
Springfield, IL – 2410 West Wabash Avenue
Triadelphia, WV – 405 Cabela Drive
Washington, DC – 1518 Connecticut Avenue

Trumping Reagan's television rules
Barbwire by Andrew Barbáno / Expanded from the 5-16-2017 Sparks Tribune
Bench warrants and G-forces
Barbwire by Andrew Barbáno / Expanded from the 5-9-2017 Sparks Tribune / Updated 5-10-2017 GMT
On Cinco de Mayo, 2012, at Barrio Logan, the Navy cargo ship U.S.N.S. César Chávez was christened.
(©ourtesy of Dennis Myers' Daily Almanac)
¡Viva Chávez!
César Chávez Celebration XVI / Celebración de César Chávez XVI
Saturday 31 March 2018 / Sabado 31 de Marzo 2018
Highlights from the record-breaking 2017 event at Circus Circus Reno
May Day for Labor Day
Barbwire by Andrew Barbáno / Expanded from the 5-2-2017 Sparks Tribune / Updated 5-3 and 5-4-2017 GMT
Trump'll shake 'em up
Barbwire by Andrew Barbáno / Expanded from the 4-25-2017 Sparks Tribune
Busted at the Legislature
Fear & Loathing @ the Ledge
Barbwire by Andrew Barbáno / Expanded from the 4-18-2017 Sparks Tribune / Updated 4-20, 4-21, 4-22, 4-23 and 4-25-2017.
Expansions in blue; much more to follow; stay tuned.
Multiple Mea Culpa Dept.
The Sinclair Lewis quote about fascism which I have oft-used is apparently either mis-stated or inauthentic according to Snopes.com/
I will correct the following items over time. My apologies.
• NevadaLabor.com Bulletins 8/1-9/22/06 (/bulletins06d.html)
• Barbwire: Softshoes of the Fisherman (/barbwire/barb05/barb5-8-05.html)
• Barbwire by Barbano: Acting Patriotically (/barbwire/barb05/barb8-21-05.html)
• Barbwire by Barbano: All the news you wish you didn't need to know (/barbwire/barb14/barb1-16-14.html)
• Barbwire by Barbano: The Corporate Patsy French Kiss Awards (/barbwire/barb97/barb10-12-97.html)
• Barbwire by Barbano: Raking Life in the Muck (/barbwire/barb04/barb7-18-04.html)
• Barbwire by Barbano: Tol'jaso Long, Long Ago (/barbwire/barb04/barb9-4-94.html)
• Barbwire by Barbano: They don't do anything until somebody dies (/barbwire/barb13/barb12-12-13.html)
• Barbwire by Barbano: Lamenting the loss of Mr. Rogers' Neighborhood (/barbwire/barb13/barb12-5-13.html)
• Barbwire by Barbano: Cable TV Agenda Benders (/barbwire/barb03/barb3-23-03a.html)
• Barbwire by Barbano: A personal message from an assassin who worked for you and me (/barbwire/barb01/barb10-7-01.html)
• Barbwire by Barbano: Liberal reasons to oppose liberal positions and policies (/barbwire/barb10/barb12-26-10.html)
• Barbwire by Barbano: Angry Americans and Freudian fraud (/barbwire/barb09/barb8-23-09.html)
• NevadaLabor.com Breaking News & Bulletins (/bull07/bull07f.html)
• Breaking News & Bulletins June 1-30, 2007 (/bull07/bull07d.html)
• U-News: Nevada Labor Responds to Day of Infamy (/unews/infamy.html)
• NevadaLabor.com Bulletins 9/23-10/31/06 (/bulletins06e.html)
• NevadaLabor.com News Bulletins Jan. 1-April 10, 2006 (/bulletins06.html)

60 Revenging Rakkasans
Barbwire by Barbáno / Expanded from the 4-11-2017 Sparks Tribune
On April 4, 1968, the civil rights leader Martin Luther King, Jr., 39, was shot to death in Memphis, Tenn. (NY Times)
---
¡Viva Chávez!
César Chávez Celebration XVI / Celebración de César Chávez XVI
Saturday 31 March 2018 / Sabado 31 de Marzo 2018
Highlights from the record-breaking 2017 event at Circus Circus Reno
Halls of Fame and Glory
Barbwire by Andres Luis Barbáno / Expanded from the 4-4-2017 Sparks Tribune
In search of César Chávez
Barbwire by Andres Luis Barbáno / Expanded from the 3-28-2017 Sparks Tribune

Listen to the man himself / entravista con César Chávez

SPECIAL BULLETIN 31 March 2017 (U-News) — An archival interview with César Chávez will air this evening on the Sacramento/Lake Tahoe/Reno-Sparks-Carson City NPR Radio station 90.5-fm | 91.3-fm Stockton/Modesto | 88.1-fm Quincy. It was recorded when César Chávez and more than 10,000 marchers arrived in Sacramento. They included Nevada César Chávez Day stalwarts Mary Valencia Wilson, Maria Zamora and José Refugio Rubio Avalos. Times: 7:00 p.m. PDT/10:00 p.m. EDT/02:00 GMT/SUT. Spread the word. ¡Sí se puede!

The César Chávez Long March
by Reno artist Erik Holland

The original watercolor was displayed for several years in the Nevada Legislature offices of Sen. (now Congressman) Ruben Kihuen, D-Las Vegas, prime sponsor of the 2009 César Chávez Day bill.

Copyright © 2009 Erik Holland. All rights reserved.

On March 31, 1927, César Chávez was born near Yuma, Arizona. On this date in 2017, Nevada Gov. Brian Sandoval was timely for once and declared today César Chávez Day in the Silver State. Although invited, he did not attend this week's annual celebration. Hope springs eternal for March 31, 2018, at Circus Circus in Reno.

César Chávez Celebration XV / Celebración de César Chávez XV
Wednesday 29 March 2017 / Miércoles 29 de Marzo 2017
2017 info and highlights from the record-breaking 2016 event at Circus Circus Reno
BREAKING NEWS AND THEN SOME—>
CWA wins California/Nevada strike at AT&T
By Samantha Masunaga / Los Angeles Times 3-23-2017
Not necessarily news
Barbwire by Barbano / Expanded from the 3-21-2017 Sparks Tribune
Workers make a house call on their congressman