Bottom of this page
Click here to get on our news & bulletins mailing list...
But before you do so, please read this note. —AB
Site map
SITE NAVIGATION TIPS: When all else fails, read the instructions (A favorite John Hanks aphorism I've been using for decades)

Je Suis Charlie
"Our republic and its press will rise or fall together." — Joseph Pulitzer
[EDITOR'S NOTE: Unless otherwise noted, historical items appear courtesy of longtime Nevada reporter Dennis Myers' daily Poor Denny's Almanac [PDA]. Items highlighted in blue are of interest to labor in particular and seekers of justice in general. Red means war. Occasionally but not surprisingly, magenta will mean both. Copyright © 2007-2017 Dennis Myers. More Myers.]

Updated 11-16-2017 GMT
Happy Thanksgibleting to you and yours.

Labor Love-Fest at UNR Nov. 16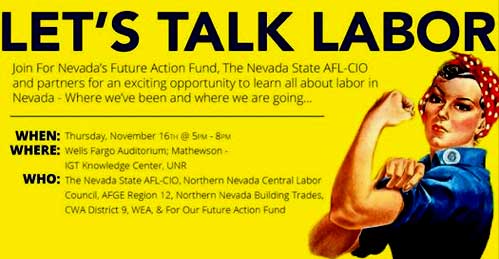 WORD GAMES — For those not familiar with the bureaucratic thesaurus of modern academia, a "knowledge center" is something that used to be called a library. (Remember how the late great George Carlin warned us to beware when the Orwellians start adding syllables?) Thus, those who prefer a more dinosaurus thesaurus might deem a '63 Riviera, or somesuch educational conveyance, as our most fondly-remembered knowledge center. Instead, we will park in the UNR Lawlor Events Center Parking Garage, perhaps for a fee, rather than drive our Chevies to the levy with Miss American Pie. Alas, love's labours lost. Bye, bye.
Brain damage means never having to say you're sorry
Nevada's Most-Censored News Stories of 2017
Barbwire by Andrew Barbáno / Expanded from the 11-15-2017 Sparks Tribune

Happy Birthday, Ms. Nevada
Nevada Day Required Reading
The Lady in the Red Dress
The Barbwire's award-winning Nevada Admission Day classic written in 1983
The compleat history of the Silver State in 500 words (E.B. White would be so proud.)
SO WHERE DO WE GO FROM HERE?
Sparks Tribune 11-4-1990 and oftimes since


BREAKING NEWS & THEN SOME —>
Las Vegas 2017
Fire is the devil's only friend
Barbwire by Andrew Barbáno / Expanded from the 10-4-2017 Sparks Tribune
Throwing the book at big guns and little cowboys
Barbwire by Andrew Barbáno / Expanded from the 11-8-2017 Sparks Tribune