Site map
Corporate Propaganda Research Archive


Everybody knows the dice are loaded.
Everybody rolls with their fingers crossed.
Everybody knows the war is over.
Everybody knows the good guys lost.
Everybody knows the fight was fixed.
The poor stay poor, the rich get rich.
That's how it goes. Everybody knows.
Everybody knows the scene is dead
But there's gonna be a meter on your bed
That will disclose
What everybody knows.
— Leonard Cohen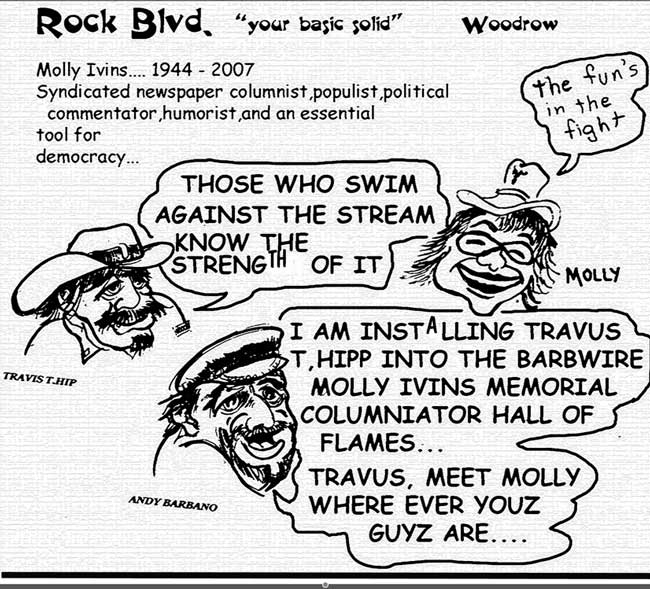 Copyright © 2012 Woodrow Barlettani for The Daily Sparks Tribune

Heat and light for the Hall of Flames
Barbwire by Barbano / Expanded from the 7-22-2012 Daily Sparks Tribune
Updated 9-24-2012: Guy Richardson inducted into Nevada Press Assn. Hall of Fame
Updated 2-10-2021: Anne Feeney dies

Longtime readers know that the Barbwire Molly Ivins Memorial Columniator Hall of Flames has only two qualifications for admission: you gotta be dead and your writing had to hit hellaciously hard.
The inaugural honorees were Ned Day (North Las Vegas Valley Times and Las Vegas Review-Journal), Hank Greenspun (Las Vegas Sun) and Guy Richardson (Reno Gazette-Journal), followed by Bob Brown (LVRJ and Valley Times).

It's time for one more: Chandler Atchison Laughlin, Jr., aka Travus T. Hipp.

The longtime Tribune columnist and Nevada Broadcasters Hall of Famer left us on May 18. He was an excellent writer, but in his element of the spoken word, he was peerless. Travus' columns took on a whole new life if you read them aloud.

As I noted earlier, he was an artist who used his voice to soar and slice, a tenor for the tenor of our times. Many of his mourning California listeners talk about the vocal spells he wove, how he soundly organized the noise of daily life into music that entertained, engaged, enlightened, educated, enthralled and occasionally enflamed.

The San Francisco Chronicle finally noted his passing via Ben Fong-Torres' radio column. I tried calling and e-mailing Rolling Stone to no avail, so I sent newspaper clips via U.S. Postal Service. The bible of rock should take notice of the innovator who ran Virginia City's Red Dog Saloon when it served as the incubator of the San Franciso/Summer of Love sound.
Impact?
For one thing, you pay lower auto insurance rates today thanks to a law Travus thought up and got passed in 1987.

I think Travus and Molly Ivins would have gotten along real good.

GLARING EXCEPTION. Greenspun and Day have been installed in the Nevada Press Association Hall of Fame. Guy Richardson has not, which is reprehensible.

As I wrote when I started the Immortal Ivins BBQ, Guy was by far the best writer of the first three.

As Aesop once advised, if you want something done, do it yourself. So I nominated Guy Richardson a few days ago. I have been gathering endorsements from his fans and former colleagues.

Here are some of Guy's greatest hits from the Barbwire of 2-23-2003: "Why did Willie Nelson cross the road? To sing a duet with the chicken."..."The publicity photo that gets ink is the one that looks expensive."..."One thing you notice about Miss Rodeo America is that she's lawd-a-mighty purty and says what's on her mind: 'If that steer isn't in this rodeo, it's in McDonald's.'"..."Sex is not the answer. Yes is the answer. Sex is the question!" (Jim Stafford)..."Seen those candidate signs around town promoting 'fiscal vigilance?' Imagine a woman asking 'have you tried fiscal vigilance with your husband?'"..."Facing down stiff competition on St. Patrick's Day, Andy Barbano came up with a killer promotion for Del Mar Station Bar — bring in a head of cabbage and get a free green beer. 'Erin Go Braghless!' exulted Betty Barbano."..."Then, I swear, Daisy Mae reached down from heaven and inspired the waitress to take that bragging disc jockey down a peg or two. 'I like listening to your country station,' said she. 'Puts me to sleep.'" (For many years, Daisy Wright was the graveyard cook at the seven-stool Landrum's Diner at Mt. Rose and S. Virginia streets. Landrum's infamous chili cheese omelets sobered up many a drunk in the olden days.)

Barbwire by Barbano got started in 1987 when a magazine publisher asked Guy if he knew somebody who could write a good column.
UPDATE 9-23-2012: WE WON! Guy Richardson was inducted into the Nevada Press Association Hall of Fame in Las Vegas on Sept. 22. Guy and another first-time nominee, longtime Las Vegas Review-Journal Carson City Bureau Chief Ed Vogel, bested seven other worthy contenders. Guy's widow, Zoe Rose, flew in from Ohio for the honors, as did his daughter and son-in law from Sparks. Thanks be to all of Guy's former colleagues who sent endorsements. I'll publish them shortly.

SAY HI TO TRAVUS AND GUY. Word just arrived that killer commentator Alexander Cockburn (pronounced "Coburn") died Friday in Germany at age 71 after a private two-year battle with cancer. Cockburn was co-editor of the political newsletter Counterpunch and a longtime contributor to The Nation. Another great liberal voice stilled.

SCENE OF THE CRIME. The Koch Brothers' Americans for Billionaires' Prosperity tour bus stops in Reno at 5:00 p.m. Tuesday, July 24, at the southeast corner of S. Virginia and Moana, the shopping center north of the Atlantis Hotel.
If you're not doing anything of great social significance (the San Francisco Giants game doesn't start until 7:15), show up to picket the thing.

Don't let them throw Nevada under the bus.
For more information, call Gail Dietrich (775) 622-6659 or Dan Venters (775) 842-5876 at the Nevada Alliance for Retired Americans.

WOW. The retiree organization just launched a new entity, Women of Washoe.
It is the first of many womens' rights affiliates to be established nationwide. Watch NevadaLabor.com for updates.
To join, call Ms. Dietrich at the above number.

SHE'S OK. Country-folk legend Anne Feeney, 61, was hospitalized in Oregon and had to scratch her show in Reno last Tuesday.

"My blood pressure was 78 over 22," she told me from Brooklyn, NY. She lost consciousness last Monday and was rushed to ICU with a serious kidney infection. Against doctors' orders, she still flew to San Francisco to perform at the annual LaborFest.

"I hate to miss a performance," she stated. I told her to get well and we hope that America's greatest living labor folk singer can perform in these parts sometime soon.

Imminent death is about the only thing that can keep her offstage.

"When I was diagnosed with cancer in August of 2010, I still did my last show in Sweden," she said.

That type of attitude adds irony to my favorite Feeney union song, "We Just Come to Work Here, We Don't Come to Die."
UPDATE 2-10-2021: Anne Feeney dies.
SUPPORT THE NEVADA CITIZEN TV PROJECT to re-establish a non-corporate people's channel in these parts.
You might just see a show featuring Anne Feeney.
You may donate at ReSurge.TV or contact me.
Thank you.

Be well. Raise hell.
____________
Andrew Barbano is a 43-year Nevadan, chair of the Nevada César Chávez Committee, producer of Nevada's annual César Chávez Day celebration, first vice-president and political action chair of the Reno-Sparks NAACP, labor/consumer/civil rights advocate, member of Communications Workers of America Local 9413/AFL-CIO and editor of NevadaLabor.com and SenJoeNeal.org. As always, his opinions are strictly his own. Check local listings for other Nevada cable systems. E-mail barbano@frontpage.reno.nv.us. Barbwire by Barbano has originated in the Daily Sparks Tribune since 1988.

Smoking Guns...


Followed by a moon shadow

TRAVUS T. HIPP, 1937-2012

ADIÓS, COMPADRE — Our friend Travus, 75, passed away peacefully between 2:00 and 3:00 a.m. PDT on 18 May 2012 at his home in Silver City, Nevada. The sun is in eclipse as I write this at 6:30 p.m. on May 20.

CHANGE OF VENUE (5-22-2012) — Adiós in Silver City, Nevada, Saturday, May 26, 2012 —> Updated 5-27-2012 — > The auld church where Travus lived and died proved too small for the expected multitude, so gathering, gnoshing and remembering commenced at the Silver City Community Center, 385 High Street, at 10:00 a.m. PDT. The graveside memorial service began at High Noon. Travus was buried next to his rock star companion Lynne Hughes, a short walk away. My remembrance of Lynne from the 3-21-1993 Daily Sparks Tribune has been linked to Travus' formal obituary at this website. All memories accepted for permanent posting hereat. Stay tuned for pictures and stories of the appropriately rainy day.

Thanks for all your kind words. Keep up the good work and the good fight.

Be well. Raise hell.

Andrew Barbano

Travus T. Hipp & Tales of Nevada's Futures Passed
Expanded from the 6-3-2012 Daily Sparks Tribune


At bottom, he was an artist who used his voice to soar and slice, a tenor for the tenor of our times. Many of his mourning California listeners talk about the vocal spells he wove, how he soundly organized the noise of daily life into music that entertained, engaged, enlightened, educated, enthralled and occasionally enflamed. [From the saga of Travus T. Hipp and contributions by The Barbwire to the May 25 Reno Gazette-Journal and May 26, 2012, Daily Sparks Tribune.]

Economist: This is a true depression
Elliott Parker Guest Editorial / Las Vegas Sun / 11-27-2011

The plight of the paper pushers
The great recession made bashing public workers a national sport
Dennis Myers / Reno News & Review / 11-23-2011

Bury the Bad News with Rose-colored Reporting
How urgent can economic troubles be if leaders say things are getting better?
Dennis Myers / Reno News & Review / 11-23-2011

Fact-free nation: Inside the lie machine
Mother Jones Magazine May-June 2011 / Cover story and in-depth analysis

Barbwire Corporate Welfare Archive
Cabellyup.com

From clear-cut forests to dirty Gulfstream waters, this land belongs to old BP
TOLJASO LONG TIME AGO
BP/ARCO: The greasy root of our evils
Barbwire / Daily Sparks Tribune 9-10-2006
The awful truth — Read it and weep, fellow suckers

Labor Day 2009: Rise of the Vampire Corpobots
Expanded from the 9-6-2009 Daily Sparks Tribune

Angry Americans and Freudian fraud
Using war to market cigarettes
Expanded from the 8-23-2009 Daily Sparks Tribune

BARBWIRE Nevada Corporate Welfare Archive

Propaganda fuels gasoline price fixing
Barbwire 8-14-2005

Donate to the cable ratepayer legal defense fund at our PayPal-enabled ReSurge.TV Consumer War Room


Phillips, Kevin; Numbers Racket: Why the economy is worse than we know
Harper's Magazine; May 2008; page 43
Phillips has authored numerous books on history and politics over the past 40 years. His most recent, Bad Money: Reckless Finance, Failed Politics and the Global Crisis of American Capitalism, was published by Viking on April 15, 2008.

ORDER Taking the Risk Out of Democracy
Corporate Propaganda versus Freedom and Liberty
By Alex Carey
Edited by Andrew Lohrey
Foreword by Noam Chomsky
University of Illinois Press


SEE ALSO: Lapham, Lewis H.; Tentacles of Rage: The Republican Propaganda Mill, A Brief History; Harper's Magazine cover article; September, 2004, page 32.

By one conservative estimate, the corporate right has spent about $3 billion over the past three decades manufacturing public opinion to suit big business goals. Lapham's number covered the early 1970's to the present day. Alex Carey noted that by 1948, anti- New Deal corporate propaganda expenditures had already reached $100 million per year, not adjusted for inflation, for advertising alone. (Carey, ibid; page 79)

Adjusted for inflation, that 1948 $100 million becomes $801,659,751.04 in 2005 dollars.

Conservatives Help Wal-Mart, and Vice Versa
As Wal-Mart struggles to rebut growing criticism, it has discovered a reliable ally: conservative research groups.
New York Times 9-8-2006; Free registration may be required.

BARBWIRE: Labor Day '94: People vs. corporate con job, 9-4-94
Chilling forecasts from Alex Carey

BARBWIRE: The Nevada Republican Party Becomes Communist, 3-30-97
A prescient Plato on the dangers of oligarchy
NevadaLabor.com | U-News | Bulletins + Almanac
Casinos Out of Politics (COP) | Sen. Joe Neal
Guinn Watch | Deciding Factors | BallotBoxing.US
DoctorLawyerWatch.com | Barbwire Oilogopoly Archive
Barbwire Nevada Corporate Welfare Archive
Annual César Chávez Celebration
War Rooms: Banks, Cabbies, Cabela's, Cable TV, Cancer Kids/Mining, Energy, Food, Health Care, Resurge.TV/consumers, Starbucks, Wal-Mart
Search this site | In Search Of...


Copyright © 1982-2012, 2017 Andrew Barbano

Andrew Barbano is a 43-year Nevadan, editor of NevadaLabor.com and SenJoeNeal.org; and former chair of the City of Reno's Citizens Cable Compliance Committee, He is producer of Nevada's annual César Chávez Day celebration and serves as first vice-president, political action chair and webmaster of the Reno-Sparks NAACP. As always, his opinions are strictly his own. E-mail barbano@frontpage.reno.nv.us.

Barbwire by Barbano premiered in the Daily Sparks (Nev.) Tribune on Aug. 12, 1988, and has originated in those parts ever since. Tempus fugit.


Site composed and maintained by Deciding Factors, CWA 9413 signatory
Comments and suggestions appreciated. Sign up for news and bulletins