Everything you've heard about Mike O'Callaghan since he died in church last Friday is true. He was a man of little guile with secrets as few as his friends were legion.

The ex-boxer was blessed both with iron fists and an uppercutting sense of humor. He always knew when to deploy the right weapon.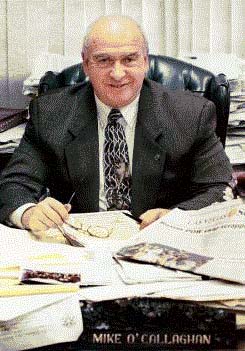 Mike O'Callaghan
1929-2004
Early in his first term, a woman chastised him at a public meeting. She had seen him in a TV news story, shotgun in hand on a hunting trip. She thought it a bad example for children to see their governor on his way to kill innocent waterfowl.
"Lady, the way I've been shooting lately, those ducks were in absolutely no danger."
Mike took to politics like a duck to water. But as Shakespeare teaches us over and over, everyone has a single and potentially lethal weakness. How we deal with it is often the measure of our lives.
Mike O'Callaghan had a single endearing flaw: he was loyal to a fault. Some of his less than swift appointees often created headaches for him.
"Governor, your head of the such-and-such department is an absolute bitch," an angry constituent once told him.
Mike smiled that endearing, toothy grin, then softly growled "yeah, she's a bitch. But she's MY bitch." Message received.
In 1974, Mike and his aides came under heavy fire for how campaign contributions were being distributed. Fiery Democratic activist
Chow McGarry
and Reno lawyer
Bob McDonald
came to blows in some barroom the night before the state Democratic convention.
At the Pioneer Theatre in Reno the next day, you could have heard a pin drop when Governor Mike rose to speak.
He calmly addressed the issues, putting them to rest, then announced he was appointing two Irishmen named McGarry and McDonald as the party's co-chairs of courtesy and protocol. He left the stage to cheers and a standing ovation.
I've been on the receiving end of both Mike's wrath and kindness.
On more than one occasion when his appointees were royally screwing up, I brought public scrutiny to the issue.
In 1976, on the steps of Sparks Immaculate Conception Church before mass early one weekday morning, Mike voiced his displeasure to an assembly candidate I was working to elect. He made his comment as he handed my client an envelope of campaign contribution checks.
Message received, governor.
When that person got into office, he became a regular recipient of Mike's legendary pre-dawn telephone raids.
"Mike called me at 4:00 a.m. and told me how to vote on a dozen bills," the guy once told me. "I was hung over and forgot what he wanted on one of them. Mike called me right afterward and read me the riot act. Man was he pissed!"
Message received.
Mike would have been easily re-elected to a third term in 1980 but walked away. He could have had his pick of any corporate or political position, but instead chose to go to work for
Hank Greenspun
as executive editor of the Sun. He eventually purchased the Henderson and Boulder City newspapers.
I saw him a couple of times at the paper. His office was right out front and the door was always open. Mike treated the high and the humble the same way and always gave freely of his time.
In 1989, a Korean War veteran asked me to help him kick-start his personal crusade to win better benefits for old soldiers.
Joseph A. "Jody" Seljan
was having his station wagon repainted with signs about the plight of the disabled vet and planned to drive it cross-country, starting at a VFW convention in Las Vegas.
I wrote a story and mailed it to Mike, telling him what a fellow war amputee and Korean vet was going to do. Mike never called me about it.
A few days later, I got a call from an excited Jody Seljan. My story about him appeared word-for-word on the front page of the Sun accompanied by a large color photo. The late Mr. Seljan went on to raise a lot of awareness and money for disabled vets, but he would not have been nearly as successful without Nevada Mike.
Mike never held a grudge against anyone who had crossed him. He looked at adversaries as potential allies. That made him perhaps the smartest politician I ever saw.
"He lived to see his two greatest accomplishments being wiped out by his successors,"
Sen. Joe Neal
, D-North Las Vegas, told me a few years ago.
Mike did more than anyone ever has for the physically and mentally disabled. He established the rural clinics mental health program and greatly expanded mental health services for all Nevadans. He was the greatest champion the injured worker ever had. The dwarfs who succeeded him, caving in to business pressure, pretty much destroyed both of those monuments.
"Man, when he was governor, he ran this state. It didn't run him," Neal said, adding that his job as a senator was a lot easier with a governor like that.
Looking at those who came before and since, Mike O'Callaghan was the best we ever had. He left us with so much but we have to fight to keep it.
Message received, governor. You done good.