Long may you run.
Long may you run.
Although these changes have come.
With your chrome heart shining in the sun,
Long may you run.
— Neil Young
In this short attention span century, the test for greatness is simple: a one-word name.
Warhol. Liza. Prince. Eminem. Celine. Oprah. Britney. FDR. JFK. MLK
.
Add
Dondero
.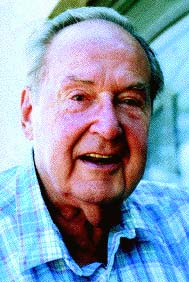 Dondero, 1920-2003

(Photo courtesy of D. Brian Burghart, Reno News & Review)
The legendary Nevada photographer died last week at 83, just two weeks after the passing of his beloved high school sweetheart and wife of 58 years, Liz, the former Elizabeth Franks. Donald Dondero was born in 1920 at Steptoe Valley Hospital in East Ely and grew up in Carson City.

My first photo shoot after moving to these parts from Gomorrah South in 1971 was with Dondero. One of my most treasured possessions is an autographed copy of his 1991 book "Dateline Reno." That charming multifaceted snapshot of Nevada as she used to be was censored by Sundance books shortly after publication.

The August 23, 1992, Barbwire about that dustup will be posted with the Internet edition of this column. I'll also upload part of my personal Dondero photo archive, including the one of belly dancer Rachel Jill with her pet python walking through Dondero's front door.

Here's Don through his own words and actions.

THE ONE THAT GOT AWAY. Driving to Carson City to cover Jim Bilbray's filing for congress in 1972, we passed the long-deteriorating drive-in movie theater at the north end of town.

"This is where I missed the greatest shot of my life," Don said of the occasion in the late 1940s.

"I had been in the navy and seen a few things, but most of the locals hadn't. On its grand opening day, the new drive-in theater was packed with a line of cars a mile long waiting to get in. They were all honking their horns, angry that the movie hadn't started in broad daylight. And I didn't have my camera."

WHO'S OLD? In July of 1996, I asked Don to go with me and labor leader Skip Daly to shoot some construction shots of the second high rise at John Ascuaga's Nugget. It was swelteringly hot and little did I know that we'd be climbing ladders between floors just like the hardhats. Dondero at 76 didn't miss a step, much less a shot.
HOW TO GET PUBLISHED. Don knew a little bit about getting printed. In his later years, he would send very pointed one- or two-line letters to the editors of major magazines. His words were used with surprising frequency.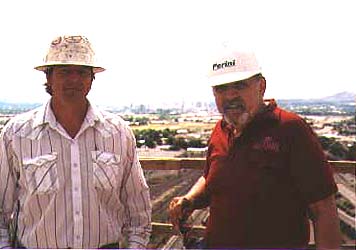 PHOTO BY DONDERO — Sparks labor leader Richard "Skip" Daly and the Barbwire man at the top of the Nugget second tower construction on July 29, 1996.
TRICKS OF THE TRADE, PART DEUX. Any photo will enjoy enhanced chances of publication if it includes a woman with large breasts. Years ago, Don got an assignment from the Reno-Sparks Chamber of Commerce to shoot in Virginia City. He knew he'd be facing heavy competition for wire service attention. So he and the chamber's Buck Buchanan hired a well-endowed model. The shot appeared in hundreds of newspapers.

JUST HOW DRUNK DO YOU THINK I AM? Dondero used to carry full-color business cards. One version had a Marilyn Monroe-style blonde standing under the Reno arch in the middle of north Virginia Street — topless (the model, not the arch).

The night was bloody cold. The lady in question wore a mink coat to stay warm. Dondero scheduled it for well after midnight to minimize auto traffic. He and "Marilyn" waited at a nearby bar. Finally the moment arrived. They rushed into the street. The lady dropped her mink below her shoulders, Dondero got the shot, she recovered and they headed back to the saloon.

"Sure enough," he told me years later, "there were two drunks standing nearby under a street light. As we walked back into the bar, I heard the one who'd had his back to us say to the other 'do you exshpect me to believe a story like that?'"

More Dondero memories
Reno Gazette-Journal — Links to Don's obit and info about his book, his WWII exploits, the PBS program' "The Making of the Misfits" and lots and lots of (what else?) photos.
Carson City Nevada Appeal, from the town where Don grew up
(Editor's note: ALL the above links are now stale.)
Reno News & Review: D. Brian Burghart
D-DAY: A commemoration of the lives of Don and Liz Dondero will be held at the historic California Building in Reno's Idlewild Park on the banks of the Truckee river on Friday, June 6, from 1:00 to 3:00 p.m. (Barbwire 6-8-2003)
PARDON US, MA'AM. Dondero was hired quite often by Mapes Hotel PR pro (and former Nevada State Assembly Majority Leader, D-Elko) Gene Evans. The late great Gene and I served on the Multiple Sclerosis Society board for a decade in the 1970s. Our main fundraising event was the governor's BBQ at the executive mansion in Carson City. Part of the annual promotion was a Dondero photo of Gov. Mike O'Callaghan, an extremely morning person.

One Wednesday, Dondero and Evans showed up on Mountain Street for a 7:00 a.m. photo shoot. Back then, there was no security and anybody could walk right up to the place. The boys knocked on the back door. First Lady Carolyn O'Callaghan padded her way to the portal in slippers and bathrobe, shaking the red hair from her eyes.

"Hi, Carolyn. We're here for the photos with Mike. He said seven o'clock Wednesday morning," quoth Evans.

"That's next Wednesday, he's not here."

Oops.

I fed the story to every paper in the state, much to their embarrassment. But any publicity is good publicity.

Don always got the shot, even if he had to show up a week early to get it. (I doubt if he shot anything of Mrs. O'Callaghan that morning.)

JETSETTING WITH THE OLD WWII FIGHTER PILOT. "The only difference between this plane and a bus is that a bus is on time," snorted Dondero as we sat snowbound on the Reno airport tarmac for 10 hours trying to get to Hawaii.

TRICKS OF THE TRADE, PART 3 — THE DONDERO COLLECTION AGENCY. One time, I helped Don and Liz collect some money from a past-due mutual client. The company asked for copies of invoices previously submitted. Don sent the copies in the form of 8x10 glossies. The national office was so impressed that they paid immediately and complimented Dondero on his creativity.

SEND YOUR DONDEROISMS. As I did after the great columnist Guy Richardson recently died, I will gladly post your personal remembrances on the web. Photos are also most welcome. Send 72 dpi jpegs.

With a little help from his friends, Dondero will have another long run in the new digital world.

Be well. Raise hell.