Bottom of this page
Click here to get on our news & bulletins mailing list...
But before you do so, please read this note. —AB
Site map
SITE NAVIGATION TIPS: When all else fails, read the instructions (A favorite John Hanks aphorism I've been using for decades)

Je Suis Charlie
"Our republic and its press will rise or fall together." — Joseph Pulitzer
[EDITOR'S NOTE: Unless otherwise noted, historical items appear courtesy of longtime Nevada reporter Dennis Myers' daily Poor Denny's Almanac [PDA]. Items highlighted in blue are of interest to labor in particular and seekers of justice in general. Red means war. Occasionally but not surprisingly, magenta will mean both. Copyright © 2007-2018 Dennis Myers. More Myers.]

Updated 10-21-2018 GMT
BREAKING NEWS AND THEN SOME—>
Women march to the polls in downtown Reno Oct. 21
BallotBoxing '18: Maximum confusions & contusions
Barbwire by Andrea Luigi Barbáno / Expanded from the 10-17-2018 Sparks Tribune
Great Depression 2.0: Sure cure for what ails us
Barbwire by Andrea Luigi Barbáno / Expanded from the 10-10-2018 Sparks Tribune

Labor legend Stan Jones dies
OCT. 8 10:00a.m.-12noon—> Postal workers and supporters rally to save the system.
Bruce Thompson Federal Building, Liberty @ S. Virginia, Reno
Trump order would take Nevada back to the Pony Express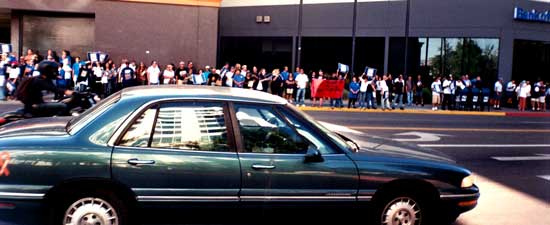 FED UP AT THE FEDERAL BUILDING (9-27-2011) — More than 200 postal workers and members of other unions demonstrate at the Bruce Thompson Federal Building in Reno in favor of passage of HR 1351, which would remove the funding drain now threatening the United States Postal Service. The federal courthouse may be seen in the window reflections of the auto in the foreground. (NevadaLabor.com photo)

MEDIA ADVISORY
8 October 2018

FOR IMMEDIATE RELEASE


FOR MORE INFORMATION CONTACT
Clancy McCarthy, President
National Assn. of Letter Carriers Branch 709
(775) 250-8348

POSTAL EMPLOYEES OPPOSE TRUMP PRIVATIZATION MOVES
10:00 a.m. today / Bruce Thompson Federal Courthouse / Downtown Reno
Trump order would take Nevada back to the Pony Express

RENO, NEV. (10-8-2018) — Nevada postal employees will join their counterparts across the nation this morning protesting the Trump administration's move to privatize the system.
Representatives of four major U.S. Postal Service employee unions will gather from 10:00 a.m to 12 noon in front of the Bruce Thompson Federal Courthouse, 400 S. Virginia at Liberty Street in downtown Reno.

"The US Mail is not for sale," stated Clancy McCarthy, President of National Association of Letter Carriers Branch 709 in Reno.

Last May, President Trump created a task force to review USPS operations. Trump's executive order suggested that the USPS universal service obligation be terminated. The proposal runs headlong into the U.S. Constitution (Article I, section 8, Clause 7) among other problems.

The postal service is as old as the nation itself. Trump's order purports that universal service is no longer necessary.

"Nothing could be further from the truth," McCarthy asserted.

"In an age of e-commerce, mail-order prescriptions and voting by mail, affordable universal service is more important than ever," McCarthy added.

UPS and Federal Express have skimmed the cream of the package business but even they use the postal service to complete many of their deliveries because it's by far the most economical. Without the universal service mandate, private companies will only serve profitable, densely populated areas. The likes of Austin, Nevada, will be relegated to the Pony Express or carrier pigeon.

Congress has been complicit in undercutting the service by imposing a mandate suffered by no other organization in the country: paying into a pension fund 75 years into the future. The postal service runs at a profit but this non-creative accounting method shows paper losses and is designed to weaken the service's image and thus its public support.

Last June, the Office of Management and Budget's government-wide reorganization plan called for privatization of the system. Much of the U.S. military has been privatized to mercenaries at huge cost and the momentum continues. Social Security and Medicare are next. President Franklin D. Roosevelt's New Deal and President Lyndon Johnson's Great Society die with them, a goal of reactionary conservatives for most of a century.

Does anyone wonder how the new, improved U.S. Supreme Court will view these issues?


[Release prepared by Andrew Barbano, Editor, NevadaLabor.com/]
CWA 9413/AFL-CIO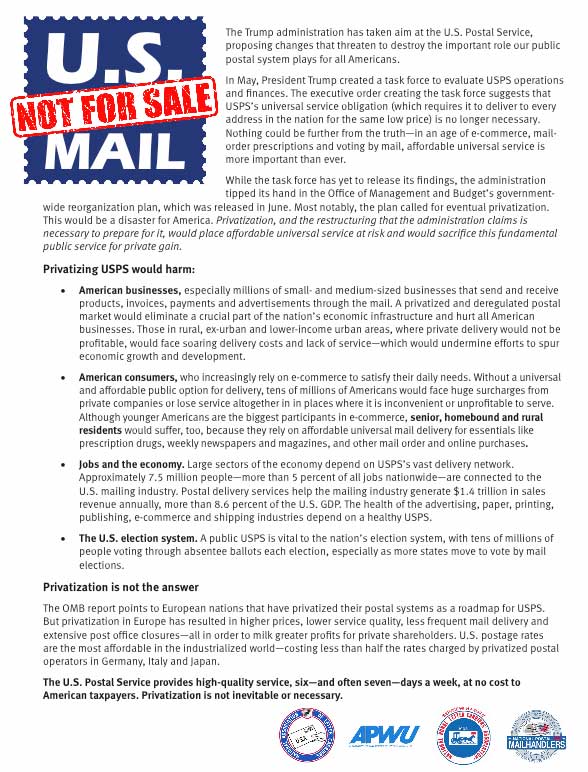 50 shades of rape: Tales of future past
Barbwire by Andrea Luigi Barbáno / Expanded from the 10-3-2018 Sparks Tribune
9:14 p.m. PDT 9-26-2018 / 04:14 GMT 9-27-2018 — MY WILDEST DREAM: Tomorrow at 7:00 a.m. PDT, Dr. Christine Blasey Ford walks into the U.S. Senate crucifixion star chamber flanked by her new legal team — lawyers Anita Hill and Barack Obama. (Can we also get Gerry Spence out of retirement?) Alas, love's labours lost.
Blacks honor whites with a dash of electric pink
In search of a pink Cadillac to honor Aretha
Barbwire by Andrea Luigi Barbáno / Expanded from the 9-26-2018 Sparks Tribune
The more things change, the more they remain the same
Barbwire by Andrea Luigi Barbáno / Expanded from the 9-19-2018 Sparks Tribune
FROM JOURNALIST DENNIS MYERS' DAILY ALMANAC


IN MEMORY
Addie Mae Collins
Denise McNair
Carol Robertson
Cynthia Wesley
ON SEPT. 15, 1963, the Sixteenth Street Baptist Church in Birmingham, Alabama, was bombed by Ku Klux Klan members, killing four girls attending a Sunday service at which the sermon was titled "The love that forgives"; ON SEPT. 15, 1979, using a hot air balloon that took months to devise, two east German families escaped over the Berlin wall; ON SEPT. 15, 2007, Sally Field received an Emmy for her portrayal of family matriarch "Nora Walker" in the television series Brothers and Sisters and the Fox Network censored part of her acceptance speech: "But at the heart of Nora Walker, she is a mother. So surely this belongs to all the mothers of the world. May they be seen. May their work be valued and raised, and especially the mothers who stand with an open heart and wait-wait for their children to come home from danger, from harm's way, and from war. ... And let's face it, if mothers ruled the world, there would be no goddam wars in the first place."

FROM A FATHER AND A BROTHER
Osama bin Laden's strategic logic was to embroil the United States in a never-ending conflict to ultimately bankrupt the country.

"All that we have to do is send two mujahadeen to the furthest point east to raise a piece of cloth on which is written 'Al Qaeda,' " he said in 2004, "in order to make generals race there to cause America to suffer human, economic and political losses without their achieving for it anything of note."

Why are we continuing to do what Bin Laden wanted all along? I refuse to take Bin Laden's orders. I will not stay quiet. End the war.

— Joe Quinn, veteran of two tours in Afghanistan who lost a brother in the World Trade Center. His son is now deployed in the never-ending war. (New York Times op-ed, 9-11-2018)
"Those who cannot remember the past are condemned to repeat it." — George Santayana
Dim and Dimmer: Ghost of Jim the Dim rides again
Barbwire by Andrea Luigi Barbáno / Expanded from the 9-12-2018 Sparks Tribune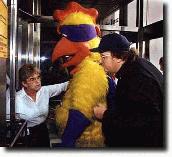 Michael Moore and Checkers the Corporate Crime-fighting Chicken try to breach a criminal fortress — but can't get past the fortress waitress. (From his Emmy-winning series, TV Nation)
Message from the Mahatma —> FAHRENHEIT 11/9
Opening Night kick-off of the Toronto International Film Festival
TORONTO 6 Sept. 2018 —We open nationwide on September 21, 45 days before the most important election in American history (and with voter registration still open nationwide!). I have spent the better part of this year constructing a film that will not only explain how the @#&% we ended up with Trump, but also help show us the way out. I must warn you — I do not pull ANY punches in the film. No one is spared— not even me.
This film is THE moment of truth we've all needed for some time and I truly believe its release will be the real beginning of the end for Donald J. Trump (and perhaps, more importantly, the eventual end of the rotten, corrupt system that gave us Trump in the first place).
I need your help. I've made a film that was meant to be seen on a big screen, in a dark theater, filled with a hundred strangers. My hope is that you will experience the magic of cinema the way it was meant to be experienced, in a movie theater. It's the best way to truly feel the big story I'm telling you. Any bit of anger, despair, or frustration you've felt over the past few years must be channeled into action this fall!
We are the majority — never forget that. But we need to rise up. That's the only way out of this mess.

P. S. I'll bring you into the world premiere tonight via Facebook Live just before 11pm ET.
Barbwire 30th Anniversary Trilogy
Now well into a 4th decade of equal opportunity harassment of the rich, famous & powerful
Part 3: Biting the hand that feeds me
GOP '18 upsets: Déjà vu all over again
Laxalt and Heller favored to win in November
Barbwire by Andrea Luigi Barbáno / Expanded from the 9-5-2018 Sparks Tribune
Part 2: Biting the moonhowlers
Good reasons to lie to those pesky pollsters
Heller eats sheep balls to get the courage to perpetrate guilt by association
Barbwire by Andrea Luigi Barbáno / Expanded from the 8-29-2018 Sparks Tribune
Part 1: Bitten by my buds
Machine Gun Michele and her low-caliber, low-cut friends
The censored Barbwires of the 2015 legislature finally see ink and my fantasy fiancée bares all
Barbwire by Andrea Luigi Barbáno / Expanded from the 8-22-2018 Sparks Tribune
30 Years before the masthead: Barbano remembers the Barbwire's greatest hits
By Kayla Anderson / Sparks Tribune 8-22-2018
Barbwire by Barbano moved to Nevada's Daily Sparks Tribune on Aug. 12, 1988, and has originated in them parts ever since.
Whom to blame: How a hall-of-famer's hunch birthed the Barbwire in August of 1987
Tempus fugit.

Some like it hot —
Nevada State AFL-CIO annual convention Grand Sierra-Reno Aug. 19-21
Be there or be square.
And some like it hotter —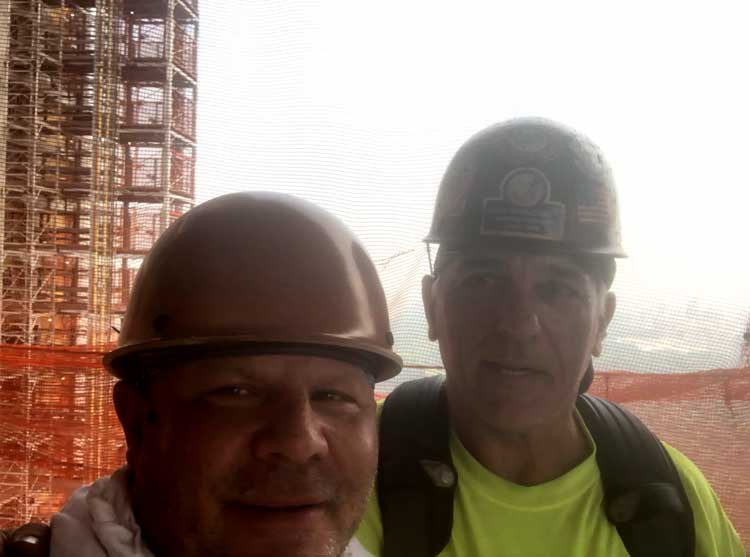 HIGH-RISE TOUGH GUYS

New York, NY — Ironworkers Local 580/AFL-CIO high-rise tough guys Miguel Millan, left, and Steve Gulitti sweat for the cameras while not sweating the altitude over Central Park. (That's The Big Apple cooking in the distance.) Brother Gulitti has long been a great source of news and info to NevadaLabor.com. I strongly suggest that if you like to stay in the know about who's doing what, with which and to whom, get on his e-list (at HotMail, of course). Tell him Barbano on the Barbwire sent you.

From Brother Gulitti:

Labor Union Approval Best Since 2003 at 61%
Americans' approval of labor unions has risen to 61%, the highest since 2003.
A new high of 39% say unions should have more influence.
news.gallup.com

From the venerable Harper's Magazine Sept. 2018:

LABOR'S LAST STAND: IS THIS THE END OF AMERICAN UNIONS?
RED FLAG WARNINGS ON HOT RED MORNINGS
A September swan song we won't sing. READ IT! THEN GO ELECT SOMEBODY.

From Barbwire by Barbano 3-7-2018:


Successful teachers strikes make 1985 prediction come true

"How will labor come back? In a strike. That's not romanticism, that's a fact. It'll start with one plant. One plant. And they strike. And there'll be guys across the street at a second plant, and they see it, and they think 'Hmm, maybe we can do that.' And they win. Then somebody in Idaho does it, the same thing, independently. And then all of a sudden you're seeing some John L. Lewis again, a leader, but he gets thrown up, he's just riding the thing...That's not romanticism, that's a fact." — Ed Sadlowski, United Steelworkers Subdistrict Director
(From Geoghegan, Thomas, "WHICH SIDE ARE YOU ON: Trying to be for labor when it's flat on its back" / Penguin/Plume Books, 1991, at 248)


HOT TOWN SUMMER IN THE CITY — Gulitti photo taken July 3, 2018, the fourth day of a major heat wave.

Historical Black Colleges & Universities Tour 2018
NARAL Pro-Choice America Rally/Reno City Hall Plaza Sunday Aug. 26
NATURAL WOMAN: QUEEN OF SOUL ARETHA FRANKLIN DIES AT 76
DETROIT (8-16-2018) — Aretha Franklin, the undisputed Queen of Soul who stood as a cultural icon around the globe, has died at age 76 from advanced pancreatic cancer. Several years ago, Rolling Stone named her the greatest rock singer of all time, ahead of Ray Charles and Elvis Presley. Music rises as tears fall around the world. May she continue to make a joyful noise unto the Lord into eternity.
ALMANAC: On August 16, 1977, Elvis died. On August 16, 2018, Aretha died.
Wisdom from the immortals: Goethe, Ali & Connery
Barbwire by Andrea Luigi Barbáno / Expanded from the 8-15-2018 Sparks Tribune
Buy local? 'Bye local and goodbye to Paul Laxalt
Barbwire by Andres Luis Barbáno / Expanded from the 8-8-2018 Sparks Tribune
Analog anachronisms and digital dinosaurs
Barbwire by Andrea Luigi Barbáno / Expanded from the 8-1-2018 Sparks Tribune
Ballardini black hole: Let's get our millions back
Barbwire by Andrea Luigi Barbáno / Expanded from the 7-25-2018 Sparks Tribune
Putin & the Blowfish: High treason season of the witch
Barbwire by Andrea Luigi Barbáno / Expanded from the 7-18-2018 Sparks Tribune
SCOTUS coitus interruptus and terminal Teslacide
Barbwire by Andrea Luigi Barbáno / Expanded from the 7-11-2018 Sparks Tribune
Fake boobs and fake news: Guts, feathers and all
Another public relations coup for Nevada: Teslacide
In The Guardian/London & worldwide, Barbano and Nevada conservatives decry corporate welfare depredations
Menlo Park and Reno-Sparks-Fernley share similarly sad high-tech stretch marks
Barbwire by Andrea Luigi Barbáno / Expanded from the 7-4-2018 Sparks Tribune
Cat house to state house: Any publicity is good publicity
Barbwire by Andrea Luigi Barbáno / Expanded from the 6-27-2018 Sparks Tribune
Ghost in the machine: The return of NAGPAC
Barbwire by Andrea Luigi Barbáno / Expanded from the 6-20-2018 Sparks Tribune
Lucky June 13: Cheap shots and low blows
Barbwire by Andrea Luigi Barbáno / Expanded from the 6-13-2018 Sparks Tribune
A duo of D-Days visit Nevada this week
Barbwire by Andrea Luigi Barbáno / Expanded from the 6-6-2018 Sparks Tribune
Mother Dolores: Our village loses its patron saint
Barbwire by Andrea Luigi Barbáno / Expanded from the 5-30-2018 Sparks Tribune
Grandma, gold standards, forearms and tin ears
Barbwire by Andrea Luigi Barbáno / Expanded from the 5-23-2018 Sparks Tribune

Las Vegas hospitality workers overwhelmingly vote to authorize citywide strike
Beer & music and rendering unto Caesar
Barbwire by Andrea Luigi Barbáno / Expanded from the 5-16-2018 Sparks Tribune
Stormy weather: Poll dancing for fun & prophet
Barbwire by Andres Luis Barbáno / Expanded from the 5-9-2018 Sparks Tribune
Flint, Nevada: Dirty deeds done dirt cheap
Barbwire by Andres Luis Barbáno / Expanded from the 5-2-2018 Sparks Tribune
Poor Denny's Almanac: May Day 2018
On May 1, 1886, in a period of economic brutality and robber barons like today, a strike was begun in Chicago for an eight hour day, a challenge to economic power that later became International Workers Day and gave May Day its name, and on the same day Boston plumbers and carpenters issued a strike threat against the Master Building Association unless an eight hour day was allowed, brewers at a Philadelphia firm struck, a building trades strike was scheduled in the District of Columbia, a labor mass meeting was held in San Francisco, furniture makers and cigar makers unions in San Francisco imposed an eight hour day without bothering to ask employers, the Baltimore Sun agreed to an eight hour day for carpenters it employed, St. Louis carpentry employers agreed to an eight hour day, and business and journalism throughout the country tried to play workers off against each other, particularly against Chinese workers (two days after the first May Day, Chicago police fired into a crowd of strikers, killing four people and wounding many more); in 1886 at a labor union rally held in Milwaukee, the first known use was reportedly made of the labor slogan "8 hours for work, 8 hours for sleep, 8 hours for what we will"; in 1888 in Washington, part way through his second term in the U.S. House of Representatives, William Woodburn of Nevada decided he'd had enough and wired Republican leader R.H. Lindsay in Reno, "Have concluded not to run for Congress. Am tired of fighting men in our party. Nominate a winner."; in 1908, California physician S.A. Ellis, who had mining investments at Searchlight, said he believed the town would make a good health resort and sanitarium because "I know of no better place for people affected with lung troubles"; in 1926, Frank Garside took control of the Clark County Review, one of the forerunners of the Las Vegas Review-Journal; in 1939, George Thompson became acting Las Vegas police chief following the removals of chief Dave Mackey and assistant chief Harry Miller; in 1952, Iranian Prime Minister Mohammad Mosaddegh legally nationalized the Anglo-Iranian Oil Company and provided for compensation to be paid to the British corporation (the next year, at the request of MI-6, the U.S. Central Intelligence Agency engineered the overthrow of Mosaddegh, an action that was illegal under international law); in 1968, peace candidate Truong Dinh Dzu, the opponent of Nyuyen Van Thieu in the 1967 presidential "election", was jailed by Saigon officials (on July 23d, they said he would be tried on charges of advocating a coalition government); in 1971, Ringo's "It Don't Come Easy" was released; in 1972, The New York Times received the Pulitzer Prize for meritorious public service for providing the Pentagon Papers to the public and Jack Anderson received the prize for national reporting for disclosing President Nixon's tilting U.S. policy toward Pakistan while telling the public he was not, but the Pulitzer trustees also released a statement expressing reservations about the "timeliness and suitability of certain of the journalism awards" (which the Times reported was aimed at the Pentagon and Pakistan prizes because they relied on leaked government documents)—apparently praising and condemning the reporting at the same time; in 2006, immigrant workers and their families and supporters marched in Chicago, birthplace of May Day, against anti-immigrant legislation being debated in the US House and Senate, a march supported by a surprising array of management leaders, including the Illinois Restaurant Association and meat processing giant Cargill, which closed for the day in support of immigrants.

Just when you thought there was no good news
Barbwire by Andres Luis Barbáno / Expanded from the 4-25-2018 Sparks Tribune
¡Viva Chávez!
César Chávez Celebration XVI / Celebración de César Chávez XVI
Saturday 31 March 2018 / Sabado 31 de Marzo 2018
Latest news and event lineup
Watch this website for a complete event report starting here:
Flying machines in pieces on the ground, part deux
Barbwire by Andres Luis Barbáno / Expanded from the 4-18-2018 Sparks Tribune
We Don't Need No Education Part LXXXVIII—>
Flying machines in pieces on the ground
Barbwire by Andres Luis Barbáno / Expanded from the 4-11-2018 Sparks Tribune
We Don't Need No Education Part LXXXVII—>
Marked for life for making a phone call
Barbwire by Andres Luis Barbáno / Expanded from the 4-4-2018 Sparks Tribune
Poor Denny's Almanac
March 31: A birthday for giants — Jack Johnson and César Chávez

March 31 — On this date in 1870, Thomas Peterson Mundy of Perth Amboy became the first African American to vote under the 15th amendment to the U.S. Constitution, which had been ratified the previous day (he also served as a school principal and was later elected to the Middlesex County Commission); in 1878, boxer (and future world heavyweight champion) Jack Johnson was born in Galveston; in 1911, after three years of prosecutions by the (Theodore) Roosevelt and Taft administrations of newspapers that reported on tawdry government conduct in the construction of the Panama Canal, the cases—which were thrown out by the courts—formally came to an end when a U.S. attorney in New York requested permission to enter a filing called a nolle prosse dropping all criminal libel charges; in 1927, César Chávez was born near Yuma, Arizona; in 1949, attorney Madison Graves filed charges against Las Vegas police officers after a teenager was beaten in the city jail and then given no medical attention to head injuries for four hours; in 1961, what was reported to be Reno's first sit-in was staged by African Americans at the Overland Hotel's café while elsewhere in the downtown a picket line was thrown up at the Nevada Bank of Commerce; in 2008 (and 2018), César Chávez Day will be celebrated with a large gathering at the Circus Circus Hotel in Reno. [Courtesy of longtime Nevada reporter Dennis Myers' daily Poor Denny's Almanac, Copyright © 2007-2018 Dennis Myers.]
From the den of iniquity to the holy of holies
Barbwire by Andres Luis Barbáno / Expanded from the 3-28-2018 Sparks Tribune
What's harder: Finding a doctor or Stormy Daniels?
Sucking up money: The ever-expanding tentacles of the voracious Renown medical octopus
Barbwire by Andrew Barbáno / Expanded from the 3-21-2018 Sparks Tribune
Poor Denny's Almanac
March 30 — On this date in 1963, aeronautical engineer Ed Dwight, an African-American U.S. Air Force test pilot, was admitted to U.S. astronaut training, where—after full public relations mileage was obtained from him—he was harassed and threatened into quitting two years later (he is now a renowned sculptor).
March 29 —On this date in 1951 in New York City, Julius and Ethel Rosenberg were convicted of espionage by an all-Christian jury; in 1971, Lt. William Calley was convicted of murdering 22 Vietnamese civilians, the only responsible official ever brought to justice for the My Lai massacre.
March 28 — On this date in 1939, an agent for Argentine meat packers who supplied dog food in the U.S. was quoted by columnist Drew Pearson: "My two best sales areas are Park Avenue and the deep South. On Park Avenue, it is the dogs that eat the dog food, but in the deep South, it is the negroes and the poor whites."; in 1944, the two-day murder of all the Jewish children in Lithuania's Zezmariai death camp was completed; in 1953, the Reno Sparks Indian Colony formed a planning board to prepare for release of the colony's residents from wardship and resultant securing of deeds to their properties; in 1979, an accident at Three Mile Island set off the nation's worst nuclear power plant disaster.
March 27— On this date in 1961, after a morning in which African Americans from around Nevada poured into the state capital, a senate committee kept approving a weak civil rights bill and then revoking its approval, finally allowing a full senate vote by which the measure lost 9 to 8.
March 24 —On this date in 1890 in a case dealing with whether state railroad rate setters could set rates, the U.S. Supreme Court reinforced in Chicago, Milwaukee, & St. Paul Railroad vs. Minnesota the legal doctrine that a corporation was a person within the meaning of the 14th amendment to the Constitution; in 1944 in Poland, Allied airmen began escaping through a tunnel 30 feet deep and 300 feet long from the German prison camp Stalag Luft III, continuing into the early morning hours of March 25, 76 men eventually escaping, 73 being recaptured, 50 executed, and three avoiding recapture to reach freedom (the movie The Great Escape invented the role of U.S. soldiers, none of whom escaped or had a major role in the escape plans and operation); in 1956, U.S. Navy officials confronted Lt. Thomas Dooley, famous for his humanitarian work in Indochina, with the results of an investigation into his sexuality and forced him to resign his commission; in 1959, The Drifters' There Goes My Baby was released; in 1980, during a U.S.-funded war by the El Salvador government against its own people that claimed 3,000 lives a month, Archbishop Oscar Romero was assassinated while he said mass, shortly after he unsuccessfully begged President Carter to stop financing the slaughter (a United Nations investigation later concluded that the murder had been ordered by Salvadoran Major Roberto D'Aubuisson); in 2004, after starting an unnecessary war for an imaginary reason and sending thousands of soldiers to fight it — more than four thousand of whom died — George W. Bush turned his lethal rationale for war into alleged comedy material at the annual Radio and Television Correspondents Dinner in D.C., showing slides of federal officials searching the White House for weapons of mass destruction, a performance that the sycophantic journalists in his audience — and in later news reports — considered a riot, a judgment not shared by the public, which sent a flood of angry messages to the networks.

March 23 —On this date in 1918, trial began of the Woodrow Wilson administration's prosecution of 101 labor leaders indicted for "espionage" (opposing U.S. participation in World War One), among them Bill Haywood, who at age 15 worked in a mine in Nevada's Humboldt County; in 1923, Chollar Mine worker Andy Antunovich lost an arm on the job as rumors circulated of a miners strike on the Comstock; in 1943, twenty-nine Jewish children from the La Rose Orphanage in France, and their adult caretaker, were gassed at Sobibor death camp; in 1954, French Chief of Staff General Paul Ely and U.S. Joint Chiefs chair Admiral Arthur Radford concocted a plan called Operation Vulture (Opération Vautour) to use an atom bomb in Vietnam to rescue the besiged French at Dien Bien Phu (both Vulture and other plans for U.S. involvement died when the Eisenhower administration was unable to lure British Prime Minister Winston Churchill into the scheme); in 1960, after Storey County District Attorney Robert Moore obtained a nuisance order from Nevada District Court Judge Richard Hanna that said Joe Conforte's Triangle Ranch brothel was being "unlawfully used for the purpose of maintaining a house of prostitution" and should be destroyed at Conforte's expense, a fire crew from Washoe County burned the brothel to the ground; in 1964, John Lennon's In His Own Write was published; in 1979, former Chilean Ambassador to the U.S. Orlando Letelier was assassinated in Washington DC by two Cuban exiles hired by the regime of Chilean dictator Augusto Pinochet. [EDITOR'S NOTE: Letelier's aide, Mrs. Ronni Karpen Moffit, a U.S. citizen, also died in the car bomb attack perpetrated by agents of a Nazi-loving mass murderer installed by the Nixon-Kissinger administration via a 1973 coup de'tat which resulted in the death of democratically elected President Salvadore Allende — and the death of the second-oldest democracy in the western hemisphere.]
March 22 — On this date in 1864 in the U.S. House, Representative Henry Winter Davis pointed out that Lincoln's "emancipation proclamation" had no legal effect so it was necessary for congressional action to accomplish abolition of slavery.
March 21 (Barbwire/César Chávez XVI Update) — On this date in 1806, Benito Juárez was born. ¡Viva Juárez!
March 20 — On this date in 1896, the United States attacked Nicaragua, one of at least eight U.S. wars on that nation (1894, 1896, 1898, 1899, 1907, 1910, 1912-33, 1981-90); in 1919, Slats, who would become the original MGM lion, was born at the Dublin zoo; in 1971, Army Secretary Stanley Resor announced reforms to deal with treatment of African Americans, particularly at U.S. posts in Germany where they received fewer promotions and harsher punishments than whites, and where they faced discrimination in off-base housing rentals; in 1994, Italian journalists Ilaria Lapi and Miran Hrovatin, who reportedly were digging into gun running by the Italian military in Somalia, were mysteriously murdered by a Land Rover full of gunmen in Mogadishu as Italian troops were leaving Somalia; in 2003, the U.S. government began its unprovoked war against Iraq; in 2009, Michelle Obama launched a campaign for healthy food and exercise by planting a vegetable garden at the White House, assisted by school children, and in a knee-jerk response Republicans attacked her and continued their assault for months, with Rush Limbaugh, Sarah Palin, Mitt Romney and Michele Bachmann among those joining in the attack.
Remember: St. Patrick was once a slave who returned to minister to the land which shackled him
On St. Patrick's Day: in 1934, thirty African American students were ejected from the U.S. House of Representatives dining room when they sought service as a protest against the firing of a waiter who tried to serve blacks, with police shoving the students out of the restaurant, down the hallway, and outdoors, fists swinging and blows landing; in 1966, farm workers led by César Chávez began a march from Delano to Sacramento; in 1970, U.S. postal workers struck. [PDA]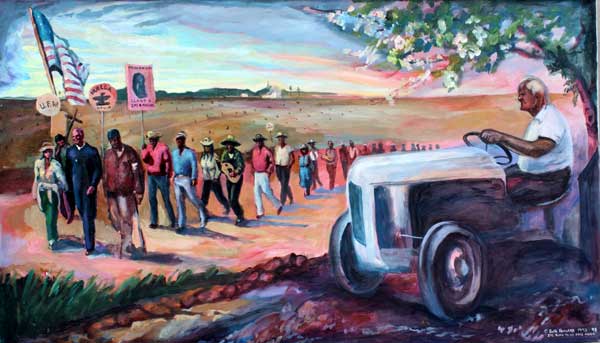 The César Chávez Long March, 3-17-1966
by Reno artist Erik Holland

The original watercolor above was displayed for several years in the Nevada Legislature offices of Sen. (now Congressman) Ruben Kihuen, D-Las Vegas, prime sponsor of the 2009 César Chávez Day bill. Mr. Holland is preparing a new painting to be unveiled at César Chávez Celebration XVI on March 31, 2018, at Circus Circus-Reno. Click here for event reservations and sponsorship opportunities.
Copyright © 2009 Erik Holland. All rights reserved.
Buyer beware the Ides of March
Full house: Renters face a bleak future in the Truckee Meadows
Barbano: Shoddy developers still call the shots
By Dennis Myers / Reno News & Review 3-8-2018
And we didn't even get kissed afterward
A world in fear: It's always 9/11 somewhere
Barbwire by Andrew Barbáno / Expanded from the 3-14-2018 Sparks Tribune
And a little child shall lead them
Wednesday, March 14: National student walkout for gun control. Stand by for detention, you rambunctious little protestors. The University of Nevada-Reno says OK. The Washoe County School District says you're busted, you truant juvenile delinquents.

DETENTION JUNCTION: Reno-Sparks students will risk reprisals for walking out against guns
By Siobhan McAndrew / Reno Gazette-Journal 3-13-2018

Walkout date is an opportunity for Washoe students
Washoe School District Trustee Scott Kelley Op-Ed / Reno Gazette-Journal 3-13-2018

Hope for a nation more interested in butt control than gun control — Andrew Barbano, Sparks Tribune, 3-14-2018

March for Our Lives — and against guns — March 24 in front of the Bruce Thompson Federal Building, W. Liberty at S. Virginia, Reno, 11:30 a.m., concluding at the Reno City Hall BELIEVE PLAZA at 1:30 p.m. Info: Nnedi Stephens, 775-338-4561
Washoe County Commissioner Kitty Jung wins poll position on candidate filing day
West Virginia teachers: Strike one, strike won
Barbwire by Andrew Barbáno / Expanded from the 3-7-2018 Sparks Tribune
LATEST Barbwires
Mayorga muerto

Tony Mayorga (Español)
1952-2018




FORMER LABORERS' LOCAL 169 PRESIDENT & TRAINING INSTRUCTOR TONY MAYORGA DIES AT 65

Mayorga Memorial Celebration Saturday March 10


RENO (19 Feb. 2018) — Brother Mayorga passed away at 3:01 p.m. PST at Renown Regional Medical Center. He was hospitalized early last week with a respiratory illness. His wife, family, close friends, union sisters and brothers watched over him. Please monitor this website for updates. If you are not on the NevadaLabor.com mailing list, you may want to join now. Whatever your core beliefs, please send powerful prayers, projections, thoughts, vibrations and emanations toward our friend, Tony. Thank you.
Tony Mayorga dies at 65
Advance notice to NevadaLabor.com union lists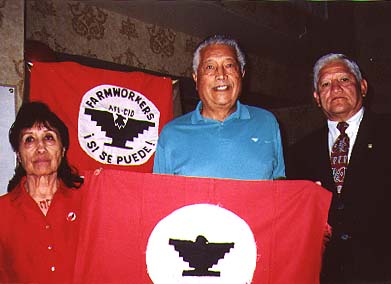 VETERANS — Left to right, Maria Zamora, Librado "Lee" Chávez and Tony Mayorga. Lee Chávez holds up a hand-crafted United Farm Workers of America flag signed by his late brother. The flag is part of Ms. Zamora's collection of Chávez/UFWA memorabilia which she displayed at the 2004 Chávez Celebration. Ms. Zamora marched with César Chávez in the 1960's and cooked for the multitudes as they trekked across California. She traveled from California to attend the 2014 event and has been our guest several times since. She weaved wonderful stories for the audience in her Hall of Fame address. As always, the Chávez family was well represented by Reno resident Ramon Chávez and his family. Tony Mayorga served many years as director of training and President of Laborers' Union Local 169, a founding sponsor of the celebration. [Librado Chávez and a dozen family members attended the 2008-2011 events. Lee and Tony are now gone. César Chávez Nevada Labor Hall of Famer Maria will induct Tony into that exclusive club on March 31, 2018. Adios, hermano.]

MEDIA ADVISORY
Photos at NevadaLabor.com/

FOR IMMEDIATE RELEASE
FOR MORE INFORMATION CONTACT
CARLOS GOMEZ (775) 303-1328
Andrew Barbano (775) 786-1455

FORMER LABORERS' UNION PRESIDENT & LONGTIME TRAINING INSTRUCTOR TONY MAYORGA DIES AT 65
Memorial celebration March 10, Hall of Fame induction March 31

RENO, NV (March 10, 2018) — All Nevada labor mourns the loss of longtime union leader Tony Mayorga who died Feb. 19 at Renown Regional Medical Center.

A memorial celebration will be held at 3:00 p.m. Saturday, March 10, at Walton's, 1745 Sullivan Lane in Sparks.

"He didn't want tears, he wanted joy, music, dancing and laughter, so that's how we will remember him," stated Carlos Gomez, his son-in-law.

In lieu of flowers, his family asks for contributions to the Domestic Violence Resource Center (formerly the Committee to Aid Abused Women). In his training capacity, Mayorga led the crew that re-paved their big parking lot for free in 1999. He did the same in 2005 for the American Red Cross as well as for several local churches among other organizations. (Stories and photos at NevadaLabor.com/)

Mayorga was honored with the César Chávez Distinguished Labor Educator Award at the 2015 Nevada César Chávez Celebration. He will be inducted into the César Chávez Nevada Labor Hall of Fame on César Chávez Day '18 on March 31, only the second posthumous honoree in the event's history. (The first was Fred Ross, Sr., the legendary organizer who taught César Chávez how to organize workers.)

Mayorga, 65, worked with his hands all his life and earned his way to the top. He spent 18 years in the field on construction projects before becoming Laborers' Local 169 training instructor in 1997 and president in 1999. He held both positions for the 1,400-member union until his 2015 retirement.

"He was a strong and proud union man throughout his working life," stated Local 169 Business Manager and State Assemblymember Richard "Skip" Daly, D-Sparks.

"Beyond his family, colleagues and friendships, Tony's impact will be felt for decades to come through the thousands of women and men he educated in skilled construction," Daly added.

He was hospitalized in mid-February with a respiratory illness. His wife, family, close friends, union sisters and brothers watched over him.

Jose Antonio Mayorga Torres was born to Elias Mayorga Ovalle and Catalina Torres Araujo on October 25, 1952, in Chihuahua, Mexico. He grew up and went to school in Tijuana before emigrating to the United States.

He met Filipino immigrant Leah Aranda in Nevada. They became U.S. citizens and were married 36 years, residing in Sparks since 1972.

"Theirs is truly an American success story," stated Eloy Jara, Mayorga's successor as president of Local 169.

"Tony earned our admiration as a leader, teacher and mentor. We honor him by using the skills he taught us," Jara added.

Mayorga is survived by his parents of Tijuana, Mexico; his wife, the former Leah Aranda; children Antonio Mayorga, Elias Mayorga and Amalia M. Gomez (Carlos); brothers Adrian, Elias and Ismael, all of Nevada, and six grandchildren.
---
UPDATE 3-7-2018 [From Barbwire by Barbano, SPARKS TRIBUNE] — SATURDAY ADIOS. My friend Tony Mayorga will be inducted into the César Chávez Nevada Labor Hall of Fame on March 31. First, his family, friends, union sisters and brothers will have a high-hearted going-away fest for the good man who died Feb. 19 at 65. He didn't want tears, he wanted joy. So be it.

The Mayorga Adios happens at 3:00 p.m. this Saturday, March 10, at Walton's, 1745 Sullivan Lane in Sparks.
In lieu of flowers, his family asks for contributions to the Domestic Violence Resource Center (formerly the Committee to Aid Abused Women).
A few years back, Tony led the crew that re-paved their big parking lot for free. He was like that.

---
RENO, NV (20 Feb. 2018) — All Nevada labor mourns the loss of longtime union leader Tony Mayorga who died Feb. 19 at Renown Regional Medical Center.

Mayorga, 65, worked with his hands all his life and earned his way to the top. He spent 18 years in the field on construction projects before becoming training instructor in 1997 and president of Laborers' Local 169 in 1999. He held both positions until his 2015 retirement.

"He was a strong and proud union man throughout his working life," stated Local 169 Business Manager and State Assemblymember Richard "Skip" Daly, D-Sparks.

"Beyond his family, colleagues and friendships, Tony's impact will be felt for decades to come through the thousands of women and men he educated in skilled construction," Daly added.

Mayorga received the César Chávez Distinguished Labor Educator Award at the 2015 Nevada César Chávez Celebration. He will be inducted into the César Chávez Nevada Labor Hall of Fame on César Chávez Day '18 on March 31, thus becoming only the second posthumous honoree in the event's history. Watch CesarChavezNevada.com for additional information as matters proceed.

Brother Mayorga was hospitalized early last week with a respiratory illness. His wife, family, close friends, union sisters and brothers watched over him.

He leaves his wife, Leah, three children, six grandchildren and a union family of thousands.

Please monitor NevadaLabor.com for updates. For additional information and family contact, you may e-mail Carlos Gomez, Tony's successor as Local 169 training instructor.

Your kind remembrances will be appreciated.

Thank you.

In Solidarity,

Tony's Sisters and Brothers

A version of the above will appear in the Feb. 21 Sparks (Nev.) Tribune.
Poor Denny's Almanac
March 5: On this date in 1885, Assemblymember David Allen of Washoe County introduced legislation providing for the appointment of "state detectives", which, after the bill was enacted, were paid by commercial interests like the mining and cattle industries and empowered with deputy's powers to serve those interests, often being employed against labor; in 1981, President Reagan called for an end to legal aid for the poor.
March 4: On this date in 1887, twenty-three year old William Randolph Hearst purchased the San Francisco Examiner; in 1911, a million acres of federally managed land was transferred to the State of Nevada under the Carey Act [Editor's note: Read what happened to 4 million acres of Nevada land originally intended to benefit education in perpetuity, also by Dennis Myers, of course); in 1914, the new $110,000 University of Nevada library was dedicated; in 1944, four Jewish women found in the Aryan section of Warsaw were murdered; in 1970, over the objections of ABC network executives, Johnny Cash hosted blacklisted folk singer Pete Seeger on the Johnny Cash Show (Cash called Seeger's critics "crackpots" and called Seeger "one of the best Americans and patriots I've ever known"); in 2002, Matthew A. Commons of Boulder City died near Gardez, Afghanistan; in 2007, the Associated Press reported that U.S. troops threatened the lives of Afghan reporters unless those reporters erased images of a U.S. attack on civilians: "Delete them or we'll delete you."

March 3: On this date in 1994, Nevada Attorney General Frankie Sue Del Papa issued a legal opinion saying that the county supremacy movement's "Plan for Public Land" (which argues that Nevada holds title to federally managed lands within the state) does not have a "theory with any measure of respect in the legitimate legal community" [Editor's note: Cliven Bundy and Wesley Snipes, please call your laywers]; in 2003 at a food court in Crossgates Mall near Albany, New York, where he was having lunch with his son, attorney Stephen Downs was ordered by security guards to remove the "Give peace a chance" shirt he had purchased at the mall and was arrested and charged with trespass when he refused (the mall later backed down and asked that the charge against Downs be dropped after about a hundred people wearing peace shirts entered the mall and refused to leave until the complaint against Downs was withdrawn).
March 2: On this date in 1934 Tom Mix, Wallace Beery and other movie stars having lunch at the Brown Derby failed to get their food when the restaurant's twenty-seven waiters walked out in a pay dispute; in 1946, the National Assembly named Ho Chi Minh president of Vietnam; in 1955, "Bo Diddley" by Bo Diddley was recorded for the Checker label, introducing the driving, insistent beat that was so influential that "Bo Diddley beat" became the term to describe it; in 1960, the Reno Evening Gazette and Nevada State Journal began moving from their offices on Center Street to a new building on Stevenson Street; in 1979, Norma Rae, a movie about union organizing at a J.P. Stevens textile plant, was released and its star, Sally Field, eventually was nominated for the Academy Award, Golden Globes, New York Film Critics Circle Awards, the Los Angeles Film Critics Association Awards, and award competitions of the National Society of Film Critics, the National Board of Review, the Hollywood Foreign Press Association, and the Cannes Film Festival — and won all of them; in 2009, Fox network personality Megyn Kelly and U.S. Representative Trent Franks claimed on the air that U.S. Sen. Harry Reid had language in the federal recession stimulus legislation that would be used to build a railroad from Disneyland in southern California to the Moonlite Bunnyranch in northern Nevada, which was false (and Reid opposes legal prostitution). [Editor's note: Did Harvey Weinstein know about this?) [PDA]
Lousy lawyering for pun and prophet
Barbwire by Andrew Barbáno / Expanded from the 2-28-2018 Sparks Tribune
ToddBQ '18
The Building & Construction Trades Council of Northern Nevada/AFL-CIO roasts Brother Todd Koch into retirement on Saturday, 24 Feb. 2018 at Circus Circus-Reno. Mandalay Ballroom doors open at 5:30, Dinner at 6:30 p.m.
Click here for sponsorship, table and ticket information. Show up and make it hurt!

ROASTED INTO RETIREMENT
Labor leader Todd Koch departs with praises sung and feathers singed
RENO, NV (24 Feb. 2018) — Public officials and union members will roast longtime Nevada labor leader Todd Koch into retirement this Saturday evening, Feb. 24.

The Koch Retirement Roast begins with cocktails at 5:30 and dinner at 6:30 p.m. in the Mandalay Ballroom of Circus Circus, 5th & Sierra in downtown Reno. Valet and garage parking are both free.

Tickets are $150 per person in advance, $175 at the door. Seniors over 65 and students with identification are $135 per person in advance, $150 at the door. Advance reservations may be made online through NevadaLabor.com or by calling the Building & Construction Trades Council of Northern Nevada/AFL-CIO, (775) 355-9200. Proceeds will benefit union member education activities.

Reno City Councilmember Paul McKenzie (NP) will emcee the event.

"I have worked side-by-side with Todd for many years in my capacity as executive secretary-treasurer of the building trades council," McKenzie stated.

"For his entire life, he has been a tireless advocate to enhance the value of hard work and there is no better example than his own career," McKenzie added.

Koch's 40-year tenure will be honored by public officials including U.S. Senator Catherine Cortez-Masto, D-Nev. (via video), State Sen. Julia Ratti, D-Sparks, County Commissioner Kitty Jung, D-Washoe, and Reno Mayor Hillary Schieve (NP).

Koch focused on drafting and architecture during four years split between Mt. San Antonio College and Cal-Poly Pomona.

He then pursued hands-on architecture by enrolling in the Painters Union state-certified apprenticeship program. After graduating early, he joined his father, Sonny Koch, in the trade. He soon became a foreman running major construction industry projects within his field.

APPRENTICESHIP CLASS — Todd and his fellow macho studs prepare for Chippendales dancer auditions. The handsome skinny kid at left is tonight's guest of honor. (Oh, the humanity of it.) Fully dressed in the photo are Kenny McCune, second from right, and Todd's dad, Sonny Koch, at far right. The guys tried their best to unionize Chippendales. Todd did not receive a callback. Legend has it that his father did.

Koch was elected business manager of Sparks-based Painters & Allied Trades Local 567/AFL-CIO in 1997 at age 39. He served in that capacity until 2003 when he became a regional director with International Union of Painters & Allied Trades District Council 16. The council's jurisdiction covers northern Nevada and northern California.

In addition to his duties for his fellow union members, he served as president of both the Northern Nevada Central Labor Council and the Building & Construction Trades Council. He also became a principal organized labor representative to the Nevada Legislature and was elected vice-president of the Nevada State AFL-CIO.

In 2015, Koch was appointed to the board of the Nevada Governor's Workforce Development Board. In 2011, he was honored for his community service at the Washoe County Democratic Party's annual Virginia Demmler Dinner.

"We want good jobs and an end to raging inequality. We want our democracy back. That's why bus drivers, nurses, construction workers and so many other working people are taking to the streets across the nation," Koch said at the Demmler event.

At 59-ish, he will continue involvement with his union, starting as leader of the District Council 16 retirees club in northern Nevada.

He and his wife Debbie are longtime Reno residents and have one daughter and one grand-daughter.

District Council 16 honored him with a testimonial dinner in California in January. This Saturday promises much spicier fare, Nevada style.

No country for old men (Carson City, Nev., 3-27-2013) — Superannuated union guys in front of the Nevada legislative building at a noontime rally to preserve Nevada's prevailing wage law. Left to right are Gary Peck of the Nevada State Education Assn., Andrew Barbano—CWA 9413/AFL-CIO, Todd Koch—Painters & Allied Trades Local 567/District Council 16/AFL-CIO; Danny Thompson, Executive Secretary-Treasurer of the Nevada State AFL-CIO and Anthony Rogers, International Brotherhood of Machinists & Aerospace Workers Lodge 845-Las Vegas. César Chávez/NevadaLabor.com Hall of Famer Sam Lumpe of Sheet Metal Workers Local 26, wearing a white cap, may be seen in the background behind Bro. Koch's head. (Photo: Annie Jantzen, High Desert Gypsy Photography)

BLASTS FROM KOCH'S CHECKERED PAST
Building Trades Council responds to GOP misrepresentation
KOCH: Sen. Dean Heller attempts to stage illegal political rally at federally-subsidized housing complex
Todd on the picket lines
Labor Day then and now
Painters Local 567 apprentices paint the historic Lake Mansion
Credit Todd for the looks of this union-created website

"They gave us the shortest month of the year" — Chris Rock

2018 Black History Month Almanac
Courtesy of journalist Dennis Myers and friends
March 1: On this date in 1942, a citizens' committee complained about the brutality of riot police who arrested 101 African Americans and three whites when white pickets prevented black families from moving into the newly completed Sojourner Truth defense workers housing project in Detroit.
February 27: On this date in 1898, the Nevada State Journal raised the issue of the 35 year-old debt supposedly owed by the U.S. government to Nevada for the cost of fighting against state tribes during the Civil War: "As there is now a probability of an appropriation being made for the payment of those claims, as several States are interested in the passage of the bill, the press of the State should agitate the subject and publish facts from old settlers relative to the manner in which the depredations were committed and the hardships endured by reason of the loss of their cattle, and provisions and the burning of their houses by hostile Indians."; in 1920, Woodrow Wilson set a pattern for U.S. presidents by rebuffing a friendly overture from the Soviet Union; in 1933, the Nevada Senate approved a $4 a day minimum wage (the Assembly had passed a $5 version of the bill); in 1939, the NBC Radio series I Love A Mystery began a month-long serial, "The Case Of The Nevada Cougar" about killings at a Nevada gold mine; in 1951, Nevada assemblymembers who previously had stopped ratification of the 22d amendment to the U.S. Constitution (limiting presidents to two terms) were informed by reporters that Utah was about to become the next-to-last state needed for full ratification, whereupon the Assembly rushed it through and sent it to the Senate and the Senate sat on it until informed by phone that Utah had acted, the senators then approving it 16 to 1 (small counties Senator Harry Wiley voted no); in 1964, heavyweight champion Cassius Clay confirmed that he had converted to Islam (the World Boxing Association suspended him because his conversion was "conduct detrimental to the best interests of boxing" but state boxing regulators declined to honor the suspension); in 1973, Native Americans took control of a richly symbolic settlement at Wounded Knee Creek in South Dakota to protest federal treatment of Native Americans and alliances between federal officials and entrenched tribal leaders; in 1994, candidates Jan Jones and Robert Miller, running for governor against each other in the Democratic primary, spoke against an anti-gay initiative petition at a rally at a Reno gay bar, Bad Dolly's; in 2013, gasps were heard in the U.S. Supreme Court hall when Justice Antonin Scalia referred to the Voting Rights Act as an example of "racial entitlements" (a week later, U.S. Representative Jim Clyburn said he was told by Scalia, "The 15th Amendment of the Constitution ain't got no concerns for me because I'm white and proud.")
February 25: On this date in 1925, Klansman Gutzon Borglum was fired as the sculptor of the Stone Mountain Confederate memorial project in Georgia (Borglum had earlier sculpted a statue of John Mackay for the University of Nevada campus and would later plan the sculpting of Mount Rushmore; in 1991, Adrienne Mitchell was killed in the U.S./Kuwait war, the first African American woman in history to die in combat for the United States.
February 21: On this date in 1982, Ain't Misbehavin', about the African American musicians of the Harlem Renaissance, closed in New York after 1,604 performances.
February 20: On this date in 1881, Matt Canavan of the Comstock said, "Among these Indians no one has ever found a harlot, a coward or a thief" to which the Nevada State Journal responded, "This is a pretty high compliment to pay to an 'inferior race;' but, thinking over it, we cannot say that it is undeserved. We know the male Piutes are a fine brave, manly set of fellows. We will have to take Mr. Canavan's word for the [females]."; in 1929, The Vote, a London suffrage publication, reported on U.S. legislation sponsored by Senator Tasker Oddie of Nevada to restore citizenship to a U.S. woman who lost it by marrying a foreigner and was later divorced.
February 18: On this date in 1546, Martin Luther died; in 1861, under pressure from federal officials, Cheyenne and Arapaho tribal leaders agreed to surrender much of Colorado that was guaranteed to them by an 1851 treaty, only to face the fierce opposition of their tribes to the land cession;in 1930, Clyde Tombaugh, a 24-year-old high school graduate, discovered the planet Pluto; in 1942, the Mills Brothers' "Paper Doll" was released by Decca; in 1960, the U.S. Post Office began sale of a new winter olympics stamp on opening day of the Squaw Valley games.
February 17: On this date in 1864 President Lincoln fired Edward Beale, surveyor general of California and Nevada, because of mishandling of Native American funds; in 1909, two weeks after alleged adults in the Nevada Legislature enacted anti-Japanese legislation in defiance of President (Theodore) Roosevelt's expressed wishes, a group of boys in Reno with a slingshot tormented a Japanese man named Hashamura (an article on the incident in the Goldfield Chronicle ran just beneath an article on plans for juvenile courts in Nevada); in 1919, African American veterans, not permitted to march in the main New York parade for veterans returned from the World War, held their own parade; in 1944, U.S. Representative Charles MacKenzie of Louisiana denounced "with all the intensity of my soul" the CIO's wartime canteen in D.C. for U.S. servicepeople because both blacks and whites were served (Eleanor Roosevelt had appeared on opening night); in 1972, Beverly Harrell defended her decision not to admit an African American man to her brothel at Lida Junction in Esmeralda County ("A bordello should have a choice of who they entertain.") but Nevada Equal Rights Commission director Tony McCormick said a formal complaint would be filed against her. (Editor's Note: Two years later, Republican Harell ran for Nevada State Assembly and probably won because of her anti-BLM campaign centepriece. Although central Nevada was far from sacrosanct back then, the good old boys nonethless worried about their public image. The power structure's worst nightmares came true a few years later when national media started looking into Nevada's Cow County feudal system. Hangovers remain and some of them still get elected to this very day.)
February 16: On this date in 1863, [an ad appeared in] the Boston Journal: "To Colored Men: Wanted. Good men for the Fifty-Fourth Regiment of Massachusetts Volunteers of African descent, Col. Robert G. Shaw (commanding). $100 bounty at expiration of term of service. Pay $13 per month, and State aid for families. All necessary information can be obtained at the office, corner Cambridge and North Russell Streets". (After African American men had been lured into enlisting, their pay was cut to $10 a month, less than that paid to white soldiers, and they were forced to pay for their clothing, also not required of white soldiers.)
February 15: On this date in 1896, an effort was underway in Topeka to obtain federal pensions for African Americans who were enslaved before the civil war.
How to befriend a racist: Because that's one way to change someone's mind
By Wade Gainer / Reno News & Review 2-15-2018
Happy Valentine's Day
February 14: On this date in 1955 in Florida, Dade County Republicans walked out of the Miami downtown Urmey Hotel—and later threatened legal action—after hotel president E. N. Claughton ordered 24 African American guests at the dinner out of the hotel because "this place is for whites only."
February 13: On this date in 1905 President Theodore Roosevelt, speaking to the New York City Republican Club, gave a patronizing analysis of race relations in the U.S. that urged "that the backward race [African Americans] be trained so that it may enter into possession of true freedom while the forward race [whites] enabled to preserve unharmed the high civilization wrought out by its forefathers"; in 1920, President Wilson fired Secretary of State Robert Lansing, who during Wilson's extended convalescence from multiple strokes had called cabinet meetings and urged consideration of Vice-President Thomas Marshall becoming acting president; in 1937, when rumors circulated that Michigan union members, fresh from the victory of the General Motors strike, were traveling to Indiana to support fellow unionists, Indiana Governor Clifford Townsend declared martial law to keep them out (in Detroit, a union official denied the rumor).
HAPPY BIRTHDAY NAACP
February 12: On this date in 1909, the National Association for the Advancement of Colored People was founded; in 2001, Earl Washington, a mentally disabled African American, was sentenced to a halfway house instead of being freed after being exonerated by a DNA test of a murder for which he spent 19 years under sentence of death in a Virginia prison.
Feb. 11: In 1960, sixty members of the NAACP appeared at the doors of the whites-only Hawthorne, Nev., casino, the El Capitan, and were refused entry. (Editor's Note: Former Reno-Sparks Branch President Eddie Scott [1928-2017] remembered it well.); in 1916, Reno's Twentieth Century Club heard author Jean Morris Ellis (Character Analysis/Subhuman or Superman) speak on eugenics; in 1950, two days after making his first charges that there were communists in government, U.S. Senator Joseph McCarthy spoke in Reno at a Republican fundraiser at the Mapes Hotel (Edward Connors of the Nevada State Journal reported that on the senator's reading copy of his speech text where he named the number of communists, McCarthy had scratched out the number "205" and written in the number "57"); in 2006 on a quail hunt, Vice-President Richard Cheney shot a friend, Harry Whittington, in the face.
Feb. 10: in 1865 legendary western lawman, attorney, politician, educator Elfago Baca, a champion of Latinos against white prejudice, was born in Socorro, New Mexico; in 1887 the St. Joseph [Missouri] Daily Herald reported, "CARSON CITY, February 9.—Both houses of the legislature, to-day, adopted resolutions disenfranchising Mormons in Nevada."; in 1909 a few weeks after whites in Reno burned the city's Chinatown down, the Chinese Benevolent Association of San Francisco, also known as the Six Companies, wired President Roosevelt asking him to help "right the wrongs suffered by the Chinese of Reno.";

Feb. 8: In 1865 Martin Delany, founder of one of the first African-American newspapers (the Mystery), physician, and colleague of Frederick Douglass, was appointed the first black major in the U.S. Army.

February 7: On this date in 1941, Nevada consumer activist Betty Barbano was born in Enid, Oklahoma.

Feb. 7: I In 1956 African-American student Autherine Lucy was expelled from the University of Alabama after mobs interfered with her attending classes (24 years later, the university lifted the expulsion and Lucy graduated in 1992).

Feb. 6: In 1820 the U.S. census reported that just under two out of every ten citizens was black — except that under article one, section two of the U.S. Constitution, each black counted as only three-fifths of a citizen.

Feb. 5: In 1962 four days of work began at Capitol Studios in New York and United Recording Studios in Hollywood on Modern Sounds in Country and Western Music, the blockbuster Ray Charles LP that cut across musical and racial lines, included songs by Hank Williams, Don Gibson, Jimmie Davis, Floyd Tillman, Eddy Arnold and Zeke Clements, produced several charting singles, and is listed on a couple of dozen essential album lists, including those of Stereophile and Rolling Stone (the track "I Can't Stop Loving You" received an Emmy and the album was entered in the Grammy Hall of Fame in 1999); in 1990, The New York Times wrote: "BOSTON, Feb. 5 — The Harvard Law Review, generally considered the most prestigious in the country, elected the first black president in its 104-year history today. The job is considered the highest student position at Harvard Law School. The new president of the Review is Barack Obama, a 28-year-old graduate of Columbia University who spent four years heading a community development program for poor blacks on Chicago's South Side before enrolling in law school. His late father, Barack Obama, was a finance minister in Kenya and his mother, Ann Dunham, is an American anthropologist now doing fieldwork in Indonesia. Mr. Obama was born in Hawaii. ..."; in 1994 Byron de la Beckwith was sentenced to life in prison for the assassination three decades earlier of civil rights leader Medgar Evers.

Feb. 3: In 1865 in a conference arranged by newspaper publisher Horace Greeley, U.S. President Abraham Lincoln and C.S. Vice President Alexander Stephens met on a steamboat in Virginia to try to negotiate an end to the civil war, but the conference promptly broke down when Lincoln refused to negotiate unless the south first surrendered, and refused to make any concessions such as recognition of the Confederacy; in 1910 Robert Earl Jones, one of the first black motion picture actors to achieve prominence (Odds Against Tomorrow, Mississippi Summer, The Sting, Trading Places, The Cotton Club) who was blacklisted by Hollywood in the 1940s and '50s and was the father of actor James Earl Jones and producer Matthew Earl Jones, was born in Senatobia, Mississippi; in 1956 after the NAACP obtained a court order against her being rejected and the U.S. Supreme Court upheld the order after a five-year legal battle, Autherine Lucy enrolled as a graduate student at the University of Alabama (on her third day of classes, a mob prevented her attendance, which the university used as a pretext for her suspension and then expulsion, which was reversed a quarter century later, followed by her graduation in 1992).

Feb. 2: In 1870, Samuel Clemens married Olivia Langdon in Elmira, New York; in 1951 two days after U.S. High Commissioner John McCloy pardoned and released 21 Nazi war criminals, the State of Virginia began two days of executions of seven African Americans convicted of rape in dubious circumstances by all-white juries. [PDA]


[Most of the above courtesy of Nevada Journalist Dennis Myers' Poor Denny's Almanac, © 2018]

More Myers

On Feb. 1, 1960, four black college students began a sit-in protest at a lunch counter in Greensboro, N.C., where they'd been refused service. (NY Times)

8 the hard way!