A nice Labor Day story
The labor films former actor and union president Ronald Reagan didn't want you to ever see
Sen. Obama, meet Mr. Durocher
Barbwire / Sparks Tribune / 8-31-2008
$9,000 FREE
Nevada AFL-CIO Executive Secretary-Treasurer Danny Thompson has put out an emergency call for last-minute entries for the 2008 Arnold-Jones-Evans Scholarship Essay Contest. Three $3,000 scholarships are at stake for 2008 high school graduates who are children of current union members and plan to attend an accredited school this fall. Click here for complete info and entry forms.
Winners announced: All from northern Nevada. Good job, brothers and sisters and Barbwire listeners

Barbwire.TV gets first interview with University Regent Howard Rosenberg after ban from ballot
Nevada Supreme Court upholds term limits, boots Rosenberg and Woodbury
Vote for Rosenberg anyway, dammit
Barbwire / Sparks Tribune / 7-27-2008
Tahoe Shakespeare Festival musicians haven't been paid after termination
Non-union rats imported from New York City.
UPDATE: Settlement in the offing, union and management differ on who did what, with which and to whom (surprise, surprise)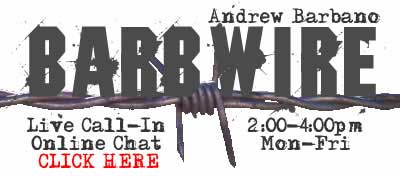 Reno-Sparks-Washoe Charter cable channels 16 & 216
High-definition channel 80-295
2:00-4:00 p.m. PDT M-F, 21:00-23:00 ZULU/GMT
NEW! LIVE 4:00-5:00 p.m. PDT (23:00 ZULU) Tuesdays and Thursdays on Carson City Charter digital cable channels 10/210 & 26/226 Call 775-882-TALK (882-8255)
Streaming at Barbwire.TV, reruns statewide.
What may well be the first marriage of talk radio, talk TV and webcast webchat
Hey buddy, can you spare a dime?
Barbwire wins second straight Nevada Press Association first-place award
Barbwire / Daily Sparks Tribune / 9-20-2009
The Dean of Reno Bloggers could very well be Andrew Barbano, self-described "fighter of public demons," who started putting his "Barbwire" columns online in 1996 and now runs 10 sites.
Skinny dipping with the devil
Barbwire/ Sparks Tribune 7-20-2008
Tad Dunbar and Barry Bonds:
Comeback Kids
Barbwire/ Sparks Tribune 7-13-2008
Time wounds all heels
Barbwire/ Sparks Tribune 7-6-2008
Barbwire.tv EXCLUSIVE
Teamsters talks with Reno-Sparks bus system collapse, union basically dared to strike
Barbwire/ Sparks Tribune 6-29-2008
Freedom loving racists
Barbwire/ Sparks Tribune 6-22-2008
Teamsters reject Reno-Sparks bus system contract proposal 130-2
RTC caves, returns to bargaining table
Read the plantation proposal for yourself
Union files charges of illegal unfair labor practices
Nevada: Consumer rip off pioneer
Barbwire / Sparks Tribune 6-15-2008
Ringers & zingers down in flames
The end of a pseudo-Democrat's political career
Barbwire / Sparks Tribune 6-8-2008
Reno-Sparks NAACP asks that Regional Transportation Commission finally honor Martin Luther King, Jr., Holiday
Talks stalled, federal mediator called in, contract expires June 12
Negotiations resume June 7 — Foreign-owned managers offer a pay cut disguised as a one percent per year raise
McCain draws union and gasoline consumer protestors in Boston
One night only: Civil rights legend returns to Reno as living history with 1968 video from Charles Kuralt
Southern Nevada Building & Construction Trades Council strikes Las Vegas Strip MGM/Mirage Project City Center at midnight, June 3, 2008, over worker safety concerns
History and serendipity
Barbwire 6-1-2008
Crane worker killed on massive Las Vegas Strip project
Second death at CityCenter this year
Las Vegas Review-Journal 6-1-2008
RENO — Washoe Med/Renown nurses plan June 11 protest vigil against stonewalling, union-busting management
Tale of the greasy goose
The neverending story of the rigged game at the gas pump
5-25-2008
Reno-Sparks NAACP asks that Regional Transportation Commission finally honor Martin Luther King, Jr., Holiday
Talks stalled, federal mediator called in, contract expires June 12
Check the snowfall report for hell!
Save Mart Supermarkets recommends that its workers unionize

Read My Lips Roulette
Barbwire / Sparks Tribune 5-11-2008
Las Vegas Musicians Union leader Thom Pastor seriously injured by drunk driver
May 4, 1970-May 4, 2008
The 38th anniversary of Kent State

List, lust and political roulette
Barbwire/Sparks Tribune 5-4-2008
Workers Memorial Day
Déjà vu all over again
Laughing gods, Easter bunnies and black whales
Barbwire 4-27-2008
Guns, gods, gays, gringos, graybeards & gushers
Barbwire / Sparks Tribune 4-20-2008
Monopolists and mass malpractice
Gasoline price fixing and greasing pols to exploit the sick
Barbwire/ Sparks Tribune 4-13-2008
Washoe Med: Renowned for Ripping Us Off
Inhospitable Reno hospital terrorizes its nurses for daring to picket for an hour.
Barbwire Special Web Edition 4-10-2008
Take it to the streets today!
Who's on Worst?
Nurses organize, governor Hooverized, regents piratize
Is anybody running this show?
Nurses schedule April 10 demonstration in Reno
Barbwire 4-6-2008
This day in history: Rev. Dr. Martin Luther, King., Jr., assassinated in Memphis, Tenn.,
April 4, 1968
Three days of commemorating King in Reno, April 4-6, 2008
Remembering King by forgetting him
UAW and other unions protest unfair trade at Reno General Motors warehouse
Reno Gazette-Journal 3-29-2008
Sign the petition online
César Chávez Day brings labor and management together in Reno
Annual event at Circus Circus March 31 will also bring together César Chávez and Dr. Martin Luther King, Jr.
U-News 3-27-2008
Week of the Giants Begins
United Auto Workers demonstrate while Dr. Martin Luther King, Jr., and César Chávez offer advice
Barbwire 3-23-2008
Giants will walk among us again
Barbwire 3-16-2008
Annual César Chávez Celebration
Circus Circus Reno — March 31, 2008

Former LV labor leader Frank Caine dies
Colorado right-to-work-for-less proposal on the ropes as residents learn the facts about fire-at-will
In These Times 3-14-2008
Longtime St. Mary's hospital employee
"Fired for cancer?" in a fire-at-will state
A not very Christian tale
Reno News & Review Editorial 3-13-2008
Fired for cancer?
Reno News & Review 3-6-2008
Right-to-work / fire-at-will law plagues Nevada for more than half a century
Painters Union pickets Scheels store at Sparks Marina Legends development
Communications workers picket subcontractor
Republican immigration plank plunked into Democratic platform
Employer and employee sanctions spark opposition
STRIKE LOOMS CLOSER
Culinary Union pushes for injunction against Reno Grand Sierra
New Paycheck Deception Initiatives Filed
New Barbwire Traveling salesman syndrome
Taxpayers don't even get kissed afterward
Prevailing wages threatened statewide
Union-busting ABC state senator busted for conflicts
3-9-2008
BARBWIRE: The Wages of Sin
"My doctor killed me."
2-24-2008
Rats, fat cats and Olympic Kool-Aid
NEW— laketahoedealers.com
Barbwire.TV
2-10-2008
The seven-second solution
Featuring awfully waffley Wallerie
Barbire/Sparks Tribune/2-3-2008
U.S. union membership rises for the first time in 25 years
From Poor Denny's Almanac
On Jan. 28, 1968, responding to a complaint filed by the American Federation of Casino and Gaming Employees, the National Labor Relations Board upheld a hearing examiner's decision ordering some Las Vegas casinos to rehire 42 casino workers, halt anti-union activities, and post notices telling workers they would no longer be penalized for union activity.
Paying for our sins
Barbwire / Sparks Tribune 1-27-2008
The disappointment tango
Ditchdiggers and the danse macabre
NBC orders affiliates off the air to dump Kucinich from debate
Barbwire/ Sparks Tribune 1-20-2008
Clinton and Romney win their party presidential caucuses in Nevada
PRESIDENTIAL CAUCUS CAPERS
Full Frontal Hillary
Sen. Clinton was absolutely correct that it took a president to pass the Civil Rights Act of 1964. The attacks against her are based on historical revisionism. MORE
Culinary Union endorses Obama
Teachers union sues Democrats to help Hillary
Special "at large precincts" for on-duty hotel workers challenged
Tim Russert: Culinary Local 226 being pressured to back off from presidential endorsement
Statewide Communications Workers Union endorses Edwards
---
Harrah's threats of major litigation force Caesars' new dealers' union to move website
Dealers at LV Flamingo and other Harrah's-owned resorts report aggressive new management campaign of fear and intimidation
BARBWIRE: Blasts from the past
1-6-2008
NLRB judge finds Wynn guilty of breaking labor law
BARBWIRE: Time to launch
12-30-2007
Dallas Morning News Texan of the Year: The Immigrant
12-29-2007
Construction worker dies in North Las Vegas gas line rupture
Clark County School District denies pushing students toward military enlistment as part of career counseling
PAUL KRUGMAN: Obama vs. Unions
Although the movement is a shadow of its former self,
unions still matter politically.
New York Times 12-24-2007 / Free registration may be required
UPDATE 12-23-2007 3:06 p.m. PST, 23:06 GMT/SUT/CUT – Casino dealers at Caesars Palace on the Las Vegas Strip have voted to unionize by 380 to 128 of a landslide of 75% " yes" to 25%" no." Ironically, this is the same percentage won by the Transportation Workers Union earlier this year from dealers at the Wynn-Las Vegas. The bargaining group consists of about 565 employees.
MUY BUENO. MAZELTOV. BENETHICA. CONGRATULATIONS!

Nevada jobless rate rises to highest level since 2003
Las Vegas Review-Journal 12-22-2007
Las Vegas Valley housing still in the basement
Las Vegas Review-Journal 12-22-2007
Nevada Culinary Union leader D. Taylor:
Revoke Tropicana gaming license
EXCLUSIVE!
Barbwire spy at the Battle of Waterloo reports that uncommitteds will probably break for John Edwards on Iowa Caucus night
12-17-2007
The Lady in the Red Dress
The Barbwire's classic Nevada Day column written in 1983
SPARKS TRIBUNE 10-28-2007
The cure for what ails us
Fired Harrah's bartender's lipstick lawsuit featured in award-winning new Hollywood documentary
BARBWIRE 10-21-2007
Getting away with murder
BARBWIRE 10-7-2007
Burning down the house
In Reno, corporate welfare comes before fire safety
BARBWIRE 9-30-2007
Former Nevada State AFL-CIO leader Evans dies * Latino workers jailed after La Migra busts McDonald's * Farm workers gassed in Yerington * Renown/Washoe Med nurses win union vote * Reno City Council votes Cabela's $34 million in corporate welfare
BARBWIRE: Comeuppance for corporate welfare queens
UNION ELECTIONS AND STRIKES SPREAD ACROSS THE LAND
GOWABUNGA!
Renown/Washoe Med nurses vote, UAW strikes, Reno City Council rolls over and plays dead
SPECIAL INTERNET EDITION 9-25-2007
BOXING PANDORA
DAILY SPARKS TRIBUNE 9-23-2007
BARBWIRE: Culinary negotiates, nurses agitate, both may vacate and demonstrate
DAILY SPARKS TRIBUNE 9-16-2007
NEW! Health Care War Room
NevadaLabor.com Exclusive