FOR RELEASE AT 11:30 a.m. PST Tuesday, 12-15-2009
FOR MORE INFORMATION CONTACT
RUSS JAMES (775) 356-8567
PAUL McKENZIE (775) 355-9200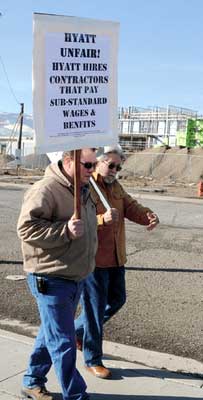 Workers picketing the Reno Airport Hyatt 12-30-2008
SPARKS, Nev. (Tuesday, Dec. 15, 2009, 11:30 a.m. PST / 19:30 ZULU/GMT) – At this hour, local construction workers are handbilling a Sparks Chamber of Commerce event at the Hyatt Place Hotel in Reno on Terminal Way in front of Reno-Tahoe International Airport.

The chamber is hosting a free pizza luncheon for its members today at the new property.

"We want to inform current and future chamber members that holding an event at this property undercuts the organization's support of local business," stated Paul McKenzie, executive secretary-treasurer of the Building and Construction Trades Council of Northern Nevada/AFL-CIO.

"Hyatt and its Louisiana-based developer took advantage of a corporate welfare provision in Nevada tax law and built in a location where it will never pay property tax to support local schools, parks, roads, police and fire protection due to the project being built on Airport Authority land," McKenzie added.

"Louisiana-based Intercoastal Hospitality, Inc., then hired an Arkansas-based general contractor which imported out-of-state workers and paid below area-standard wages and benefits.
"At the time, one in three local construction workers was unemployed. Now, two in three are sidelined. Two of the project's subcontractors were not licensed in Nevada when the job was bid," McKenzie said.

"Last December, local workers came together to bring attention to the unlicensed contractors and unsafe working conditions on the job. Workers' lives were in danger and local media photographed the unsafe conditions," McKenzie noted.

The Sparks Chamber website says the event offers the opportunity to "find out about the future of the Sparks Chamber and how we plan on building a stronger more sound business community for the times ahead."

McKenzie noted that "Buy locally should mean hire locally and do business locally. In the future, we hope that the Sparks Chamber of Commerce will more carefully review its event venues. We hear that Sparks offers many good possibilities."

Workers plan to handbill until at least 12:00 noon.

A copy of the handbill is available via the front page of NevadaLabor.com.

Complete details on last December's construction safety incident may be accessed at the website.