BARBWIRE
by
ANDREW BARBANO
Pirate Laureate of the High Desert Outback of the American Dream
Site map
Corporate Propaganda Research Archive


The Barbwire's Silver Anniversary
Barbwire by Barbano moved to Nevada's Daily Sparks Tribune on Aug. 12, 1988, and has originated in them parts ever since.
Whom to blame: How a hall-of-famer's hunch birthed the Barbwire in August of 1987
Tempus fugit.
Everybody knows the dice are loaded.
Everybody rolls with their fingers crossed.
Everybody knows the war is over.
Everybody knows the good guys lost.
Everybody knows the fight was fixed.
The poor stay poor, the rich get rich.
That's how it goes. Everybody knows.
Everybody knows the scene is dead
But there's gonna be a meter on your bed
That will disclose
What everybody knows.
— Leonard Cohen


They don't do anything until somebody dies
Barbwire by Barbano / Expanded from the 12-12-2013 Sparks Tribune
Updated 12-31-2013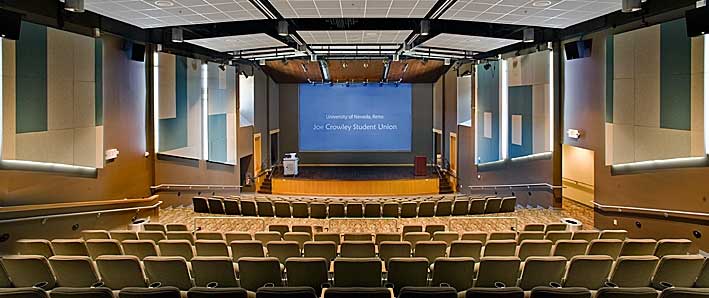 SMOKING SECTION — This photo appears on the UNR website. It is taken from the top of the second level of seats. There are no exits at the top. The narrow hallway mentioned below may be seen through the open door at the right of the landing separating the two tiers of seating. At the bottom of the curving hallway is an entrance to the stage. The other hallway also has a door opening on the second level landing, at left, not visible between the banisters. The left hallway also ends with a doorway to the stage. The lighter-veneer openings to the right and left of the stairs at the base of the stage are not doors. The UNR website says the room seats 220, but building officials call it 224 after allowing for wheelchairs ("...approximately 224 fixed theater seats and/or ADA reserved wheelchair floor spaces.")
From longtime Nevada journalist Dennis Myers' Poor Denny's Almanac of 12-3-2013: On this date in 1979, eleven fans holding general admission tickets for a Who concert (holders of such tickets find unassigned seats on a first come/first served basis) died in the crush of stampeding fans when only two of the doors of Cincinnati's Riverfront Stadium were thrown open, creating a lethal crush (members of the band were unaware of the melee; the city later outlawed the general admission tickets known as "festival" seating).
The downtown Reno multiplex and University of Nevada student union theaters pose extreme fire hazards.

"They don't do anything until somebody dies," darkly murmured a longtime local fire expert who didn't want to be quoted.

There's an epidemic of that going around.

When Reno City Hall bent over to build the downtown theaters, they narrowed W. First Street despite firefighter objections, the expert told me.
Later, they installed planter-dividers to make adjacent West Street prettier.
Result: neither First nor West can adequately accommodate fire trucks.

Hundreds reside in high-rises right there.

Corporate welfare has a sorry history of getting Nevadans killed.

Websearch the 1980-81 MGM Grand and Las Vegas Hilton fires that cost more than 100 lives.

Have we learned?
Not so's ya'd notice, which brings me to the firetrap third-floor theater at the modern Joe Crowley Student Union.

All access to the 224-seat facility comes via two long, narrow (minimum 44.8 inches), unevenly downsloping wheelchair chutes, only one of which was in use on the occasions I've attended.

Put another way, 100 people, conservatively 150 pounds each, weigh about 15,000 pounds.
That's 7.5 tons of panicky meat on the hoof trying to avoid barbecue in a few smoky seconds via a single-file bottleneck dumping into a postage-stamp-sized foyer.

Does anyone analyze actual logistics or is everything formulaic?
It took a couple of weeks for the UNR administration to develop a lawyerly, bureaucratic defense that "the theatre was originally constructed (and remains) fully code compliant."

So were the MGM and Hilton.

I have been informed by another fire expert that theater hallways in Reno are built to the same specifications (two-tenths of an inch per occupant) as the Crowley cave, which you may view for yourself in the web edition of this column at NevadaLabor.com/

The state fire marshal's office, which has primary authority over the facility, has not returned repeated phone calls.

If you must attend the facilities in question, increase your life and accident insurance coverage.

CORRECTION. Unlike some, when I make a mistake I own it and eat it.
Last week, I published an incorrect annual sales estimate for KRNV TV-4, which was just acquired by megaraptor Sinclair Broadcast Group. The actual number falls around $5 million. Mea culpa.
You may access the full story at the expanded web edition of last week's Barbwire at NevadaLabor.com/

KETCHUP ON THE CROW. I further noted how Sinclair-owned KRXI Fox-11 apparently resisted local nutso pressure to emulate the Fox Skewed News channel.
Now, less than a week after the TV-4 ingestion, Fox-11 News seems to be morphing toward Murdochian moonhowling.

Makes me wonder how Sinclair might try to manipulate its two news departments, especially after they drop KTVU-Oakland's popular 10 O'Clock News.

COLD WEATHER ADVICE: If you freeze your buns you might break your arse.

Be careful out there.
Be well. Raise hell. / Esté bien. Haga infierno. (Pardon my Spanglish.)
WEB EXTRAS...
SUPPORT THE RETURN OF COMMUNITY TV. Support the cause at Barbwire.TV by putting your money where my mouth is.

Keep sending show suggestions.
Current frontrunners include (pardon the pun) wild mustangs as canned goods, education, i-Guns and gay Olympics.
"Media is the plural of mediocre."
— Jimmy Breslin
Please forward additional ideas or vote on the above.
I encourage you to donate to the cause at Barbwire.TV/
The medium that shapes public opinion needs at least one refuge where it is not filtered through the distorted green eye shades of prissy corporate accountants for whom profit is the only priority; where self-censorship is the journalist's normal work environment and where all sins of omission are tacitly encouraged and forgiven with the wave of a balance sheet.
This is important.
HONOR YOUR DON. Keep sending comments supporting legendary Nevada photographer Don Dondero (1920-2003) for the Nevada Press Association Hall of Fame.
His life's work appeared worldwide, including the Tribune and most probably every newspaper in Nevada.

Enlist in the campaign to install Big Don.
Please send me your memories and endorsements via e-mail or to P.O. Box 10034, Reno NV 89510.
The Barbwire got the late Reno Gazette-Journal columnist Guy Richardson elected last year.
Let's go for a repeat.
Happy High Holly Days!
MerryChristmas/Kwanzaa/Solstice/Festivus/Chanukah/Thanksgibleting
Be well. Raise hell. / Esté bien. Haga infierno. (Pardon my Spanglish.)
____________
Andrew Barbano is a 45-year Nevadan, chair of the Nevada César Chávez Committee, producer of Nevada's annual César Chávez Day celebration, first vice-president and political action chair of the Reno-Sparks NAACP, labor/consumer/civil rights advocate, member of Communications Workers of America Local 9413/AFL-CIO and editor of NevadaLabor.com and JoeNeal.org. As always, his opinions are strictly his own. Check local listings for other Nevada cable systems. E-mail barbano@frontpage.reno.nv.us. Barbwire by Barbano has originated in the Daily Sparks Tribune since 1988.
"Sinclair Broadcast Group announced that it closed on the acquisition of the non-license assets of NBC affiliate KRNV Reno, Nev. (DMA 107), from Intermountain West for $26 million, giving it a triopoly in the market." (TVNewsCheck.com 11-25-2013)

"...Because the license was not included, the deal does not require FCC approval. Sinclair has already closed on the deal. However, according to one station valuation expert, in deals in which assets are split from the license, the FCC likes to see 20% of the total valuation allocated to the license. That suggests the station is worth around $32 million. In Reno, Sinclair also owns KRXI, the Fox affiliate, and operates KAME, an MNT outlet, under a local marketing agreement. The price represents a 5.2x multiple of the average 2012-2013 cash flow including synergies, Sinclair said...." (ibid)

EDITOR'S NOTE: $26 million divided by 5.2 = $5 million. As to what such "synergies" might be, it may mean eliminating duplication between the three stations and is often a euphemism for firing people.

"Last year was a political year which greatly increases income. I would guess on the high side at $20 million for the year. Honestly, I'm pretty sure it's less," stated a longtime local broadcast executive.

"I am convinced that local television stations would cease to exist without the regular infusion of millions in political advertising," the old pro added.
NevadaLabor.com | U-News | Bulletins + Almanac
Casinos Out of Politics (COP) | Sen. Joe Neal
Guinn Watch | Deciding Factors | BallotBoxing.US
DoctorLawyerWatch.com | Barbwire Oilogopoly Archive
Barbwire Nevada Corporate Welfare Archive
Annual César Chávez Celebration
War Rooms: Banks, Cabbies, Cabela's/cabellyup, Cable TV, Cancer Kids/Mining, Energy, Food, Health Care, Resurge.TV/consumers, Starbucks, Wal-Mart
We Don't Need No Education
Search this site | In Search Of...


Copyright © 1982-2013 Andrew Barbano

Andrew Barbano is a 45-year Nevadan, editor of NevadaLabor.com and JoeNeal.org; and former chair of the City of Reno's Citizens Cable Compliance Committee, He is producer of Nevada's annual César Chávez Day celebration and serves as first vice-president, political action chair and webmaster of the Reno-Sparks NAACP. As always, his opinions are strictly his own. E-mail barbano@frontpage.reno.nv.us.

Barbwire by Barbano moved to Nevada's Daily Sparks Tribune on Aug. 12, 1988, and has originated in them parts ever since.
Whom to blame: How a hall-of-famer's hunch birthed the Barbwire in August of 1987
Tempus fugit.

Site composed and maintained by Deciding Factors, CWA 9413 signatory
Comments and suggestions appreciated. Sign up for news and bulletins