BARBWIRE
by
ANDREW BARBANO
Pirate Laureate of the High Desert Outback of the American Dream
Site map
Corporate Propaganda Research Archive


The Barbwire's Silver Anniversary
Barbwire by Barbano moved to Nevada's Daily Sparks Tribune on Aug. 12, 1988, and has originated in them parts ever since.
Whom to blame: How a hall-of-famer's hunch birthed the Barbwire in August of 1987
Tempus fugit.
Everybody knows the dice are loaded.
Everybody rolls with their fingers crossed.
Everybody knows the war is over.
Everybody knows the good guys lost.
Everybody knows the fight was fixed.
The poor stay poor, the rich get rich.
That's how it goes. Everybody knows.
Everybody knows the scene is dead
But there's gonna be a meter on your bed
That will disclose
What everybody knows.
— Leonard Cohen


They don't do anything until somebody dies
Barbwire by Barbano / Expanded from the 12-12-2013 Sparks Tribune
Updated 12-31-2013, 2-2-2018, 2-7-2018 / Expansions in blue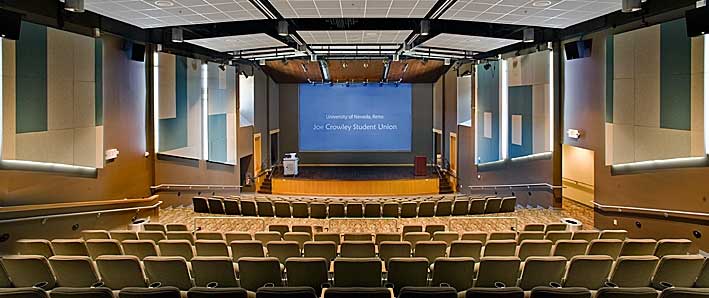 SMOKING SECTION — This photo appears on the UNR website. It is taken from the top of the second level of seats. There are no exits at the top. The narrow hallway mentioned below may be seen through the open door at the right of the landing separating the two tiers of seating. At the bottom of the curving hallway is an entrance to the stage. The other hallway also has a door opening on the second level landing, at left, not visible between the banisters. The left hallway also ends with a doorway to the stage. The lighter-veneer openings to the right and left of the stairs at the base of the stage are not doors. The UNR website says the room seats 220, but building officials call it 224 after allowing for wheelchairs ("...approximately 224 fixed theater seats and/or ADA reserved wheelchair floor spaces.")
From longtime Nevada journalist Dennis Myers' Poor Denny's Almanac of 12-3-2013: On this date in 1979, eleven fans holding general admission tickets for a Who concert (holders of such tickets find unassigned seats on a first come/first served basis) died in the crush of stampeding fans when only two of the doors of Cincinnati's Riverfront Stadium were thrown open, creating a lethal crush (members of the band were unaware of the melee; the city later outlawed the general admission tickets known as "festival" seating).