People who live in crystal balls
Barbwire / Daily Sparks Tribune / 8-2-2009
Malapropisms, anachronisms and an adios
Law enforcement and labor leader Gary Wolff dies
Barbwire / Daily Sparks Tribune / 7-26-2009
Swatting gnats and swallowing camels
Barbwire / Daily Sparks Tribune / 7-19-2009
Night music and daily dissonance
From classical gas in Reno to political tap dancing in Sparks
Barbwire / Daily Sparks Tribune / 7-12-2009
More black eyes for Washoe Med/Renown
Newmont Mining fined $500,000 for fatal safety flaws
Hurts so bad, hurts so good
Cassandra Barbano's crystal ball proves prescient
Barbwire / Daily Sparks Tribune / 7-5-2009
Washoe County School District investigating embezzlement allegations at Sparks bus yard
Front Page / Daily Sparks Tribune / 7-2-2009
Update / Front Page / Daily Sparks Tribune / 8-14-2009
School district supervisor tenders resignation after embezzlement investigation
Stone walls at Sparks City Hall
Barbwire / Daily Sparks Tribune/ 6-28-2009
Teamsters Local 533 announces new officers
Reno Gazette-Journal 6-26-2009
Laborers' lawsuit hits sewer project
Daily Sparks Tribune 6-23-2009
City attorney stonewalls public records demand
Download or view in Acrobat Reader .pdf
Laborers' business manager Skip Daly addresses the Sparks City council.
View it live on Charter digital cable channels 15 and 215 or on demand at SNCAT.org
6-22-2009
Laborers Union files court action against City of Sparks over improper bidding of major Spanish Springs construction project
View Daly v. Adams on KRNV TV-4 via the above link
U -News 6-19-2009 / Updated 6-22-2009
Holy men, studpuppies and quackups
Barbwire/ Expanded from the 6-21-2009 Daily Sparks Tribune
Barbwire: Foreplay in Washington
Expanded from the 6-14-2009 Daily Sparks Tribune
Reaganomics and Reaganethics
Expanded from the 6-7-2009 Daily Sparks Tribune
Depopulating Nevada
The Cure for what ails us
A truly radical and rational vision of the future
Expanded from the 5-31-2009 Daily Sparks Tribune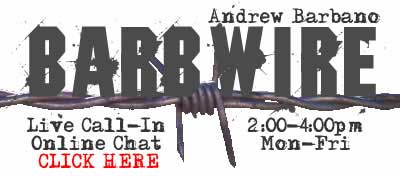 Reno-Sparks-Washoe Charter cable 16 & 216
High-definition channel 80-295
2:00-4:00 p.m. PDT M-F, 21:00-23:00 ZULU/GMT
Call 775-882-TALK (882-8255)
Streaming at Barbwire.TV, reruns statewide.
What may well be the first marriage of talk radio, talk TV and webcast webchat
Sine Die Hard: Legislature adjourns
DANNY THOMPSON LIVE ON THE BARBWIRE
Tell lawmakers to override Gov. Jim the Dim's destructive vetoes
Rallies in Carson City and Las Vegas on Friday, May 29
Melting down just in time for summer
Barbwire/ Expanded from the 5-24-2009 Daily Sparks Tribune
Gov. Jim the Dim's business commissioner
5-20-2009
Governor Signs César Chávez Day Bill
5-19-2009
Firefighters, firestarters and camels' noses
Expanded from the 5-17-2009 Daily Sparks Tribune
UAW marches in downtown Reno Friday
Legislature plays Russian roulette with state workers
César Chávez Day bill passes senate 21-0
Gov. Jim the Dim does it again
Expanded from the 5-10-2009 Daily Sparks Tribune
Dingbat voters in the belfry of follytix
Expanded from the 5-3-2009 Daily Sparks Tribune
Windows of stained glass and futures passed
Nevada César Chávez Day bill gets senate hearing Wednesday, 1:30 p.m.
Barbwire / Daily Sparks Tribune / 4-26-2009
Las Vegas Sun wins Pulitzer Prize for ongoing series about Las Vegas Strip construction worker deaths
Las Vegas Sun / 4-21-2009 / MORE
Baseball, welfare, Crackerjack and politics
Barbwire / Daily Sparks Tribune/ 4-19-2009
Fearless forecasts, computers & counterspins
Employee Free Choice Act in danger
New Barbwire TV shows on Carson-Douglas cable
Streaming live and on-demand
Local push for new Obama health insurance plan
Barbwire / Daily Sparks Tribune/ 4-12-2009 / Updated 4-15-2009
Once more unto the breach: Labor vs. Management to debate the Employee Free Choice Act
Atlantis Hotel-Reno, 7:30 a.m. PDT, Wednesday, 8 April 2009
Nevada: The state for solo souls
Barbwire / Daily Sparks Tribune/ 4-5-2009
Reid endorses César Chávez Day bill
U.S. Senate Majority Leader Harry Reid, D-Nev., endorses AB 301
DECLARACION DE REID SOBRE EL CUMPLEAÑOS DE CESAR CHAVEZ
César Chávez Celebration VII
Tuesday/Martes, March/marzo 31, 2009
Circus Circus-Reno
César Chávez Day will remind us
what we can become
Reno Gazette-Journal / 3-21-2009
BREAKING NEWS
Obama pays tribute to late Reno labor leader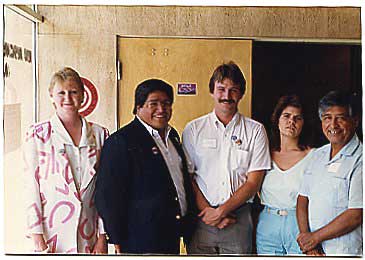 THE WAY WE WERE — The above is a recently discovered photo from 1986. Left to right are Kathy Brown, Culinary Union Local 86 office manager; Miguel Contreras, Local 86 Secretary-Treasurer; Local 86 President Bill Uehlein; a lady named Natalie (anyone who knows her last name, please write), and César Chávez. This item was first published in Ahora, northern Nevada's Spanish-English weekly, on March 26, 2008. (UPDATE: On 3-19-2009, President Obama paid tribute to Brother Contreras as he spoke in the L.A. building named after the late labor leader. See the 1986 Chávez Reno archive, below.)
(Photo courtesy of Dan Rusnak, retired business manager of Laborers' Union Local 169.)

More stories and photos from César Chávez's 1986 Reno visit.
Proyecto de ley pide designación de día de Cesar Chávez es presentado en la legislatura de Nevada.
Fecha limite para el concurso anual del ensayo de Cesar Chávez es el 24 de marzo, 2009.

2008 Chávez event plays to overflow crowd
Charlatans, saints and sinners
Barbwire / Daily Sparks Tribune/ 3-29-2009
Kool-Aid, pickle smoke and jackalopes
Barbwire / Daily Sparks Tribune/ 3-22-2009
Treason on the Ides of March
Barbwire / Daily Sparks Tribune/ 3-15-2009
The sunny angel and the man of steel
Barbwire / Expanded from the 3-8-2009 Daily Sparks Tribune
Adios to Phyllis Baker Kaiser and In Search of Geraldine McGee
Peter Pans in public office
Barbwire / Expanded from the 3-1-2009 Daily Sparks Tribune
An evening with the beautiful people
Barbwire / Expanded from the 2-22-2009 Daily Sparks Tribune
LIPSTICK LAWSUIT STARTS A MOVEMENT
Film featuring fired Harrah's bartender premieres at UNR
Crowley Student Union — Admission FREE
Friday, Feb. 20, 6:30-9:30 p.m.
Nevada's new federal education czar
Barbwire / Daily Sparks Tribune / 2-15-2009

MARCH OF THE UNEMPLOYED IN RENO
Out-of-work carpenter leads demonstration
Happy 200th birthday to Mssrs. Lincoln and Darwin and Happy 100th to the NAACP

Reno-Sparks NAACP press conference


THOU SHALT NOT BARBWIRE
Lipstick revisionism and toxic foreign affairs
Barbwire / Daily Sparks Tribune / 2-8-2009
FULL FRONTAL HILLARY ALERT: U.S. State Department muzzles visiting journalists from Kyrgyzstan
2-5-2009
Affairs of ancient and emerging states
Barbwire / Daily Sparks Tribune / 2-1-2009
Annual César Chávez Celebration, March 31, 2009
FIRST INCREASE IN U.S. UNION MEMBERSHIP IN 25 YEARS

St. Paul, sex and politics
Barbwire / Daily Sparks Tribune / 1-25-2009
BREAKING NEWS
NevadaLabor.com gets it first
Not even 30 pieces of silver
Reno City Council Signs Community TV Death Warrant Contact Sen. Harry Reid for help Barbwire / Daily Sparks Tribune / 11-23-2008

Rise of the Machines
Rise in protest to save community television
Barbwire / Sparks Tribune / 11-16-2008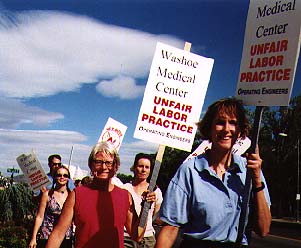 DÉJÀ VU ALL OVER AGAIN — Washoe Med nurses picket during a one-day strike on 6-23-2001. The issues were the same as during a 1990 organizing drive and remain today: Understaffing which erodes patient care so that the conglomerate may profit and proliferate on the backs of health care consumers and taxpayers.
Who's on Worst?
Nurses organize, governor Hooverized, regents piratize
Barbwire 4-6-2008
This day in history: Rev. Dr. Martin Luther, King., Jr., assassinated in Memphis, Tenn., April 4, 1968
Three days of commemorating King in Reno, April 4-6, 2008
Remembering King by forgetting him
Painters Union pickets Scheels store at Sparks Marina Legends development
New Paycheck Deception Initiatives Filed
Communications workers picket Reno subcontractor
Republican immigration plank plunked into Democratic platform
Employer and employee sanctions spark opposition
STRIKE LOOMS CLOSER — Culinary Union pushes for injunction against Reno Grand Sierra

The Dean of Reno Bloggers could very well be Andrew Barbano, self-described "fighter of public demons," who started putting his "Barbwire" columns online in 1996 and now runs 10 sites.
Editor's Note:
Many of the news links on this site are from Nevada dailies. In late 2006, the Reno Gannett-Journal began nuking much of its archive. If you encounter any broken links, I encourage you to
contact them
and
send me a copy
. On the one hand, they want to build their web traffic in order to increase the price of ads. On the other hand, they are killing that very traffic. Far be it from me to reconcile the Dilbert-style motivations of an outfit for which a 38 percent net profit is not enough. If you can explain it, please enlighten me. (
Before you e-mail me, please read this bulletin
—
AB
)
UPDATE: In early 2008, the Las Vegas Sun "upgraded " its website, nuking more than a dozen years of links. If you find an orphaned Sun story, search their site for the title.