Bottom of this page
Click here to get on our news & bulletins mailing list...
But before you do so, please read this note. —AB
Je Suis Charlie
[[EDITOR'S NOTE: Unless otherwise noted, historical items appear courtesy of longtime Nevada reporter Dennis Myers' daily Poor Denny's Almanac [PDA]. Items highlighted in blue are of interest to labor in particular and seekers of justice in general. Red means war. Occasionally but not surprisingly, magenta will mean both. (See June 29 and 30). Copyright © 2007-2017 Dennis Myers. More Myers.]]

Updated 3-21-2017 GMT
¡Viva Chávez!
César Chávez Celebration XV / Celebración de César Chávez XV
Wednesday 29 March 2017 / Miércoles 29 de Marzo 2017
2017 info and highlights from the record-breaking 2016 event at Circus Circus Reno
BREAKING NEWS AND THEN SOME—>
Not necessarily news
Barbwire by Barbano / Expanded from the 3-21-2017 Sparks Tribune
Workers make a house call on their congressman
3-14-2017

Subject: Make your Mark this p.m. in Reno & Carson
TO: Flaming Nevada redistributionist socialist progressive bleeding heart liberals and trade unionistas
FROM: The Barbwire
RE: HOUSE CALLS ON THE CONGRESSMAN
Just before his address to a joint session of the Nevada Legislature yesterday, Representative Mark Amodei, R-Nev., said he would not vote for the current proposal to eviscerate Obamacare with Trumpcare aka I-Don't-Care.

Good for him. Last Thursday, Mr. Amodei said ""Instead of going about this process in an open, transparent, and collaborative manner, House leadership has opted for a rushed approach – undercutting sound analysis, public transparency and the time necessary to determine the implications of their policy."

Now, let's hold him to it. As you know, Obamacare can use a few tweaks like stopping any phaseout of Medicaid expansion. First slated for 2020, a move's afoot to assassinate it by the end of 2017. Then there's that Obamacare provision to make workers pay income tax on health benefits starting in 2020, something that hasn't happened in 70 years. The former Cadillac Tax may now be re-named the Trumpcare Rolls Royce Tax. (Tsar Donaldov wouldn't be seen in something as pedestrian as a Cadillac.) it needs to be permanently scrapped.

Earlier this year, Culinary Local 226 President Geoconda Arguello-Kline pegged it as a "40 percent tax on worker's health benefits." One estimate projects the cost as much as $200 billion.
On his show last night, Stephen Colbert quipped that the expenses are probably overstated because many of those affected will die early. (See Death Panels 2.0, below.) If this doodad goes thru, employer-paid health plans will become an endangered species anyway.

Mr. Amodei may still be in Nevada today, so let's pay him a courtesy call.

At 2:00 p.m. today, workers will gather at the Culinary 226 office, 1135 Terminal Way, Suite 207 in Reno. At 2:30, the assembled multitudes will proceed to Rep. Amodei's office and ask to meet with him. His Reno office is on the west side of Kietzke extension, south of McCarran past Lowe's: 5310 Kietzke Lane, Suite 103; Phone: (775) 686-5760; Fax: (775) 686-5711. If you like, you can go directly to Kietzke.
Thereafter, the health campaigners will caravan to the capital city to make a housecall at Mr. Amodei's domicile: 805 West Sunset Way, Carson City, NV 89703. They will then further bring it home by hanging doorknobs throughout his neighborhood with information.

Those who can't make the 2:30 thing can try for the later soirée. (Daylight Saving Time may actually be good for something.) Coordinate with Culinary representatives Nico delaPuente and JT Thomas. Nico's cel is (775) 287-4268.

For less polite enlightenment on the same subject, check out The Barbwire in today's Sparks Tribune: Death Panels 2.0

And don't forget César Chávez Celebration XV / Celebración de César Chávez XV / Wednesday 29 March 2017 / Miércoles 29 de Marzo 2017 at the Circus Circus Reno Mandalay Ballroom. Doors open at 5:30, dinner and program seven-ish. Award nominations are still open. Info at CesarChavezNevada.com

I hope to see you later today and no later than March 29.
¡Sí se puede!
Be well. Raise hell. / Esté bien. Haga infierno. (Pardon my Spanglish.)

In Solidarity,

Andrew
CesarChavezNevada.com
NevadaLabor.com
Barbwire.TV
(775) 882-TALK (882-8255)
CBO Deals Paul Ryan's Health-Care Plan a Major Blow
Russell Berman / The Atlantic 3-13-2017
Death Panels, Part Deux
Barbwire by Barbano / Expanded from the 3-14-2017 Sparks Tribune
NEW — World-class inaugural inductee to Nevada Musicians Hall of Fame announced
Positively negative
Barbwire by Barbano / Expanded from the 3-7-2017 Sparks Tribune / Updated 3-9 and 3-12-2017
In memoriam
DEBRA JOYCE DONLEVY
16 January 1959 — 4 March 1978

Rural Nevada is a very dangerous place should you ever need medical attention — and nothing has changed in four decades. January 16, 1959, brought the births of Debra Joyce Donlevy/Carson High '77 (1959-1978) and Donna Leslie Cline (1959-1999). Their youth was cut in twain on the same night in 1978 within the loneliness of the High Desert Outback of the American Dream. They made much of the little time they were given. Remember them fondly.
Equal Rights Betrayal
Barbwire by Barbano / Expanded from the 2-28-2017 Sparks Tribune / Updated 3-1, 3-3, 3-6 and 3-8-2017
BARBWIRE CONFIDENTIAL —> hush hush!
Recall in Tesla County moves ahead
UPDATE 3-13-2017: Storey sheriff recall set for 11 April 2017
18:18 GMT 2-24-2017 / 6:18 PST 2-23-2017 (Barbwire Confidential U-News) — A petition to recall Storey County Sheriff Gerald Cook Antinoro was certified today by acting county clerk and registrar of voters Vanessa Stevens as having enough valid signatures to move forward. Ten percent of county registered voters from the previous general election were necessary, or 477. Stephens today certified 491. The next step is up Republican Nevada Secretary of State Barbara Cegavske. Click here for the continually updated sordid story of Storey's lawless lawman. Now you know why I haven't journeyed to Storey County since 2014.
Be well. Raise hell. — Andrew
First woman Teamsters CEO re-elected to new term
Reidless or Rudderless?
Barbwire by Barbano / Expanded from the 2-21-2017 Sparks Tribune
Kate Smith & Lady Gaga
Barbwire by Barbano / Expanded from the 2-14-2017 Sparks Tribune / Updated 2-16, 2-17and 2-21-2017
Feliz al dia de Santo Valentino
On Feb. 11, 1960, sixty members of the NAACP appeared at the doors of the whites-only Hawthorne, Nev., casino, the El Capitan, and were refused entry. [PDA]
Go Trump Yourself
23:18 GMT 2-9-2017 (Info from Reuters via Las Vegas Review-Journal, comments via Barbwire) — A U.S. federal appeals court (made up of three so-called judges) on Thursday unanimously upheld a temporary suspension of President Donald Trump's order that restricted travel from seven Muslim-majority countries. Stay tuned.
Be well. Raise hell. / Esté bien. Haga infierno. (Pardon my Spanglish.)
"The preconditions are present in the U.S. today. Here's the playbook Donald Trump could use to set the country down a path toward illiberalism....Those citizens who fantasize about defying tyranny from within fortified compounds have never understood how liberty is actually threatened in a modern bureaucratic state: not by diktat and violence, but by the slow, demoralizing process of corruption and deceit. And the way that liberty must be defended is not with amateur firearms, but with an unwearying insistence upon the honesty, integrity, and professionalism of American institutions and those who lead them. We are living through the most dangerous challenge to the free government of the United States that anyone alive has encountered. What happens next is up to you and me. Don't be afraid. This moment of danger can also be your finest hour as a citizen and an American." (Emphasis added.)
¡Viva Chávez!
César Chávez Celebration XV / Celebración de César Chávez XV
Wednesday 29 March 2017 / Miércoles 29 de Marzo 2017
2017 info and highlights from the record-breaking 2016 event at Circus Circus Reno


11-24-2016 — 142 years ago on last Thanksgiving Thursday,
Barbed wire was patented (11-24-1874).
On 18 Jan. 1813, Joseph Glidden, inventor of barbed wire, was born. The west was never the same.
Likewise here.
Stick with The Barbwire to sharply point out the awful truth. Always.
The Gorsuch Nonesuch: Poison Annie's Revenge
Barbwire by Barbano / Expanded from the 2-7-2017 Sparks Tribune
Smoot, smut and stash
Barbwire by Barbano / Expanded from the 1-31-2017 Sparks Tribune
The last question
Barbwire by Barbano / Expanded from the 1-24-2017 Sparks Tribune
Patient Zero Plagues
Barbwire by Barbano / Expanded from the 1-17-2017 Sparks Tribune
BARBWIRE BY ANDREW BARBANO (775) 786-1455
For the Tuesday 1-10-2017 Sparks Tribune

"Some people claim there's a woman to blame, but I know it's my own damn fault."
Jimmy Buffett sang those words four decades ago and nothing better describes today's Donkeykong Party collectively crying in its beer.
Desperate liberals are now begging for street demonstrations. A Hollywood outfit called RefuseFascism.org paid for a Jan. 4 full page in The New York Times demanding mass mobilization to stop the coronation of King Donaldo. Too little, too late.
Americans just don't have the attention span to do what Ukrainians did in 2004, massing by the millions night after night to overturn an election stolen by the incumbent president who even tried to murder the man who defeated him.
Besides, we must prepare for our biggest religious celebration, the Super Bowl.
The most the Dems could muster in 2001 was hurling tomatoes at unelected Bush the Lesser's limo.
Us little people have one practical hope: greed. Infighting among gluttonous factions can be exploited for minority victories.
Repeal Obamacare? Not so fast. The insurance and pharmaceutical industries are enjoying record profits. Ditto the big banks, military contractors and prison privateers. Cosmetic regulation is working fine, thanks.
The foxes are in the chicken coop boinking the hens before cutting them up, selling their eggs and body parts.
Foxes caught committing fowl deeds will defend themselves by asserting that those cute chicks are actually their wives, so please respect traditional family values and the sanctity of marriage between male and female as God intended.
Colonel Sanders, call your office.
I need a margarita, heavy on the dark rum.
MLK WEEKEND EVENTS. This Sunday, Jan. 15, the Northern Nevada Martin Luther King, Jr., Holiday Committee hosts its 31st Annual Interfaith Community Memorial Service. It starts at 3:00 p.m. at Bethel African Methodist Episcopal Church, 2655 Rock Blvd., Sparks. On Jan. 16, the 19th Annual MLK Community Memorial Caravan will depart at 10:00 a.m. from Bethel AME and travel the five-mile MLK Highway on US395/I-580.
END OF TIMES SURVIVAL KIT. Defend yourself with humorous or humorless but always-peerless predictions for 2017 by subscribing to the Barbwire Confidential News Service. Last year's dark foreshadowings unfortunately became reality, so I suggest inoculation by signing onto the HushHush! list at BallotBoxing.US/
DISASTERS R US. Recent flooding was oft-compared with 2005 and 1997 but not 1986 when Sparks Blvd. became a river and a man drowned. After repeated flooding in the early 1950s, local voters were asked to support tax increases for flood control in specific neighborhoods. Only northwest Reno residents voted in favor. The Army Corps of Engineers proceeded to make that the one flood-proof area of the Truckee Meadows. Sometimes, taxes work.
MORE BAD OMENS. Speaking of northwest Reno, a crackerbox 988 square-foot home in those parts just sold for $222,000. In sync with the weather, a replay of the 2008 underwater bubble is forming.

Be well. Raise hell. / Esté bien. Haga infierno.
______________
Andrew Barbano is a 48-year Nevadan and editor of NevadaLabor.com. E-mail <barbano@frontpage.reno.nv.us> Barbwire by Barbano has originated in the Sparks Tribune since 1988.

Regressions, Transitions and Predictions
Barbwire by Barbano / Expanded from the 1-3-2017 Sparks Tribune
---
Love's Labours Lost Dept.
On 12-27-2005
On 12-27-2015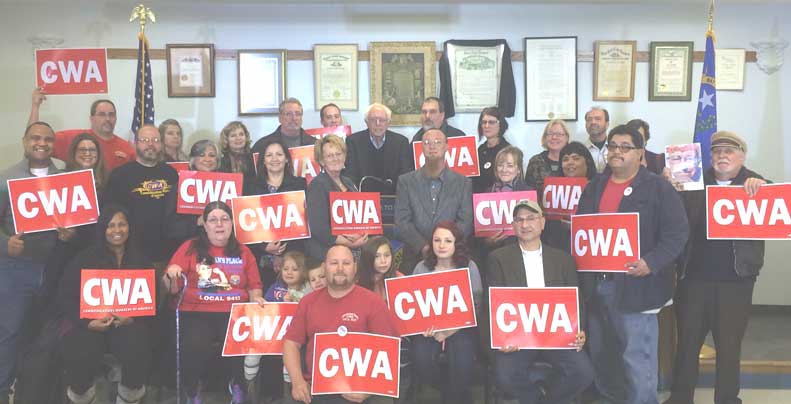 SOLIDARITY — Communications Workers of America members and their families from throughout northern Nevada pose with Sen. Sanders after his speech. NevadaLabor.com editor Andrew Barbano, far right, holds up his copy of the Dec. 3, 2015, edition of Rolling Stone with Sen. Sanders on the cover. The senator signed it immediately after the photo-op. Primo.
Sanders promises penalties for state corporate welfare

Sparks, Nev. (U-News) [Copyright © 2015 NevadaLabor.com] 4:55 p.m. PST 12-27-2015, 00:55 GMT 12-28-2015 — Campaigning in northwestern Nevada, Democratic presidential candidate Bernie Sanders, I-Vermont, told a standing-room-only crowd at the Northern Nevada Labor Temple that he would work to inhibit state vs. state corporate welfare.

Sheet Metal Workers Union Local 26/AFL-CIO Business Development Director Rob Benner asked "Senator, I assume you've noticed the 'Fix Tesla First' sign on the wall. Another electric car company, China-owned Faraday, has just received $334 million in tax breaks to come to Nevada. This came almost exactly a year after state government granted Tesla $1.4 billion. What can you do to fix this?"

Sanders understood the problem, stating that "it's not as simple as I will say it, but I would work to see that states lose some portion of federal benefits when they grant huge tax incentives such as you are describing which hurt needed services."

Sanders also said that he would support automatic union recognition if 50 percent plus one worker sign cards saying they want a union.

President Obama promised to support such legislation when he ran in 2008, but the White House never got behind the now long-dead Employee Free Choice Act.

Sanders also opposed a recent proposal to enact a national "right-to-work-for-less" law, adding that if workers get the benefits of a union contract, "they should contribute."

He noted his longtime opposition to treaties such as the Clinton administration's North American Free Trade Agreement (NAFTA) and the current Trans Pacific Partnership, both of which allow shipping U.S. jobs to low-wage countries. He added that he knows some Republican senators who have problems with the TPP and it may not pass in this session of Congress.

Sanders advocated for a $15 per hour minimum wage, noting that a working male today makes $700 per year less than he did in 1973, adjusted for inflation. Sanders added that women have also lost ground, especially over the past decade.

NevadaLabor.com Editor Andrew Barbano asked Sen. Sanders if he would support a fix to Obamacare which has put union health plans in jeopardy and is forcing union workers to pay a tax for which they receive nothing.

"Absolutely," Sanders replied.

Sanders answered every question from the audience which ranged from moppets to retirees. One young man noted that since he will be 18 by the general election next year, he will be allowed to participate in Nevada's February caucus. Sen. Sanders noted that Iowa likewise allows youth participation. He added that he's running ahead in New Hampshire, is getting closer in Iowa and if he also does well in Nevada and S. Carolina, victory will be possible.

In the Dec. 3 edition of Rolling Stone, he stated that "Nobody denies, Hillary Clinton least of all, that she is an establishment candidate."

Sanders signed Barbano's Dec. 3 Rolling Stone cover.

Weekend at Bernie's with Eugene McCarthy's grandchildren
Barbwire by Barbano / Expanded from the Tuesday 11-10-2015 Sparks Tribune / Updated 11-12-2015

Education Dysfunction Part LXXV—>
Year-end or end of times?
Smoking gun: throwing more money at public schools actually works
Barbwire by Barbano / Expanded from the 12-27-2016 Sparks Tribune
Hope you and yours enjoyed enthralling Thanksgibleting.
Happy High Holly Days to all
Merry Christmas/Kwanzaa/Solstice/Festivus/Chanukah
Frohe Weihnachten und beste Wuensche fuer 2017
11-24-2016 — 142 years ago on Thanksgiving Thursday,
Barbed wire was patented (11-24-1874).
Stick with The Barbwire to sharply point out the awful truth. Always.
Get ahead of corporate-influenced news—>Subscribe to Barbwire Confidential