Bottom of this page
Click here to get on our news & bulletins mailing list...
But before you do so, please read this note. —AB
Je Suis Charlie
[[EDITOR'S NOTE: Unless otherwise noted, historical items appear courtesy of longtime Nevada reporter Dennis Myers' daily Poor Denny's Almanac [PDA]. Items highlighted in blue are of interest to labor in particular and seekers of justice in general. Red means war. Occasionally but not surprisingly, magenta will mean both. Copyright © 2007-2017 Dennis Myers. More Myers.]]
This archive contains some 2015 and 2017 material at the top. It's thus kind of a 2016 sandwich. Enjoy. It's low-calorie, gluten- and shellfish-free.

Workers make a house call on their congressman
3-14-2017

Subject: Make your Mark this p.m. in Reno & Carson
TO: Flaming Nevada redistributionist socialist progressive bleeding heart liberals and trade unionistas
FROM: The Barbwire
RE: HOUSE CALLS ON THE CONGRESSMAN
Just before his address to a joint session of the Nevada Legislature yesterday, Representative Mark Amodei, R-Nev., said he would not vote for the current proposal to eviscerate Obamacare with Trumpcare aka I-Don't-Care.

Good for him. Last Thursday, Mr. Amodei said ""Instead of going about this process in an open, transparent, and collaborative manner, House leadership has opted for a rushed approach – undercutting sound analysis, public transparency and the time necessary to determine the implications of their policy."

Now, let's hold him to it. As you know, Obamacare can use a few tweaks like stopping any phaseout of Medicaid expansion. First slated for 2020, a move's afoot to assassinate it by the end of 2017. Then there's that Obamacare provision to make workers pay income tax on health benefits starting in 2020, something that hasn't happened in 70 years. The former Cadillac Tax may now be re-named the Trumpcare Rolls Royce Tax. (Tsar Donaldov wouldn't be seen in something as pedestrian as a Cadillac.) it needs to be permanently scrapped.

Earlier this year, Culinary Local 226 President Geoconda Arguello-Kline pegged it as a "40 percent tax on worker's health benefits." One estimate projects the cost as much as $200 billion.
On his show last night, Stephen Colbert quipped that the expenses are probably overstated because many of those affected will die early. (See Death Panels 2.0, below.) If this doodad goes thru, employer-paid health plans will become an endangered species anyway.

Mr. Amodei may still be in Nevada today, so let's pay him a courtesy call.

At 2:00 p.m. today, workers will gather at the Culinary 226 office, 1135 Terminal Way, Suite 207 in Reno. At 2:30, the assembled multitudes will proceed to Rep. Amodei's office and ask to meet with him. His Reno office is on the west side of Kietzke extension, south of McCarran past Lowe's: 5310 Kietzke Lane, Suite 103; Phone: (775) 686-5760; Fax: (775) 686-5711. If you like, you can go directly to Kietzke.
Thereafter, the health campaigners will caravan to the capital city to make a housecall at Mr. Amodei's domicile: 805 West Sunset Way, Carson City, NV 89703. They will then further bring it home by hanging doorknobs throughout his neighborhood with information.

Those who can't make the 2:30 thing can try for the later soirée. (Daylight Saving Time may actually be good for something.) Coordinate with Culinary representatives Nico delaPuente and JT Thomas. Nico's cel is (775) 287-4268.

For less polite enlightenment on the same subject, check out The Barbwire in today's Sparks Tribune: Death Panels 2.0

And don't forget César Chávez Celebration XV / Celebración de César Chávez XV / Wednesday 29 March 2017 / Miércoles 29 de Marzo 2017 at the Circus Circus Reno Mandalay Ballroom. Doors open at 5:30, dinner and program seven-ish. Award nominations are still open. Info at CesarChavezNevada.com

I hope to see you later today and no later than March 29.
¡Sí se puede!
Be well. Raise hell. / Esté bien. Haga infierno. (Pardon my Spanglish.)

In Solidarity,

Andrew
CesarChavezNevada.com
NevadaLabor.com
Barbwire.TV
(775) 882-TALK (882-8255)
CBO Deals Paul Ryan's Health-Care Plan a Major Blow
Russell Berman / The Atlantic 3-13-2017
Death Panels, Part Deux
Barbwire by Barbano / Expanded from the 3-14-2017 Sparks Tribune
---
Love's Labours Lost Dept.
On 12-27-2005
On 12-27-2015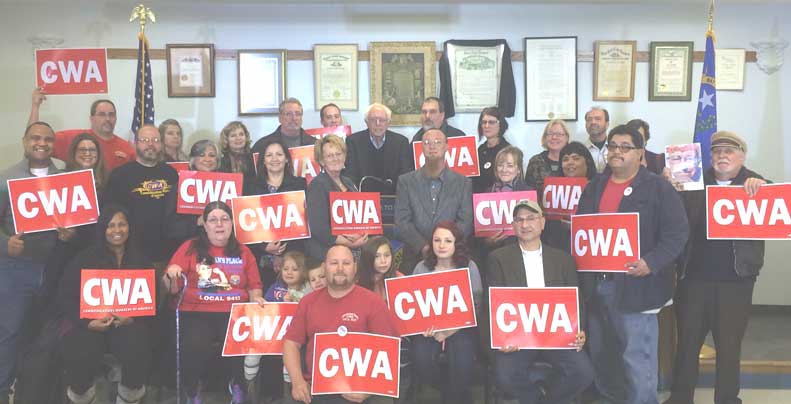 SOLIDARITY — Communications Workers of America members and their families from throughout northern Nevada pose with Sen. Sanders after his speech. NevadaLabor.com editor Andrew Barbano, far right, holds up his copy of the Dec. 3, 2015, edition of Rolling Stone with Sen. Sanders on the cover. The senator signed it immediately after the photo-op. Primo.
Sanders promises penalties for state corporate welfare

Sparks, Nev. (U-News) [Copyright © 2015 NevadaLabor.com] 4:55 p.m. PST 12-27-2015, 00:55 GMT 12-28-2015 — Campaigning in northwestern Nevada, Democratic presidential candidate Bernie Sanders, I-Vermont, told a standing-room-only crowd at the Northern Nevada Labor Temple that he would work to inhibit state vs. state corporate welfare.

Sheet Metal Workers Union Local 26/AFL-CIO Business Development Director Rob Benner asked "Senator, I assume you've noticed the 'Fix Tesla First' sign on the wall. Another electric car company, China-owned Faraday, has just received $334 million in tax breaks to come to Nevada. This came almost exactly a year after state government granted Tesla $1.4 billion. What can you do to fix this?"

Sanders understood the problem, stating that "it's not as simple as I will say it, but I would work to see that states lose some portion of federal benefits when they grant huge tax incentives such as you are describing which hurt needed services."

Sanders also said that he would support automatic union recognition if 50 percent plus one worker sign cards saying they want a union.

President Obama promised to support such legislation when he ran in 2008, but the White House never got behind the now long-dead Employee Free Choice Act.

Sanders also opposed a recent proposal to enact a national "right-to-work-for-less" law, adding that if workers get the benefits of a union contract, "they should contribute."

He noted his longtime opposition to treaties such as the Clinton administration's North American Free Trade Agreement (NAFTA) and the current Trans Pacific Partnership, both of which allow shipping U.S. jobs to low-wage countries. He added that he knows some Republican senators who have problems with the TPP and it may not pass in this session of Congress.

Sanders advocated for a $15 per hour minimum wage, noting that a working male today makes $700 per year less than he did in 1973, adjusted for inflation. Sanders added that women have also lost ground, especially over the past decade.

NevadaLabor.com Editor Andrew Barbano asked Sen. Sanders if he would support a fix to Obamacare which has put union health plans in jeopardy and is forcing union workers to pay a tax for which they receive nothing. [1]

"Absolutely," Sanders replied.

Sanders answered every question from the audience which ranged from moppets to retirees. One young man noted that since he will be 18 by the general election next year, he will be allowed to participate in Nevada's February caucus. Sen. Sanders noted that Iowa likewise allows youth participation. He added that he's running ahead in New Hampshire, is getting closer in Iowa and if he also does well in Nevada and S. Carolina, victory will be possible.

In the Dec. 3 edition of Rolling Stone, he stated that "Nobody denies, Hillary Clinton least of all, that she is an establishment candidate."

Sanders signed Barbano's Dec. 3 Rolling Stone cover. Hot damn!

____________________________________

[1] 2-19-2020 — Obamacare was passed with an individual mandate that everyone carry insurance. Conservatives went to court calling it unconstitutional. Writing for the 5-4 majority, Chief Justice John Roberts found it constitutional under government's power to tax, terming the mandate a tax by another name. President Trump's 2017 trillion-dollar tax break mostly for the wealthy eliminated the mandate, raising cries that without it, Obamacare is again unconstitutional. Some people are never satisfied that they've done enough damage. In the 2-19-2020 candidate debate in Las Vegas, Sen. Sanders said that as president he would never sign a bill that reduced anyone's coverage. He did so as a direct response to Culinary Union pressure not to support Sanders or Sen. Elizabeth Warren, D-Mass., who both favor "Medicare for All."

Weekend at Bernie's with Eugene McCarthy's grandchildren
Barbwire by Barbano / Expanded from the Tuesday 11-10-2015 Sparks Tribune / Updated 11-12-2015

Education Dysfunction Part LXXV—>
Year-end or end of times?
Smoking gun: throwing more money at public schools actually works
Barbwire by Barbano / Expanded from the 12-27-2016 Sparks Tribune
Hope you and yours enjoyed enthralling Thanksgibleting.
Happy High Holly Days to all
Merry Christmas/Kwanzaa/Solstice/Festivus/Chanukah
Frohe Weihnachten und beste Wuensche fuer 2017
11-24-2016 — 142 years ago on Thanksgiving Thursday,
Barbed wire was patented (11-24-1874).
Stick with The Barbwire to sharply point out the awful truth. Always.
Get ahead of corporate-influenced news—>Subscribe to Barbwire Confidential