Site map
Corporate Propaganda Research Archive


Everybody knows the dice are loaded.
Everybody rolls with their fingers crossed.
Everybody knows the war is over.
Everybody knows the good guys lost.
Everybody knows the fight was fixed.
The poor stay poor, the rich get rich.
That's how it goes. Everybody knows.
Everybody knows the scene is dead
But there's gonna be a meter on your bed
That will disclose
What everybody knows.
— Leonard Cohen
Beginning the Barbwire's Silver Anniversary Year
Barbwire by Barbano premiered in the Daily Sparks (Nev.) Tribune on Aug. 12, 1988, and has originated in those parts ever since. Tempus fugit.
Lie when that pollster calls you
Barbwire by Barbano / Expanded from the 8-26-2012 Daily Sparks Tribune
Updated 8-28-2012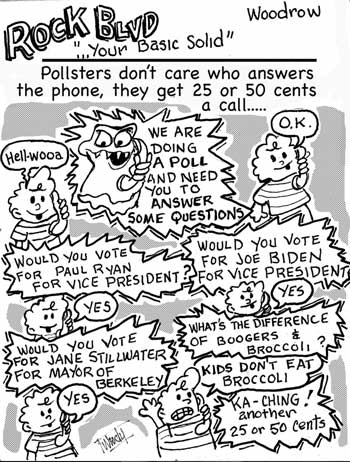 Copyright © 2012 Woodrow Barlettani for The Daily Sparks Tribune
This column was written by a 64 year-old non-partisan Hispanic woman.
Me.
She's the poll respondent I created for former Sparks schoolboy Karl Rove and his minions who call three or four times every evening.

I strongly suggest your lying likewise. Nevada's economy depends on you.

Last week, I proved beyond a reasonable doubt that the American voter/consumer wants to be lied to like a lovestruck teenager. JC Penney recently announced an "everyday low prices" policy and discontinued short-term discount sales. They tanked.

Most would rather believe a spelling-challenged outfit named Mor Furniture for Less. They constantly advertise the greatest sale ever and apparently do land office business.

People crave entertaining over-hyped bullshit, from the shameless puffery of "prices will never be this low again" to Myth Rumpney's smirky smarm that "no one's ever asked to see my birth certificate." (OK, I'm asking. Prove you're not a robot.)

Lying drives the American economy and no discipline does it better than follytix.

Candidates are so insecure that they compulsively spend money to shape public approval, then take polls to see if people believe what they've been fed.
Some believe their own publicity and thus think they can do no wrong. Whether caught swimming naked in holy waters or transgressing on YouTube, they can't imagine how their legions of fans might think less of them when they display their shortcomings.

Speaking of adequacy, Washoe's fabled status as the swing county in a swing state stands in jeopardy. Some say the president is lengthening his lead over the Mythmeister and that Nevada may move from tossup to "leaning Obama."

That will be flat bad for business. TV stations are making millions by marketing nauseating numbers of ads pimping every possible pecadillo.

Big bucks are being spent on staff, printing, rent, supplies, gasoline (ouch!), food, beer, you name it.
We can't risk losing all that action in a down economy.

So do your patriotic duty and lie when that pollster calls. Hispanics are the currently hot target, which is why I morph into an undecided Latina.

Listen carefully to the questions. They will tell you the direction the secret client wants you to go.
For instance, multiple choice queries usually allow five options from strongly agree to strongly disagree. One recent Rovian inquiry presented only three possible responses on Obamacare, from lukewarm to burning hatred. Karl's boys could thus release results that Nevadans uniformly dislike the president's health care fix.

If you don't think your way through the questions, you risk disconnection, which is why asserting that you are non-partisan and undecided is the best gateway into their guts.

Then do your job, mi hermana.
The Nevada economy depends on you.

BARBWIRE FAMILY SILVER. This column's silver anniversary year started two weeks ago.

The first Tribune Barbwire ("The Chlling of Hot August Nights") appeared on Aug. 12, 1988, shortly after editor-publisher and current part-owner Randy Frisch took the paper daily.
The column had begun in regional magazines the previous year. You will find about 20 years' worth archived at NevadaLabor.com, including a few award-winners and the 1996 University of Nevada scandals entered in two categories of Pulitzer Prize competition.

My first byline actually appeared in 1973 when the Trib was a weekly. I submitted a press release on water rights that was apparently credible to a point that editor Don Carlson printed it as a news story.

Even though decade five is upon me, I am still a greenhorn. Former Tribune owner Carl Shelly contributed items well into his nineties.
So stay tuned for at least the next 30 years.
SUFFRAGETTES CELEBRATE SUNDAY. Also past 90, the 19th Amendment allowing women to vote was ratified on Aug. 24, 1920, five years later than Nevada.
About the only good thing we've pioneered since was placing "none of the above" on the ballot, something Republicans recently removed.

You may join latter day suffragettes at the Reno federal courthouse at Liberty and S. Virginia Sunday morning from 10 till noon.
Celebrate while you can. This state killed equal rights for women in 1977. Given all the GOP-led voter suppression campaigns now infesting the nation, your right to vote stands in similar jeopardy.

ADIOS, BIG DON. A few days ago came word from San Francisco of the passing of former owner and publisher Don Woodward, 84. A good man to do business with, he owned the Gardnerville Record-Courier as well as the Tribune/Big Nickel back in the 1970s.

Then as now, it was a training ground for kids who would leave deep tracks in journalism.
Then, as now, the young reporters and permanent staff radiated a warm spirit. I felt right at home proofing ads in the Trib's backshop on Marietta Way. That feeling abides today.

This publication is one of an increasingly endangered species, a true hometown newspaper for the last 102 years.
Embrace it. It's important.

TOMORROW'S NEWS. .Dr. Jane Lai Mah Woodburn, a top administrator under recently departed former superintendent Heath "Music Man" Morrison, is no longer with the Washoe County School District.
Her Facebook page states that she "left WCSD due to reorganization so I can now get back to yoga, tennis, hiking, traveling, & learn to play golf! :)"
She was a finalist for Morrison's job along with new WCSD Superintendent Pedro Martinez, who himself had finished second to Morrison in 2009. Morrison hired Martinez, who left a year later for Gomorrah South.
For more, see "We Don't Need No Education" at NevadaLabor.com.
THE BROTHERHOOD/SISTERHOOD GATHERS ONCE MORE. The Nevada State AFL-CIO convention will convene Aug. 27-29 at the Grand Sierra Reno.

SUPPORT THE NEVADA CITIZEN TV PROJECT to re-establish a non-corporate community channel. You may donate at ReSurge.TV or contact me.

Thank you.

Be well. Raise hell.
____________
Andrew Barbano is a 43-year Nevadan, chair of the Nevada César Chávez Committee, producer of Nevada's annual César Chávez Day celebration, first vice-president and political action chair of the Reno-Sparks NAACP, labor/consumer/civil rights advocate, member of Communications Workers of America Local 9413/AFL-CIO and editor of NevadaLabor.com and JoeNeal.org. As always, his opinions are strictly his own. Check local listings for other Nevada cable systems. E-mail barbano@frontpage.reno.nv.us. Barbwire by Barbano has originated in the Daily Sparks Tribune since 1988.

Smoking Guns...


Followed by a moon shadow

TRAVUS T. HIPP, 1937-2012

ADIÓS, COMPADRE — Our friend Travus, 75, passed away peacefully between 2:00 and 3:00 a.m. PDT on 18 May 2012 at his home in Silver City, Nevada. The sun is in eclipse as I write this at 6:30 p.m. on May 20.

CHANGE OF VENUE (5-22-2012) — Adiós in Silver City, Nevada, Saturday, May 26, 2012 —> Updated 5-27-2012 — > The auld church where Travus lived and died proved too small for the expected multitude, so gathering, gnoshing and remembering commenced at the Silver City Community Center, 385 High Street, at 10:00 a.m. PDT. The graveside memorial service began at High Noon. Travus was buried next to his rock star companion Lynne Hughes, a short walk away. My remembrance of Lynne from the 3-21-1993 Daily Sparks Tribune has been linked to Travus' formal obituary at this website. All memories accepted for permanent posting hereat. Stay tuned for pictures and stories of the appropriately rainy day.

Thanks for all your kind words. Keep up the good work and the good fight.

Be well. Raise hell.

Andrew Barbano

Travus T. Hipp & Tales of Nevada's Futures Passed
Expanded from the 6-3-2012 Daily Sparks Tribune


At bottom, he was an artist who used his voice to soar and slice, a tenor for the tenor of our times. Many of his mourning California listeners talk about the vocal spells he wove, how he soundly organized the noise of daily life into music that entertained, engaged, enlightened, educated, enthralled and occasionally enflamed. [From the saga of Travus T. Hipp and contributions by The Barbwire to the May 25 Reno Gazette-Journal and May 26, 2012, Daily Sparks Tribune.]

Economist: This is a true depression
Elliott Parker Guest Editorial / Las Vegas Sun / 11-27-2011

The plight of the paper pushers
The great recession made bashing public workers a national sport
Dennis Myers / Reno News & Review / 11-23-2011

Bury the Bad News with Rose-colored Reporting
How urgent can economic troubles be if leaders say things are getting better?
Dennis Myers / Reno News & Review / 11-23-2011

Fact-free nation: Inside the lie machine
Mother Jones Magazine May-June 2011 / Cover story and in-depth analysis

Barbwire Corporate Welfare Archive
Cabellyup.com

From clear-cut forests to dirty Gulfstream waters, this land belongs to old BP
TOLJASO LONG TIME AGO
BP/ARCO: The greasy root of our evils
Barbwire / Daily Sparks Tribune 9-10-2006
The awful truth — Read it and weep, fellow suckers

Labor Day 2009: Rise of the Vampire Corpobots
Expanded from the 9-6-2009 Daily Sparks Tribune

Angry Americans and Freudian fraud
Using war to market cigarettes
Expanded from the 8-23-2009 Daily Sparks Tribune

BARBWIRE Nevada Corporate Welfare Archive

Propaganda fuels gasoline price fixing
Barbwire 8-14-2005

Donate to the cable ratepayer legal defense fund at our PayPal-enabled ReSurge.TV Consumer War Room


Phillips, Kevin; Numbers Racket: Why the economy is worse than we know
Harper's Magazine; May 2008; page 43
Phillips has authored numerous books on history and politics over the past 40 years. His most recent, Bad Money: Reckless Finance, Failed Politics and the Global Crisis of American Capitalism, was published by Viking on April 15, 2008.

ORDER Taking the Risk Out of Democracy
Corporate Propaganda versus Freedom and Liberty
By Alex Carey
Edited by Andrew Lohrey
Foreword by Noam Chomsky
University of Illinois Press


SEE ALSO: Lapham, Lewis H.; Tentacles of Rage: The Republican Propaganda Mill, A Brief History; Harper's Magazine cover article; September, 2004, page 32.

By one conservative estimate, the corporate right has spent about $3 billion over the past three decades manufacturing public opinion to suit big business goals. Lapham's number covered the early 1970's to the present day. Alex Carey noted that by 1948, anti- New Deal corporate propaganda expenditures had already reached $100 million per year, not adjusted for inflation, for advertising alone. (Carey, ibid; page 79)

Adjusted for inflation, that 1948 $100 million becomes $801,659,751.04 in 2005 dollars.

Conservatives Help Wal-Mart, and Vice Versa
As Wal-Mart struggles to rebut growing criticism, it has discovered a reliable ally: conservative research groups.
New York Times 9-8-2006; Free registration may be required.

BARBWIRE: Labor Day '94: People vs. corporate con job, 9-4-94
Chilling forecasts from Alex Carey

BARBWIRE: The Nevada Republican Party Becomes Communist, 3-30-97
A prescient Plato on the dangers of oligarchy
NevadaLabor.com | U-News | Bulletins + Almanac
Casinos Out of Politics (COP) | Sen. Joe Neal
Guinn Watch | Deciding Factors | BallotBoxing.US
DoctorLawyerWatch.com | Barbwire Oilogopoly Archive
Barbwire Nevada Corporate Welfare Archive
Annual César Chávez Celebration
War Rooms: Banks, Cabbies, Cabela's, Cable TV, Cancer Kids/Mining, Energy, Food, Health Care, Resurge.TV/consumers, Starbucks, Wal-Mart
Search this site | In Search Of...


Copyright © 1982-2012 Andrew Barbano

Andrew Barbano is a 43-year Nevadan, editor of NevadaLabor.com and JoeNeal.org; and former chair of the City of Reno's Citizens Cable Compliance Committee, He is producer of Nevada's annual César Chávez Day celebration and serves as first vice-president, political action chair and webmaster of the Reno-Sparks NAACP. As always, his opinions are strictly his own. E-mail barbano@frontpage.reno.nv.us.

Barbwire by Barbano premiered in the Daily Sparks (Nev.) Tribune on Aug. 12, 1988, and has originated in those parts ever since. Tempus fugit.


Site composed and maintained by Deciding Factors, CWA 9413 signatory
Comments and suggestions appreciated. Sign up for news and bulletins