Site map
Corporate Propaganda Research Archive


Everybody knows the dice are loaded.
Everybody rolls with their fingers crossed.
Everybody knows the war is over.
Everybody knows the good guys lost.
Everybody knows the fight was fixed.
The poor stay poor, the rich get rich.
That's how it goes. Everybody knows.
Everybody knows the scene is dead
But there's gonna be a meter on your bed
That will disclose
What everybody knows.
— Leonard Cohen
Cold Reality TV
Barbwire by Barbano / Expanded from the 8-5-2012 Daily Sparks Tribune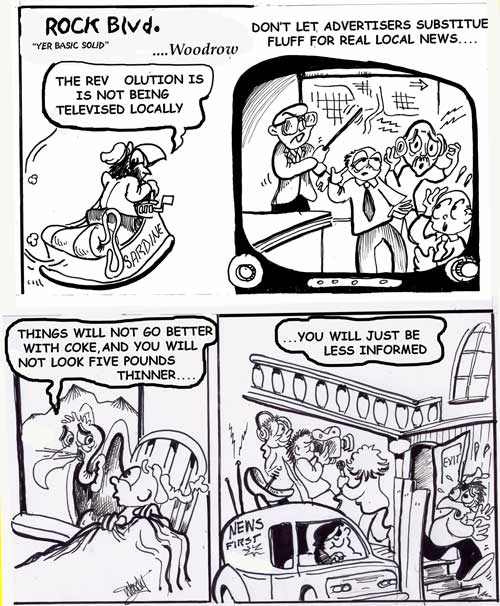 Copyright © 2012 Woodrow Barlettani for The Daily Sparks Tribune
Life is a bitch and the bitch is television.
We've all been tortured by the cruel cacophony of TV political ads and the finals haven't even started. Equally cruel is all the complaining about cluttering up the airwaves with scurrilous negativity.

If the choice is between meaningless repetitive vitriol or the latest gruesome solution to bodily malfunction, gimme dumbass Karl Rove anytime.

Despite all the high-tech hype about Facebook, Twitter, iPhones and slimetones, nothing much in politics has changed since Dwight Eisenhower aired the first political TV spot in 1952.

The TV commercial rules our lives, shapes society by providing common experience, dictates fashion, what's hot and what's not.

This year, TV will not only dictate mass behavior at the polls, it has already told us who's going to win the overall gold medal aka The White House.

Since you will know the result in advance, you can now tune out everything until you check the Tribune on Nov. 7 to get the score and check minor league standings.

Artists often have a better grasp on reality than scientists. Several centuries ago, some painter produced a weird abstract that accurately depicted the structure of the atom.

It's a far shorter leap to predict the presidential election, especially since the artist in question, screenwriter Aaron Sorkin, has already been right once.

Here's an excerpt from the Barbwire of last Dec. 4.
In 2005, Bush the Lesser had begun his second term and liberals had to content themselves with the virtual reality of The West Wing TV series, then in its final season.

In one of the concluding episodes, the fictional voters elected the first minority president of the United States played by veteran Latino actor Jimmy Smits. After a frustrating search for a secretary of state, he made an astounding choice: the Republican opponent he had just defeated, played by Alan Alda.

Life imitated art in 2008 as Barack Obama, the first minority president, likewise appointed his former nemesis Hillary Clinton.

Mr. Smits' fictional character won by a razor-thin margin when late returns from the Silver State arrived.

All 2012 projections forecast a close contest with Nevada as a key swing state and Washoe as the critical swing county.
Reno-Sparks could thus decide the presidency next November.

Could life imitate art?

It's already happened once.
CHILLING OUT GLOBAL WARMING. Awhile back, those great defenders of the American corporate welfare...er, capitalist system, the U.S. Chamber of Commerce, actually submitted a brief to the EPA asking that carbon pollution not be regulated.

As Rolling Stone writer Bill McKibben noted in the current edition, "should the world's scientists turn out to be right and the planet heats up, the Chamber advised 'populations can acclimatize to warmer climates via a range of behavioral, physiological and technological adaptations.'

"As radical goes, demanding that we change our physiology is right up there," McKibben maddeningly understated.

Reminds me of a story from the Showtime update of "The Outer Limits" TV series wherein earthlings in a Bladerunner future had a choice of keeping their skins and living as permanent night creatures or turning reptilian against the sun's rays in an atmospherically depleted world.

The Chamber in 2009 surpassed the combined spending of both the Republican and Democratic National Committees.

Business must be good for these guys in the depths of a depression that only tax cuts for rich people can remedy.

CHILLING OUT IN THE COOLER. A few days ago came a killer Associated Press investigation about the skyrocketing expense of hiring for-profit corporations to imprison illegal aliens. The tab will hit $2 billion this year.

"The total average nightly cost to taxpayers to detain an illegal immigrant, including health care and guards' salaries, is about $166," AP reported.

That's right tea-partiers, you're paying for security, health care, food and housing for 400,000 non-citizens a year.

JUST PLAIN CHILLING. Eight states now base their need for new prisons on the number of African-American students in the fourth grade. Texas and Arizona actually use fourth-grade reading scores.

GORE VIDAL HITS THE BIG CHILL. He had a bigger ego than Donald Trump and deservedly so. At least he contributed something to society. The great writer and commentator died last week at 86.

When asked who he deemed the greatest man of the 20th Century, Vidal replied Dr. Pincus, inventor of the birth control pill.
He often advised "never miss a chance to have sex or appear on television."

Alas, time had passed him by. He apparently failed to realize that such activities are no longer mutually exclusive. Today's multi-taskers can do both simultaneously and even get paid for it via a cheap computer and a web-cam.

UNCHILLED KOCHS. The Barbwire investigative journalism staff has spared every expense to ferret out the latest political scandal and skullduggery.

Our spies report that when the oil baron Koch Brothers recently sent their anti-Obama bus to town, protestors were greeted by refreshments with a sign stating something like "have a Coke on the Kochs."

Then the plastic bottles exploded in the summer heat, fouling said petroleum-fueled bus.

I'm trying to get pictures.

SUPPORT THE NEVADA CITIZEN TV PROJECT to re-establish a non-corporate people's channel in these parts.
We are getting close to launch.
You may donate at ReSurge.TV or contact me.
Thank you.

Be well. Raise hell.
____________
Andrew Barbano is a 43-year Nevadan, chair of the Nevada César Chávez Committee, producer of Nevada's annual César Chávez Day celebration, first vice-president and political action chair of the Reno-Sparks NAACP, labor/consumer/civil rights advocate, member of Communications Workers of America Local 9413/AFL-CIO and editor of NevadaLabor.com and JoeNeal.org. As always, his opinions are strictly his own. Check local listings for other Nevada cable systems. E-mail barbano@frontpage.reno.nv.us. Barbwire by Barbano has originated in the Daily Sparks Tribune since 1988.

Smoking Guns...


Followed by a moon shadow

TRAVUS T. HIPP, 1937-2012

ADIÓS, COMPADRE — Our friend Travus, 75, passed away peacefully between 2:00 and 3:00 a.m. PDT on 18 May 2012 at his home in Silver City, Nevada. The sun is in eclipse as I write this at 6:30 p.m. on May 20.

CHANGE OF VENUE (5-22-2012) — Adiós in Silver City, Nevada, Saturday, May 26, 2012 —> Updated 5-27-2012 — > The auld church where Travus lived and died proved too small for the expected multitude, so gathering, gnoshing and remembering commenced at the Silver City Community Center, 385 High Street, at 10:00 a.m. PDT. The graveside memorial service began at High Noon. Travus was buried next to his rock star companion Lynne Hughes, a short walk away. My remembrance of Lynne from the 3-21-1993 Daily Sparks Tribune has been linked to Travus' formal obituary at this website. All memories accepted for permanent posting hereat. Stay tuned for pictures and stories of the appropriately rainy day.

Thanks for all your kind words. Keep up the good work and the good fight.

Be well. Raise hell.

Andrew Barbano

Travus T. Hipp & Tales of Nevada's Futures Passed
Expanded from the 6-3-2012 Daily Sparks Tribune


At bottom, he was an artist who used his voice to soar and slice, a tenor for the tenor of our times. Many of his mourning California listeners talk about the vocal spells he wove, how he soundly organized the noise of daily life into music that entertained, engaged, enlightened, educated, enthralled and occasionally enflamed. [From the saga of Travus T. Hipp and contributions by The Barbwire to the May 25 Reno Gazette-Journal and May 26, 2012, Daily Sparks Tribune.]

Economist: This is a true depression
Elliott Parker Guest Editorial / Las Vegas Sun / 11-27-2011

The plight of the paper pushers
The great recession made bashing public workers a national sport
Dennis Myers / Reno News & Review / 11-23-2011

Bury the Bad News with Rose-colored Reporting
How urgent can economic troubles be if leaders say things are getting better?
Dennis Myers / Reno News & Review / 11-23-2011

Fact-free nation: Inside the lie machine
Mother Jones Magazine May-June 2011 / Cover story and in-depth analysis

Barbwire Corporate Welfare Archive
Cabellyup.com

From clear-cut forests to dirty Gulfstream waters, this land belongs to old BP
TOLJASO LONG TIME AGO
BP/ARCO: The greasy root of our evils
Barbwire / Daily Sparks Tribune 9-10-2006
The awful truth — Read it and weep, fellow suckers

Labor Day 2009: Rise of the Vampire Corpobots
Expanded from the 9-6-2009 Daily Sparks Tribune

Angry Americans and Freudian fraud
Using war to market cigarettes
Expanded from the 8-23-2009 Daily Sparks Tribune

BARBWIRE Nevada Corporate Welfare Archive

Propaganda fuels gasoline price fixing
Barbwire 8-14-2005

Donate to the cable ratepayer legal defense fund at our PayPal-enabled ReSurge.TV Consumer War Room


Phillips, Kevin; Numbers Racket: Why the economy is worse than we know
Harper's Magazine; May 2008; page 43
Phillips has authored numerous books on history and politics over the past 40 years. His most recent, Bad Money: Reckless Finance, Failed Politics and the Global Crisis of American Capitalism, was published by Viking on April 15, 2008.

ORDER Taking the Risk Out of Democracy
Corporate Propaganda versus Freedom and Liberty
By Alex Carey
Edited by Andrew Lohrey
Foreword by Noam Chomsky
University of Illinois Press


SEE ALSO: Lapham, Lewis H.; Tentacles of Rage: The Republican Propaganda Mill, A Brief History; Harper's Magazine cover article; September, 2004, page 32.

By one conservative estimate, the corporate right has spent about $3 billion over the past three decades manufacturing public opinion to suit big business goals. Lapham's number covered the early 1970's to the present day. Alex Carey noted that by 1948, anti- New Deal corporate propaganda expenditures had already reached $100 million per year, not adjusted for inflation, for advertising alone. (Carey, ibid; page 79)

Adjusted for inflation, that 1948 $100 million becomes $801,659,751.04 in 2005 dollars.

Conservatives Help Wal-Mart, and Vice Versa
As Wal-Mart struggles to rebut growing criticism, it has discovered a reliable ally: conservative research groups.
New York Times 9-8-2006; Free registration may be required.

BARBWIRE: Labor Day '94: People vs. corporate con job, 9-4-94
Chilling forecasts from Alex Carey

BARBWIRE: The Nevada Republican Party Becomes Communist, 3-30-97
A prescient Plato on the dangers of oligarchy
NevadaLabor.com | U-News | Bulletins + Almanac
Casinos Out of Politics (COP) | Sen. Joe Neal
Guinn Watch | Deciding Factors | BallotBoxing.US
DoctorLawyerWatch.com | Barbwire Oilogopoly Archive
Barbwire Nevada Corporate Welfare Archive
Annual César Chávez Celebration
War Rooms: Banks, Cabbies, Cabela's, Cable TV, Cancer Kids/Mining, Energy, Food, Health Care, Resurge.TV/consumers, Starbucks, Wal-Mart
Search this site | In Search Of...


Copyright © 1982-2012 Andrew Barbano

Andrew Barbano is a 43-year Nevadan, editor of NevadaLabor.com and JoeNeal.org; and former chair of the City of Reno's Citizens Cable Compliance Committee, He is producer of Nevada's annual César Chávez Day celebration and serves as first vice-president, political action chair and webmaster of the Reno-Sparks NAACP. As always, his opinions are strictly his own. E-mail barbano@frontpage.reno.nv.us.

Barbwire by Barbano premiered in the Daily Sparks (Nev.) Tribune on Aug. 12, 1988, and has originated in those parts ever since. Tempus fugit.


Site composed and maintained by Deciding Factors, CWA 9413 signatory
Comments and suggestions appreciated. Sign up for news and bulletins