Nevada Labor History is a largely untold story. You can change all that by helping tell the tale — and writing a couple of chapters yourself. (Click here for a history of the union label.)

Down Amnesia Lane with the Gold Hill News 5-25-2017

On this date in 1864,

mine owner and Nevada governor

James Nye

requested and received two companies of U.S. Army cavalry troops from Fort Churchill to break a miners' labor union in Virginia City. (Courtesy of veteran Nevadian journalist/historian

Dennis Myers

' daily

Poor Denny's Almanac

© 2016)

Virginia City Labor Day Parade 9-5-2016
History of Labor Day in Nevada and elsewhere

HONORING LABOR AT THE 2016 LABOR DAY PARADE
Area workers again march through historic Virginia City to celebrate the value of work on Labor Day
Northern Nevada Central Labor Council: Labor Day stands for much more than selling sofas

June 7, 2015—Ceremony in Dayton, Nev., honored former slave and Union Army Civil War Soldier Pvt. Scott Carnal, 79th U.S. Colored Infantry, died 7 June 1917, buried at Dayton Cemetery

Nevada Day Required Reading
The Lady in the Red Dress
The Barbwire's classic Nevada Day column written in 1983
The compleat history of the Silver State in 500 words
SO WHERE DO WE GO FROM HERE?
Sparks Tribune 10-31-2013 and previously

Miners at the Stray Dog Mine, Manhattan (Nye County) Photo courtesy of Nevada Historical Society

The trade union movement in the west was born in Virginia City in the days of the Comstock Lode during the Civil War.

The gold and silver rush also gave birth to the oldest continually operating labor organization in Nevada, the Washoe Typographical Union, now part of Communications Workers of America Local 9413, which counts the editor of this site among its members.

The original 1863 charter was destroyed by the Great Virginia City Fire of 1875 and replaced in 1876.

CWA 9413 proudly maintains that charter and the venerable union's individual identity.

Click here to view a photo of the 1876 charter.

NevadaLabor.com proudly follows in the deep tracks of printers ink left by the likes of Sam Clemens, Dan deQuille, Lucius Beebe, Charles Clegg and their fellow immortals of the Territorial Enterprise and her illustrious sisters such as the Gold Hill News.

Their direct descendants work in the state printing plant in Carson City. Nevada law still mandates that the Silver State's printery must be a union shop signatory with the Washoe Typographical Union.

All submissions to the Nevada Labor History pages will be welcome, but only the best will be published.

Photos, illustrations, publications, memories and diaries are all important. Material submitted digitally will enjoy an edge, but careful research and well-crafted writing will always prevail.

I've added a link to the North West Labour History Group. "The Industrial Revolution transformed first Lancashire, then Britain and then the world," they state.

Just as their area gave birth to the movement, Nevada spawned trade unionism throughout the American wild, wild west. In that respect, we share history.

The rich story of labor in Nevada has been all but neglected and we intend to change that.

We've already got a couple of contributions by noted Nevada historians Phil Earl and Guy Rocha, so let's get at it.

As usual, if you don't do the work, it just won't get done.




Be well. Raise hell.





In Solidarity,

Andrew Barbano, Editor
NevadaLabor.com
P.O. Box 10034
Reno, NV 89510
(775) 786-1455
barbano@frontpage.reno.nv.us

In Search Of...

HELP US OUT — In Search Of...Women Teamsters in Nevada

Updated Political History of Nevada published
First new edition in 10 years
Carson City Nevada Appeal 8-3-2006
U-News Breaking News/Bulletins 1999-2005 Archive
Includes selected historical excerpts from Poor Denny's Almanac beginning with the 8-11-2004 installment.
CURRENT Breaking News/Bulletins/Almanac



Hannah Keziah Clapp builds the Nevada Capitol Iron Fence and other pioneering tales


A nice Labor Day story
The labor films former actor and union president Ronald Reagan didn't want you to ever see
Preserving history: Painters Union volunteers renovate historic Comstock Lode site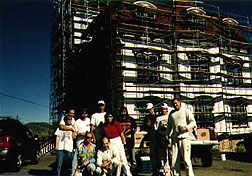 The artists of preservation - Back row, left to right, John Loughan with his arm around his sister; James Ayers, Nathan Sabin, Sandra MacDonald, Jack Carson, Terry Patterson and Juan Velez. Kneeling, left to right, Gwen Sicuro and Journeyman Mo Hursh. Not pictured: Journeymen Marty McGuire and John Glenn; apprentices Cain Passi and Erin Duhr.
Virginia City's Fourth Ward School gets a facelift - Apprentices and journeymen from Painters and Allied Trades Local 567 renovated Virginia City's historic Fourth Ward School in the fall of 1997. Union members also performed the work the previous time the building was painted in 1986.
"We are once again pleased and proud that our apprentices have the opportunity to begin their careers on such an important project," Local 567 business manager Todd Koch said when the work began.
"Many of those who worked on the Fourth Ward School 11 years ago are still practicing their trade in northern Nevada," he added.
About 15 journeymen and apprentices participated in the project over four weekends. The south and east faces of the site had been subjected to extensive weathering over the years.

Labor and materials totaling $40,000 were donated by the union and various suppliers. Fuller Color Center donated the paint with additional safety equipment and painting supplies coming from Lindell's Painting Service. Both companies are Reno-based. Brand Scaffold Rental and Erection of Concord, Calif., partially donated scaffolding, safety harnesses and related supplies. Remaining costs were covered by the Nevada Commission on Cultural Affairs and the National Parks Grant Program. This phase was part of a $135,000 exterior restoration program.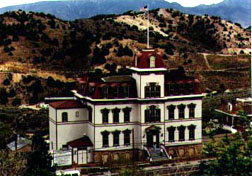 Fourth Ward School, Virginia City, after restoration


Painters apprentices spruce up Reno's historic Lake Mansion
Painters and Allied Trades Local 567 celebrates its centennial

NevadaLabor.com Front Page | U-News Statewide Roundup | Breaking News/Bulletins + Almanac
Casinos Out of Politics (COP) | Sen. Joe Neal
Guinn Watch | Deciding Factors | BallotBoxing.US
DoctorLawyerWatch.com | Barbwire Oilogopoly Archive
We Don't Need No Education | Labor Day
Barbwire Nevada Corporate Welfare Archive
Annual César Chávez Celebration | Español
The Flagger Moms of Orange Cone Hell | Save the Cabbies
Right to Work for Less | Sparks Centennial
War Rooms: Banks, Cabbies, Cabela's/cabellyup, Cable TV, Cancer Kids/Mining, Energy, Food, Health Care,
Resurge.TV/consumers, Starbucks, Wal-Mart | Nevada Writers | About the Editor
Search this site | In Search Of...