Site map
Corporate Propaganda Research Archive


Everybody knows the dice are loaded.
Everybody rolls with their fingers crossed.
Everybody knows the war is over.
Everybody knows the good guys lost.
Everybody knows the fight was fixed.
The poor stay poor, the rich get rich.
That's how it goes. Everybody knows.
Everybody knows the scene is dead
But there's gonna be a meter on your bed
That will disclose
What everybody knows.
— Leonard Cohen
Beginning the Barbwire's Silver Anniversary Year
Barbwire by Barbano premiered in the Daily Sparks (Nev.) Tribune on Aug. 12, 1988, and has originated in those parts ever since. Tempus fugit.
You've lived here too long when...
Barbwire by Barbano / Expanded from the 8-12-2012 Daily Sparks Tribune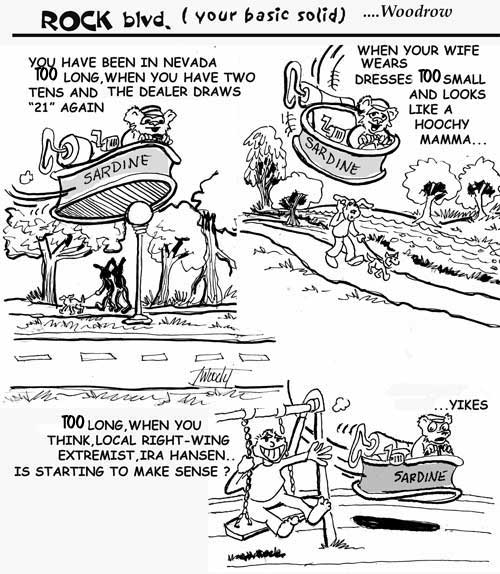 Copyright © 2012 Woodrow Barlettani for The Daily Sparks Tribune
Ruthless Madame Irony's minions have sharp teeth that sooner or later will bite you on the ass.
To better cover your buns, here's how to tell if you've lived in Nevada too long.
1. When strangers start asking something like "didn't you used to be Andy Barbano?"

2. When you know the lyrics to Egg-sucking Dog from Montana and shamelessly sing them in public.

3. When you know which restaurants will fix you a special-order spaghetti sandwich.

4. If you start eating spaghetti sandwiches.

5. When you walk into a bar you've never patronized and the resident drunk knows your name.


A few years back, I had an appointment to meet some guys at a saloon. I was early, the place was deserted.

As I drank my beer, I heard growling.

"Barrrr....bannn....ohhh," came a dull roar from a dark corner.

In the gloom, I discovered a longtime political figure and businessman, blotto at three o'clock in the afternoon.

He didn't buy me a drink.

6. When the casino knows who you are.

Back in the 1970's, one of my ad agency employees came to work chuckling on Monday. She had always deposited her pay in the bank, but on the previous Friday she had to go downtown and decided to cash her check at the Cal-Neva cage.

"We can't cash that. We got nothing on file," groused the guy on the other side of the bars.

He called a supervisor who looked at my signature and immediately OK'd it.

"Yeah, that's Andy's. Everybody knows him."

I knew no one who worked at the Cal-Neva at the time and have never learned the identity of that cage manager.

7. When you find out that you've influenced other people's kids, and not always for the better.

A couple of years back, I was warmly greeted by a driver at a Teamsters Union meeting. He remembered me from his childhood when I patronized his family's union printshop in Sparks. I guess I talked to him like a real person instead of treating him like just a kid.

He certainly turned out well, but it doesn't always work that way.

I recently ran into a guy with whom I did business way back when. He informed me that my conversations with his son had inspired the young man to get into political management.

I have no idea how I led him astray, because today he is rich, famous and very successful — working for the dark side of the force.

Sparks is one of his victims, so if you think there are some things wrong at City Hall, part of the blame lies with me because I've lived here too damned long.
Send me your additions to the list.
WE DON'T NEED NO CONSUMER PROTECTION. The U.S. Dept. of Justice will bring no criminal action against the Goldman Sachs banking bandidos. No surprise.

I get a good laugh whenever I hear Reaganaut moonhowlers preach that the answer to all our problems is deregulation, that government interference lies at the root of our troubles.

We already tried total deregulation in a perfect laboratory, a whole country with no laws at all save for a ban on labor unions: Iraq, 2003. The lack of any government oversight was supposed to turn it into an investment magnet, a capitalist paradise spawned by our invasion.

How's that working so far?

I wish DOJ had spent a fraction of its wasted Goldman budget investigating gasoline pricing. Since 1996, I've documented how BigOil has artificially rigged the retail price of petrol for 30 years while beating back every attempt to fix the price-fixing. Alas and alack, as with major banks, oil companies are too powerful and pugnacious for our protectors to pursue. To feel worse, see the Barbwire Oilogopoly Archive at NevadaLabor.com.

WELFARE BAD, CORPORATE WELFARE GOOD. Myth Rumpney is pulling a play from the 1966 Ronald Reagan California gubernatorial campaign by bashing welfare recipients, all those lazy swine who refuse to work.

This with about half the nation living at or near the poverty line, depression-level job losses and millions of children going to bed hungry every night.

It's a shuck, but hate always sells. Which explains why the Mythmeister has named Slimin' Ryan as his running mate. Gotta starve out them blacks and browns and slackers and stoners.
I love Paul Ryan —> Sarah Palin in pants.

In his Oscar-winning film Bowling for Columbine, Michael Moore told the story of a six year-old who killed another child while playing with a gun. He was unsupervised because his single mother had to labor at two minimum-wage jobs under the Clinton-Gingrich-Gore (oxymoron alert) Welfare to Work Program.

SOCIAL INSECURITY. The Nevada Alliance for Retired Americans will celebrate Social Security's 77th birthday statewide on Tuesday.

In Reno, death-defyin' speechifyin' starts at 10:00 a.m. at the Social Security building on Vassar at Harvard between KRNV TV-4 and the main post office. For info, call Gail Dietrich at 775-622-6659.
In Gomorrah South, head for the Nevada State AFL-CIO, 1891 Whitney Mesa Drive in Henderson. Contact: Debra Berko at 702-556-3277
SS is the last available big pot of money to pump up the worldwide Wall Street casino, which explains Romney's choice of Retro Ryan.

SUPPORT THE NEVADA CITIZEN TV PROJECT to re-establish a non-corporate people's channel in these parts.
You may donate at ReSurge.TV or contact me.
I knew we could do it if we lived in Nevada long enough.
Thank you.

Be well. Raise hell.
____________
Andrew Barbano is a 43-year Nevadan, chair of the Nevada César Chávez Committee, producer of Nevada's annual César Chávez Day celebration, first vice-president and political action chair of the Reno-Sparks NAACP, labor/consumer/civil rights advocate, member of Communications Workers of America Local 9413/AFL-CIO and editor of NevadaLabor.com and JoeNeal.org. As always, his opinions are strictly his own. Check local listings for other Nevada cable systems. E-mail barbano@frontpage.reno.nv.us. Barbwire by Barbano has originated in the Daily Sparks Tribune since 1988.

Smoking Guns...


Followed by a moon shadow

TRAVUS T. HIPP, 1937-2012

ADIÓS, COMPADRE — Our friend Travus, 75, passed away peacefully between 2:00 and 3:00 a.m. PDT on 18 May 2012 at his home in Silver City, Nevada. The sun is in eclipse as I write this at 6:30 p.m. on May 20.

CHANGE OF VENUE (5-22-2012) — Adiós in Silver City, Nevada, Saturday, May 26, 2012 —> Updated 5-27-2012 — > The auld church where Travus lived and died proved too small for the expected multitude, so gathering, gnoshing and remembering commenced at the Silver City Community Center, 385 High Street, at 10:00 a.m. PDT. The graveside memorial service began at High Noon. Travus was buried next to his rock star companion Lynne Hughes, a short walk away. My remembrance of Lynne from the 3-21-1993 Daily Sparks Tribune has been linked to Travus' formal obituary at this website. All memories accepted for permanent posting hereat. Stay tuned for pictures and stories of the appropriately rainy day.

Thanks for all your kind words. Keep up the good work and the good fight.

Be well. Raise hell.

Andrew Barbano

Travus T. Hipp & Tales of Nevada's Futures Passed
Expanded from the 6-3-2012 Daily Sparks Tribune


At bottom, he was an artist who used his voice to soar and slice, a tenor for the tenor of our times. Many of his mourning California listeners talk about the vocal spells he wove, how he soundly organized the noise of daily life into music that entertained, engaged, enlightened, educated, enthralled and occasionally enflamed. [From the saga of Travus T. Hipp and contributions by The Barbwire to the May 25 Reno Gazette-Journal and May 26, 2012, Daily Sparks Tribune.]

Economist: This is a true depression
Elliott Parker Guest Editorial / Las Vegas Sun / 11-27-2011

The plight of the paper pushers
The great recession made bashing public workers a national sport
Dennis Myers / Reno News & Review / 11-23-2011

Bury the Bad News with Rose-colored Reporting
How urgent can economic troubles be if leaders say things are getting better?
Dennis Myers / Reno News & Review / 11-23-2011

Fact-free nation: Inside the lie machine
Mother Jones Magazine May-June 2011 / Cover story and in-depth analysis

Barbwire Corporate Welfare Archive
Cabellyup.com

From clear-cut forests to dirty Gulfstream waters, this land belongs to old BP
TOLJASO LONG TIME AGO
BP/ARCO: The greasy root of our evils
Barbwire / Daily Sparks Tribune 9-10-2006
The awful truth — Read it and weep, fellow suckers

Labor Day 2009: Rise of the Vampire Corpobots
Expanded from the 9-6-2009 Daily Sparks Tribune

Angry Americans and Freudian fraud
Using war to market cigarettes
Expanded from the 8-23-2009 Daily Sparks Tribune

BARBWIRE Nevada Corporate Welfare Archive

Propaganda fuels gasoline price fixing
Barbwire 8-14-2005

Donate to the cable ratepayer legal defense fund at our PayPal-enabled ReSurge.TV Consumer War Room


Phillips, Kevin; Numbers Racket: Why the economy is worse than we know
Harper's Magazine; May 2008; page 43
Phillips has authored numerous books on history and politics over the past 40 years. His most recent, Bad Money: Reckless Finance, Failed Politics and the Global Crisis of American Capitalism, was published by Viking on April 15, 2008.

ORDER Taking the Risk Out of Democracy
Corporate Propaganda versus Freedom and Liberty
By Alex Carey
Edited by Andrew Lohrey
Foreword by Noam Chomsky
University of Illinois Press


SEE ALSO: Lapham, Lewis H.; Tentacles of Rage: The Republican Propaganda Mill, A Brief History; Harper's Magazine cover article; September, 2004, page 32.

By one conservative estimate, the corporate right has spent about $3 billion over the past three decades manufacturing public opinion to suit big business goals. Lapham's number covered the early 1970's to the present day. Alex Carey noted that by 1948, anti- New Deal corporate propaganda expenditures had already reached $100 million per year, not adjusted for inflation, for advertising alone. (Carey, ibid; page 79)

Adjusted for inflation, that 1948 $100 million becomes $801,659,751.04 in 2005 dollars.

Conservatives Help Wal-Mart, and Vice Versa
As Wal-Mart struggles to rebut growing criticism, it has discovered a reliable ally: conservative research groups.
New York Times 9-8-2006; Free registration may be required.

BARBWIRE: Labor Day '94: People vs. corporate con job, 9-4-94
Chilling forecasts from Alex Carey

BARBWIRE: The Nevada Republican Party Becomes Communist, 3-30-97
A prescient Plato on the dangers of oligarchy
NevadaLabor.com | U-News | Bulletins + Almanac
Casinos Out of Politics (COP) | Sen. Joe Neal
Guinn Watch | Deciding Factors | BallotBoxing.US
DoctorLawyerWatch.com | Barbwire Oilogopoly Archive
Barbwire Nevada Corporate Welfare Archive
Annual César Chávez Celebration
War Rooms: Banks, Cabbies, Cabela's, Cable TV, Cancer Kids/Mining, Energy, Food, Health Care, Resurge.TV/consumers, Starbucks, Wal-Mart
Search this site | In Search Of...


Copyright © 1982-2012 Andrew Barbano

Andrew Barbano is a 43-year Nevadan, editor of NevadaLabor.com and JoeNeal.org; and former chair of the City of Reno's Citizens Cable Compliance Committee, He is producer of Nevada's annual César Chávez Day celebration and serves as first vice-president, political action chair and webmaster of the Reno-Sparks NAACP. As always, his opinions are strictly his own. E-mail barbano@frontpage.reno.nv.us.

Barbwire by Barbano premiered in the Daily Sparks (Nev.) Tribune on Aug. 12, 1988, and has originated in those parts ever since. Tempus fugit.


Site composed and maintained by Deciding Factors, CWA 9413 signatory
Comments and suggestions appreciated. Sign up for news and bulletins