United Statesians think anything British or French has more class than we provincials can ever hope to muster.
We thus voraciously buy products and services with "European" on the label. Across the ponds to our east and west, consumers are suckers for anything "American." Reno has had a "European" health spa for 32 years. In Italy, a chain of "American" health spas has been quite successful. In Japan, products need American-sounding names, nonsensical or not — witness Calpis and Fucum. (Actual products marketed in Japan.)

It's no wonder then that we wanted to believe U.K. Prime Minister Tony Blair's assertions about Saddam Hussein. After all, isn't Blair James Bond's boss? What's not to trust in the British Secret Service? They've been part of the most successul Hollywood movie series of all time, fergawdsakes.

Alas, we sometimes listen nicely to responsible advice from seemingly learned Brits, then proceed to ignore it. CEO's, including presidents of the United States, go to church on Sunday to publicly affirm how some conception of morality guides their lives. Come Monday morning, it's back to the rape and pillage of business as usual.

Three decades ago, British historian Sir Kenneth Clark concluded his award-winning TV series "Civilisation" (we just knew it had to be classy and intellectual with such a goofy British spelling) by projecting a gloomy view of the future.

He didn't hold out much hope for philistine western society, especially given the ongoing erosion of basic values such as courtesy and honor.

Sir Kenneth accurately kernelized the wild west years of the Nixon-Reagan era. As Oliver North, G. Gordon Liddy and John Poindexter proved, the only crime is getting caught and you can still cash in if the crime is big enough.

Clark's vision of debilitatingly chronic crassness has proven all too accurate. The increasingly dumb American electorate makes a success of Jerry Springer and votes in those most capable of buying TV spots showing how average they are.

I don't want to elect average schmucks. I want sharp people to lead our institutions. Beer, pork rinds football and NASCAR are not presidential qualifications.

Every time my cynicism about those at the top is ready to go over the top, my faith in this pitiable monster mannunkind gets renewed. Witness the following.

READY CASH. What kind of man was singing storyteller Johnny Cash? Back in the 1970s, Cash's friend and fellow country music crooner Johnny Western was seriously injured in an auto accident.

Cash hurried to the hospital and informed the staff "anything he can't pay for, send the bill to me."

My wife and I had the pleasure of seeing Johnny Cash, his wife and their traveling family entourage in Orlando, Fla. They rank with the likes of Elvis Presley for gracious treatment of their audience.

WESTERN LORE. Johnny Western was a frequent performer in this area through the early 1980s, often during Reno Rodeo Week. His greatest claims to fame involved his composing the lyrics to and recording the themes from the classic TV series Bonanza and Have Gun - Will Travel, both of which remain in worldwide syndication four decades after they left network airwaves. I had the pleasure of producing a series of musical radio commercials with the Great Western.

For his many friends in this area, the last time I talked with Mr. Western — his real name — he was still performing in conjunction with his duties as program director for a chain of country music radio stations in the Great Plains states.

TOTAL RECALL. Johnny Western had a talent any politician would kill for — he could remember anyone's name, no matter how many years had intervened after he first met them.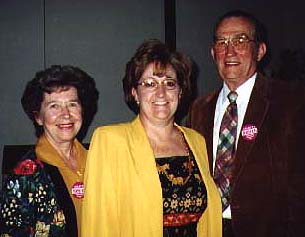 ALIAS SMITH AND JONES — Left to right, Wendy Jones, former Nevada State Assemblywoman Debbie Smith, D-Sparks, and former Nevada Labor Commissioner Stan Jones at a 2002 event at the Reno Hilton.
KEEPING UP WITH THE JONESES. As I noted earlier this year, Wendy Jones retired after 50 years and eight months working at the same place, in this case the offices of International Brotherhood of Electrical Workers Union Local 401.
She extended her stay past her golden anniversary in October of last year because the union was in major contract renewal negotiations and flat out needed Wendy minding the store.

While working at the union, she met this sheet metal worker, took a chance and married him.
Former Nevada Labor Commissioner Stan Jones and Wendy have now been wed 48 years.
Watch this space for announcement of their personal gold medal celebration.

Until then, their many friends will have to make do with a dinner in Wendy's honor scheduled for Friday, Sept. 26, at the Reno Hilton.
Tickets are $45 per person and may be reserved by calling the union office at (775) 329-2566 on or before Sept. 19.

Anybody who knows of anyone who lasted 50 years or more in one job, please let me know and I'll print their stories.
Closest I can recall are some union members I've met who achieved 60 years in their crafts, but I doubt any worked for just one company during all that time.

Be well. Raise hell.