Site map
Corporate Propaganda Research Archive



Lydia, oh Lydia, say, have you met Lydia?
Lydia the Tattooed Lady.
When her robe is unfurled,
She will show you the world.
You can learn a lot from Lydia.

For two bits she will do a mazurka in jazz
With a view of Niagara that nobody has
And on a clear day, you can see Alcatraz.
You can learn a lot from Lydia.
Lydia, oh Lydia, that encyclopidia
Lydia, the queen of them all.
She once swept an admiral clean off his feet
The ships on her hips made his heart skip a beat
And now the old boy's in command of the fleet
For he went and married Lydia.

— Harold Arlen and Yip Harburg
via Groucho Marx
Tit for Tat: Body blows from Lydia and Kap
Barbwire by Barbano / Expanded from the 12-13-2012 Daily Sparks Tribune
Updated 12-20-2012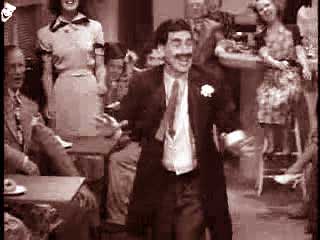 COLIN KAEPERNICK, CALL YOUR OFFICE — Groucho Marx sings Lydia the Tattooed Lady in the 1939 Marx Brothers film At the Circus. The song gained renewed popularity in the 1970's and 1980's on the nationally syndicated Dr. Demento radio show.
Blogger David Whitley has been trashed from Sunday night to Sin City for criticizing San Francisco 49er quarterback Colin Kaepernick's tattoos.
"He is the CEO of a high-profile organization and you don't want your CEO to look like he just got paroled," Whitley wrote for AOL/Sporting News.
Funny zinger.

"Perhaps the worst article in the history of sports," groused one humorless hack who called Whitley a hack (it takes one to know one?), then spat "subtle (and then not-so-subtle) racism."

Gollygeewillikers, Batman.

Doug Farrar (aka Hack2, appropriately from Yahoo), added that Kap's tats contain Bible verses, Psalms 18:39 and 27:3.

"They are about asking God to help kick somebody's butt," the former University of Nevada-Reno Wolf Pack star's mom, Teresa, told the UNR newspaper Sagebrush.

Lots of people are shooting right now because they know for sure that God wants to help them kick somebody's butt.

I understand Mr. Kaepernick's a devoted Christian, but if you look through the Old Testament, Christian it ain't.

"Do not tattoo yourselves. I am the Lord," advises another passage from the big butt-kicking old book (Leviticus 19:28).

Hack2's principal defense of the fine young man is that he's a fine young man.
No argument.
Colin Kaepernick appears to be a mensch.

He didn't invent the tat fad but will do much to perpetuate it.

Alas, there's the rub.

Millions of sheep follow media stars.
Consenting adults are free to get needled and risk hepatitis, liver damage and, perhaps worst of all, incompetent artwork with mis-spelled names.

A few years ago at the height of singer Britney Spears' teen popularity, I was embarrassed at the sad sight of a 40-something woman, more than 50 pounds overweight, exhibiting her substantial stretch marks for grocery shoppers by overflowing a skimpy Britney-inspired bare-midriff top.
She apparently felt compelled to emulate a style designed for anorexic pre-pubescents.

Count Basie once advised Lena Horne that there were prettier and more talented singers, "but you got picked."

Same with young Colin.
He got picked and many will follow his lead.
And some of it won't be pretty.

GROUCHO, CALL YOUR OFFICE. Oscar winners Harold Arlen and Yip Harburg (Over the Rainbow) wrote Lydia the Tattooed Lady for the 1939 Marx Brothers film At the Circus.
Performed on the The Muppet Show and reportedly Jim Henson's favorite song, the Muppets sang it at his funeral.

I don't wanna know if Miss Piggy got tats.
FROM LAST WEEK'S BARBWIRE —>

HEAVYWEIGHT VOTING. In 2011, I compiled a list of the 11 most powerful Nevadans.
Veteran Las Vegas Review-Journal capital bureau chief Ed Vogel wondered why I failed to include Gomorrah South casino owner Sheldon Adelson.
I could only guess that I'm allergic to thinking about the madcap mogul.
Send me your nominations for the 12 most powerful of 2012.

VOTE FOR THE DONALD. I closed this political season undefeated.
I was honored to win a second term as first vice-president of the Reno-Sparks NAACP and I nominated and facilitated the election of Guy Richardson to the Nevada Press Association Hall of Fame.
Both the late RGJ writer and the abovementioned Mr. Vogel made it on their first tries.

Looking over the NPA rogues gallery, I found another glaring omission: legendary photographic superstar Don Dondero (1920-2003) whose work appeared worldwide, including this newspaper.
So today starts the campaign to install Big Don.
Send me your memories and endorsements.

SUPPORT THE RETURN OF RENO-SPARKS COMMUNITY TV.
If this year's elections didn't convince you, the 2013 legislature certainly will.
Join up.
You may donate at ReSurge.TV or contact me.
This is important.

Thank you.
HIE THEE TO MY MAILING LIST. About half a dozen major news stories have originated in this column either in print or online over the past several weeks.
If you're into non-corporate filtered news, sign up.
Happy High Holly Days.

Be well. Raise hell.
____________

Andrew Barbano is a 44-year Nevadan, chair of the Nevada César Chávez Committee, producer of Nevada's annual César Chávez Day celebration, first vice-president and political action chair of the Reno-Sparks NAACP, labor/consumer/civil rights advocate, member of Communications Workers of America Local 9413/AFL-CIO and editor of NevadaLabor.com and JoeNeal.org. As always, his opinions are strictly his own. Check local listings for other Nevada cable systems. E-mail barbano@frontpage.reno.nv.us. Barbwire by Barbano has originated in the Daily Sparks Tribune since 1988.

Smoking Guns...

John F. Kennedy's 2013 inaugural address
Excerpted from the original full text from 12-29-1991 (.pdf)
Barbwire by Barbano / Expanded from the 11-22-2012 Daily Sparks Tribune

JFK, Jr.: Hope dies hard and yet springs eternal
Barbwire by Barbano / Daily Sparks Tribune / 7-25-1999

Your better life today had President Kennedy lived
Barbwire by Barbano / Daily Sparks Tribune / 12-28-1997

---

Please don't cook or eat the books
ITALIAN STEREOTYPE VALIDATED: Aiazzi and DiLoreto almost throw blows
Barbwire by Barbano / Expanded from the 9-27-2012 Daily Sparks Tribune

The flipside from an old fry cook
Legit media stenographers fail to pop the corporate welfare question
Barbwire by Barbano / Expanded from the 9-20-2012 Daily Sparks Tribune

A great week for scandals
School district master chefs continue cooking the books
Tenth in a continuing series on the collapsing future of Nevada education
Teachers' business tax petitions hit Nevada streets while Chicago teachers do likewise
Damning inspection report brings union call to oust Reno VA hospital leadership
State ignores voter registration lawsuit until the day after this column printed
I defy you to find all of the following elsewhere either in depth or in context.
NEEDED NOW MORE THAN EVER: New community TV channel
Barbwire by Barbano / Expanded from the 9-13-2012 Daily Sparks Tribune
Humongously updated on 9-14, 9-15 and 9-17-2012

Life and Death at the Reno Veterans Hospital
American Federation of Government Employees Local 2152/AFL-CIO Press Release
Union Executive Summary of Inspection Report
Office of the Medical Inspector Report
All Adobe Acrobat Reader (.pdf ) documents

---

The Post-Dated Recession: Pay me now or pay me later
Barbwire by Barbano / Expanded from the 9-6-2012 Daily Sparks Tribune

The Post-dated Recession
By Joshua H. Silavent / Daily Sparks Tribune / 5-3-2011

TRAVUS T. HIPP, 1937-2012

ADIÓS, COMPADRE — Our friend Travus, 75, passed away peacefully between 2:00 and 3:00 a.m. PDT on 18 May 2012 at his home in Silver City, Nevada. The sun is in eclipse as I write this at 6:30 p.m. on May 20.

CHANGE OF VENUE (5-22-2012) — Adiós in Silver City, Nevada, Saturday, May 26, 2012 —> Updated 5-27-2012 — > The auld church where Travus lived and died proved too small for the expected multitude, so gathering, gnoshing and remembering commenced at the Silver City Community Center, 385 High Street, at 10:00 a.m. PDT. The graveside memorial service began at High Noon. Travus was buried next to his rock star companion Lynne Hughes, a short walk away. My remembrance of Lynne from the 3-21-1993 Daily Sparks Tribune has been linked to Travus' formal obituary at this website. All memories accepted for permanent posting hereat. Stay tuned for pictures and stories of the appropriately rainy day.

Thanks for all your kind words. Keep up the good work and the good fight.

Be well. Raise hell.

Andrew Barbano

Travus T. Hipp & Tales of Nevada's Futures Passed
Expanded from the 6-3-2012 Daily Sparks Tribune


At bottom, he was an artist who used his voice to soar and slice, a tenor for the tenor of our times. Many of his mourning California listeners talk about the vocal spells he wove, how he soundly organized the noise of daily life into music that entertained, engaged, enlightened, educated, enthralled and occasionally enflamed. [From the saga of Travus T. Hipp and contributions by The Barbwire to the May 25 Reno Gazette-Journal and May 26, 2012, Daily Sparks Tribune.]

Economist: This is a true depression
Elliott Parker Guest Editorial / Las Vegas Sun / 11-27-2011

The plight of the paper pushers
The great recession made bashing public workers a national sport
Dennis Myers / Reno News & Review / 11-23-2011

Bury the Bad News with Rose-colored Reporting
How urgent can economic troubles be if leaders say things are getting better?
Dennis Myers / Reno News & Review / 11-23-2011

Fact-free nation: Inside the lie machine
Mother Jones Magazine May-June 2011 / Cover story and in-depth analysis

Barbwire Corporate Welfare Archive
Cabellyup.com

From clear-cut forests to dirty Gulfstream waters, this land belongs to old BP
TOLJASO LONG TIME AGO
BP/ARCO: The greasy root of our evils
Barbwire / Daily Sparks Tribune 9-10-2006
The awful truth — Read it and weep, fellow suckers

Labor Day 2009: Rise of the Vampire Corpobots
Expanded from the 9-6-2009 Daily Sparks Tribune

Angry Americans and Freudian fraud
Using war to market cigarettes
Expanded from the 8-23-2009 Daily Sparks Tribune

BARBWIRE Nevada Corporate Welfare Archive

Propaganda fuels gasoline price fixing
Barbwire 8-14-2005

Donate to the cable ratepayer legal defense fund at our PayPal-enabled ReSurge.TV Consumer War Room


Phillips, Kevin; Numbers Racket: Why the economy is worse than we know
Harper's Magazine; May 2008; page 43
Phillips has authored numerous books on history and politics over the past 40 years. His most recent, Bad Money: Reckless Finance, Failed Politics and the Global Crisis of American Capitalism, was published by Viking on April 15, 2008.

ORDER Taking the Risk Out of Democracy
Corporate Propaganda versus Freedom and Liberty
By Alex Carey
Edited by Andrew Lohrey
Foreword by Noam Chomsky
University of Illinois Press


SEE ALSO: Lapham, Lewis H.; Tentacles of Rage: The Republican Propaganda Mill, A Brief History; Harper's Magazine cover article; September, 2004, page 32.

By one conservative estimate, the corporate right has spent about $3 billion over the past three decades manufacturing public opinion to suit big business goals. Lapham's number covered the early 1970's to the present day. Alex Carey noted that by 1948, anti- New Deal corporate propaganda expenditures had already reached $100 million per year, not adjusted for inflation, for advertising alone. (Carey, ibid; page 79)

Adjusted for inflation, that 1948 $100 million becomes $801,659,751.04 in 2005 dollars.

Conservatives Help Wal-Mart, and Vice Versa
As Wal-Mart struggles to rebut growing criticism, it has discovered a reliable ally: conservative research groups.
New York Times 9-8-2006; Free registration may be required.

BARBWIRE: Labor Day '94: People vs. corporate con job, 9-4-94
Chilling forecasts from Alex Carey

BARBWIRE: The Nevada Republican Party Becomes Communist, 3-30-97
A prescient Plato on the dangers of oligarchy
NevadaLabor.com | U-News | Bulletins + Almanac
Casinos Out of Politics (COP) | Sen. Joe Neal
Guinn Watch | Deciding Factors | BallotBoxing.US
DoctorLawyerWatch.com | Barbwire Oilogopoly Archive
Barbwire Nevada Corporate Welfare Archive
Annual César Chávez Celebration
War Rooms: Banks, Cabbies, Cabela's, Cable TV, Cancer Kids/Mining, Energy, Food, Health Care, Resurge.TV/consumers, Starbucks, Wal-Mart
Search this site | In Search Of...


Copyright © 1982-2012 Andrew Barbano

Andrew Barbano is a 44-year Nevadan, editor of NevadaLabor.com and JoeNeal.org; and former chair of the City of Reno's Citizens Cable Compliance Committee, He is producer of Nevada's annual César Chávez Day celebration and serves as first vice-president, political action chair and webmaster of the Reno-Sparks NAACP. As always, his opinions are strictly his own. E-mail barbano@frontpage.reno.nv.us.

Barbwire by Barbano moved to the Daily Sparks (Nev.) Tribune on Aug. 12, 1988, and has originated in them parts ever since.
How a hall-of-famer's hunch birthed the Barbwire in August of 1987
Tempus fugit.


Site composed and maintained by Deciding Factors, CWA 9413 signatory
Comments and suggestions appreciated. Sign up for news and bulletins